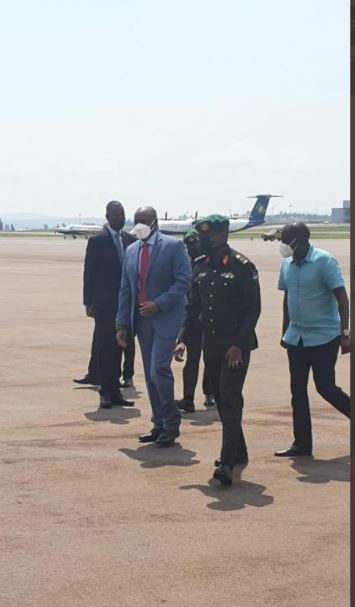 Uganda's Commander of Land Forces, Lt. Gen Muhoozi Kainerugaba arrived in Kigali, Rwanda, on Saturday, where he is expected to meet President Paul Kagame, to discuss a wide range of issues, including relations between Rwanda and Uganda.
Gen. Muhoozi, clad in a grey suit, arrived at Kigali International Airport at around 10:30am on Saturday morning, where he was welcomed by among others, Brig Gen Willy Rwagasana, the Commandant of Republican Guard and the Defence and Military Spokesperson Col Ronald Rwivanga, as well as Ugandan diplomats.
The visit followed speculations on Friday that Gen. Muhoozi, who recently tweeted about President Kagame, referring to him as 'his Uncle' but there was no official confirmation of the visit on either side and no details of the visit yet have been revealed.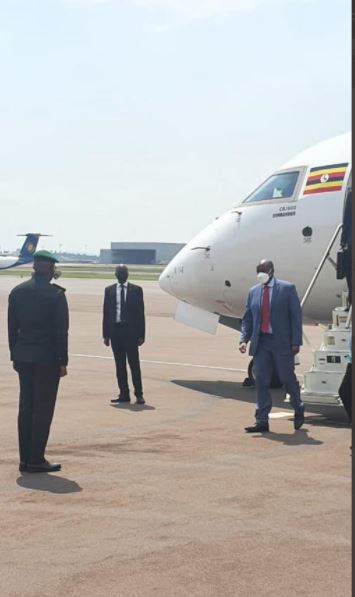 However, reports indicate that talks between President Kagame and Gen. Muhoozi will dwell on relations between the two countries, as the two neighbours look to resume talks to iron out issues that have led to the damaging of ties over the past five years.
Gen. Muhoozi's visit follows that of President Yoweri Kaguta Museveni's special envoy, Amb. Adonia Ayebare, who was in Kigali last week, to deliver a special message from the Ugandan leader, signaling renewed efforts to rekindle talks that have stalled since February 2020.
Rwanda has remained cautious to speak about the latest developments but the Government Spokesperson, Yolande Makolo,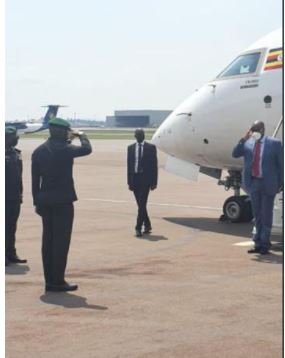 last week said that progress will depend on how Uganda acts or proves to be accountable in addressing the issues Kigali has raised with Kampala.
Other reports indicate that the son of the Ugandan leader could be amassing support in the region as he prepares his own presidential bid in 2026 and has in recent weeks been to Kenya to meet President Uhuru Kenyatta, among other regional leaders.
More details on the visit to follow……