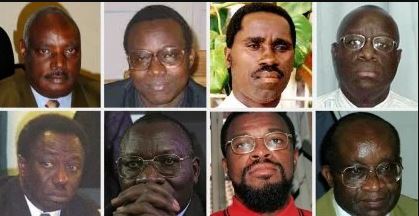 The United Nations International Residual Mechanism for Criminal Tribunals (UNIRMCT) has asked the Niger Government to stay the expulsion order of eight Rwandans who were recently given seven days to leave the country.
The UN court group had relocated the group to Niger from a safe house in Tanzania after they were acquitted or served sentences handed by the then UN International Criminal Tribunal for Rwanda(ICTR) over Genocide crimes committed in 1994.
In November 2021, in agreement with the UNIRMCT, Niger had agreed to accept eight Rwandan nationals convicted for their role in the 1994 genocide or acquitted by the ICTR.
Of the eight names listed, four were convicted of crimes during the genocide by the ICTR.
Those who were convicted and served their sentences include former prefect Alphonse Nteziryayo, ex-military intelligence head Anatole Nsengiyumva, and former army officers Tharcisse Muvunyi and Innocent Sagahutu.
The acquitted include: Protais Zigiranyirazo, a brother of former first lady Agathe Habyarimana and was considered to be a prominent figure in the planning of the 1994 genocide against Tutsi. Others are Francois-Xavier Nzuwonemeye, former commander of an elite battalion, ex-transport minister Andre Ntagerura and Prosper Mugiraneza, former civil service minister.
However on December 27, 2021, a Niger ministerial decree formalized their definitive expulsion from Niger, a move that is considered to be a u-turn to the agreement with the UN tribunal.
"The interested parties will be given notice to leave the territory of Niger within seven days," the Niger minister Internal Affair Hamadou Adamou Souley ordered without indicating where they would be expelled to.
With just hours remaining to the expulsion deadline, the UN Tribunal (on December 31,2021) filled an order to the republic of Niger to stay the expulsion order of relocated persons and order for submissions.
In the file the Tribunal said that the Relocation Agreement envisaged that the relocated Persons stay in Niger for at least one year following relocation, with financial assistance from the Mechanism.
"The Expulsion Order may be in breach of the Relocation Agreement and that it is necessary to order the stay of the execution of the Expulsion Order pending the adjudication of the present matter," the Tribunal said in part.
The Tribunal also noted that in the Relocation Agreement, it provides that any dispute, controversy, or claim relating to it shall be settled by negotiation or a mutually agreed mode of settlement, of which the Government of Niger will be given an opportunity to be heard.
Whatever the outcomes, the Rwandan Deputy Government Spokesperson, Alain Mukuralinda told the Voice of America (Kinyarwanda) on December 30, that the government of Rwanda will welcome the group that was acquitted or served their terms and will not be prosecuted locally instead will be necessary documentation and reintegrated among other Rwandans.