Rwanda's coffee exports to the United Arab Emirates are expected to grow as the country partners with DUBUY, a B2B e-commerce platform by DP World to bring single origin high-quality Rwandan coffee closer to consumers in UAE and the Gulf region.
The prospects of coffee exports were echoed on Thursday 12th January at the Coffee Cupping and Testing event in Dubai, organized to celebrate and promote Rwanda Coffee, in the margins of the World of Coffee Exhibition that took place in Dubai from 11th – 13th January 2023.
Rwanda's Ambassador to the UAE Emmanuel Hategeka joined leaders from DUBUY and Dubai Multi Commodities Centre as well as Rwandan coffee exporters, UAE-based importers and coffee lovers at the event.
The Ambassador said that Rwanda coffee is no stranger to UAE, as it was the highlight of the Rwanda pavilion during Expo2020 where the pavilion served all guests a free cup of coffee every day and hosted over 1.2 million visitors in six months.
He reminded of the UAE market potential as well as the impact of the cash crop on people's livelihood.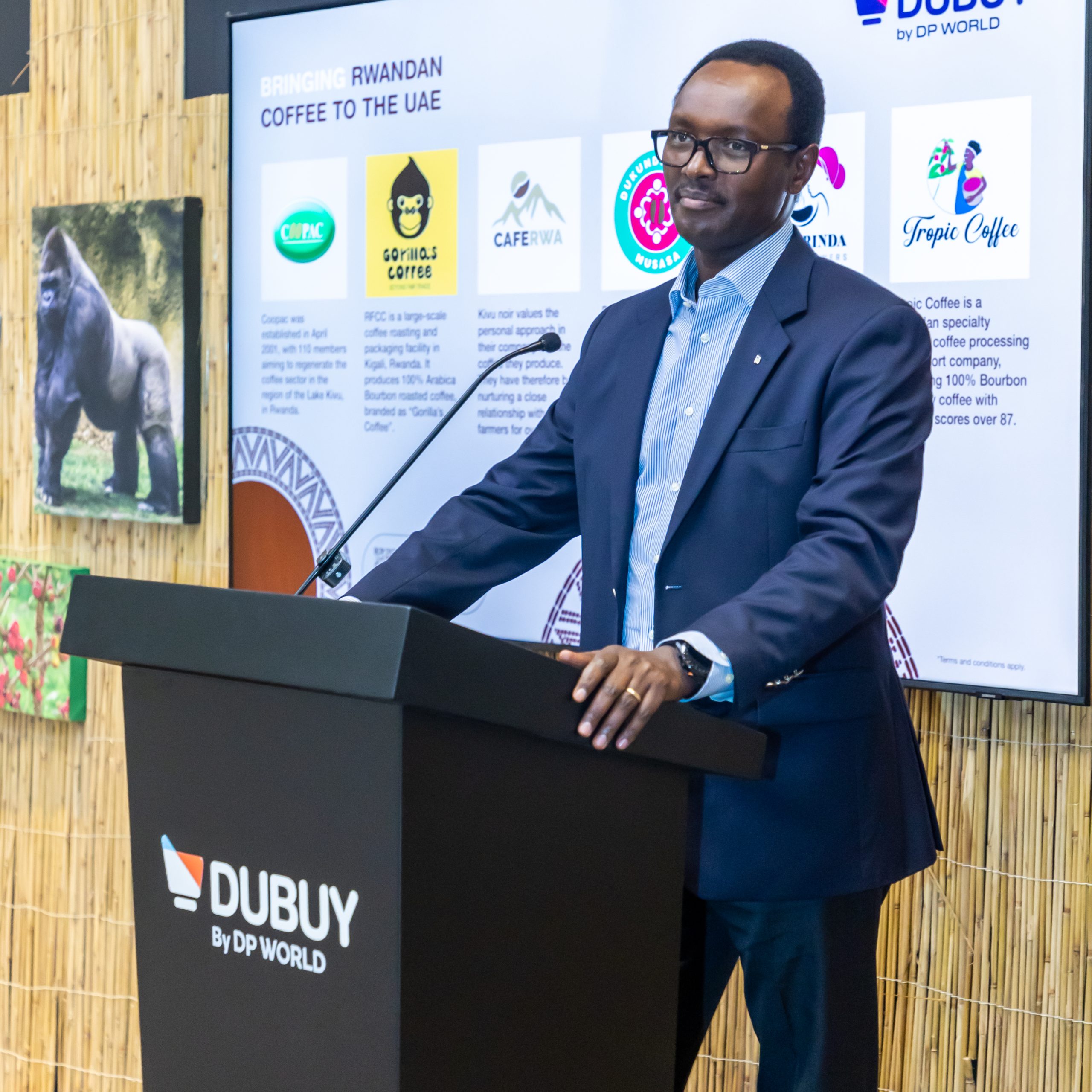 "First, coffee is one of Rwanda's leading traditional agricultural exports with annual revenues of over $75 million supporting more than 355,000 smallholder families for their daily livelihoods.
Second, UAE is a major trade hub and Rwanda's leading trade partner. As a major coffee consumer society, coffee buyers from UAE and GCC cannot miss the opportunity to source single origin high-quality Rwandan coffee. This unique event brings the exporters and buyers together to sample the best of Rwanda's coffee and conclude supply deals," he said.  
Touching on logistics, the Ambassador said that trade logistics have been put in place. Dubuy.com, an e-commerce platform working with DP World dry port in Kigali as well as RwandAir that has already begun direct cargo flights to Dubai are facilitators of two-way trade flows between Rwanda and UAE.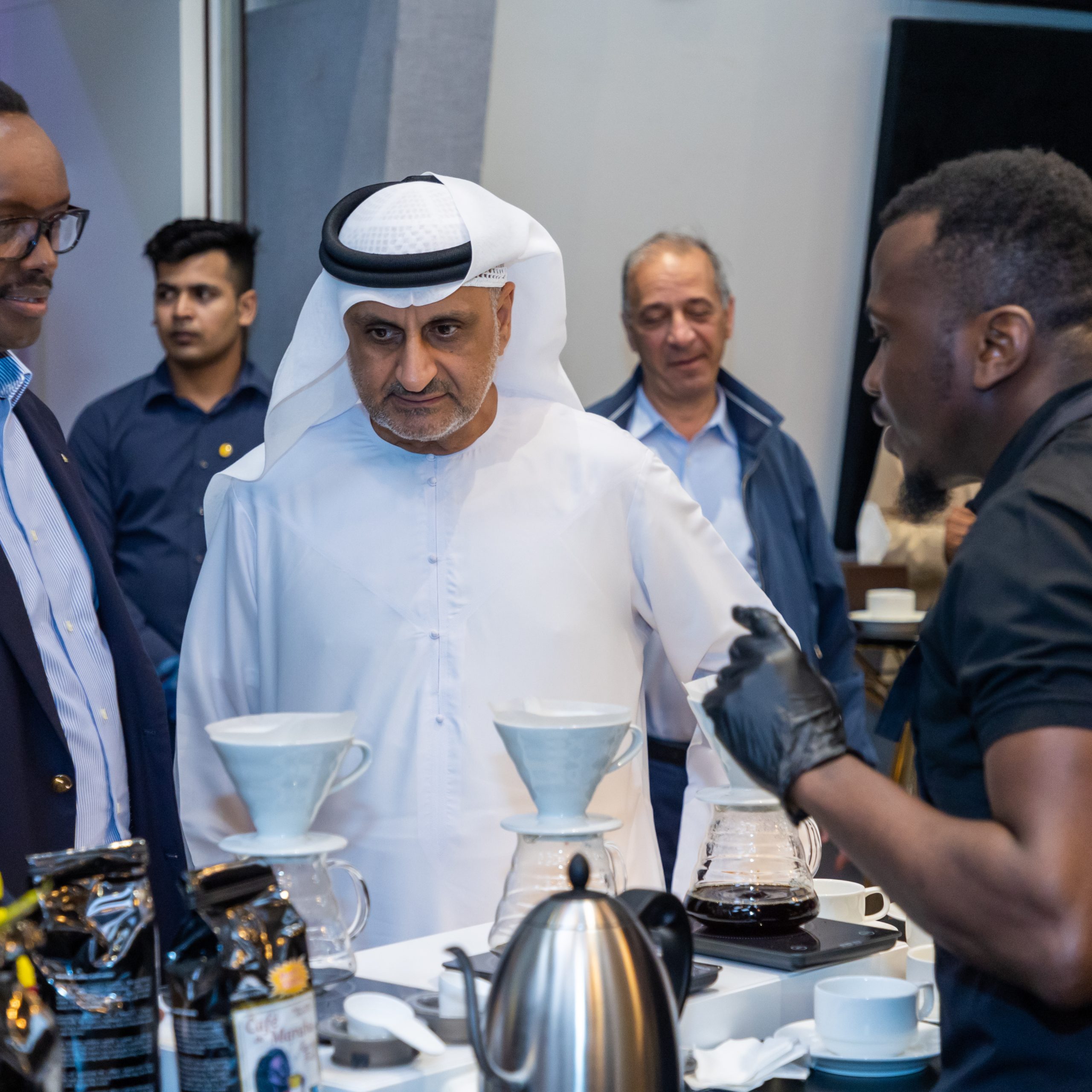 In their remarks, Mahmood Al Bastaki, COO – Digital Trade Solutions, DP World and Saeed Al Suwaidi, the Director of Agri Commodities at Dubai Multi Commodities Centre (DMCC) appreciated and recommend the Rwandan coffee while reiterating their instructions' commitment to promoting Rwandan coffee on the global market.
On December 16, 2020, Rwanda Development Board signed an MoU with DP World to launch Dubuy.com to link B2B and end-to-end destinations from Kigali to UAE. The platform was launched first in Rwanda in early March 2021. As of January 2023, in around 100 registered Rwandan sellers on DUBUY, there are about 20 top Rwandan Coffee sellers.
Coffee is grown in all provinces of Rwanda at an altitude less than 1900 m. It is uniquely known for its rich, aromatic, and natural flavorful profiles. It is sweet, strong-bodied, and rich in acidity, giving Rwandan coffee a special taste and aroma.
Rwandan coffee is exported under the national brand of A Second Sunrise and has won global awards and different accolades.  In the fiscal year 2021-2022 alone, Rwanda's coffee export volumes amounted to over 15 million kilogrammes, and generated over $75.5 million. That is an increase of about 23 per cent in coffee revenues compared to the previous year.