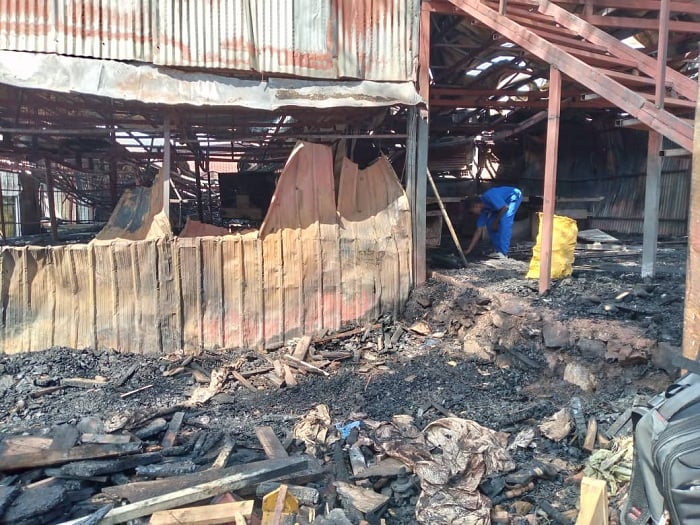 The cause of the fire that gutted Gisozi workshops (commonly known as Gakiriro) on Sunday night, February 12, 2023, still remains unclear, though the probable one raised by some people is poor electrical installation.
It is estimated that businesses lost over Rwf4billion, when fire destroyed a section of the market (10 out of 95 workshops), occupied by ADARWA, a cooperative that deals in timber, furniture, carpentry, and other construction material.
According to Rwanda National Police (RNP), the fire broke out between 22:20 pm and 23h00. This is almost the same time it last happened on February 17, 2021; and the cause of the fire has always been attributed to poor electrical installation.
Different cooperatives operating business in the market, which include ADARWA, APARWA, COPCOM, Umukindo, among others have continued to claim they have made enormous losses in the last three years, due to such fires.
In 2019, fire broke out more than three times at Cooperative APARWA, which operates near ADARWA, the most destructive ones being that on 03 and 29 July, 2019 respectively.
The place below ADARWA cooperative has also been affected twice by the same fires, the last one having caused a loss of over Rwf 350 million.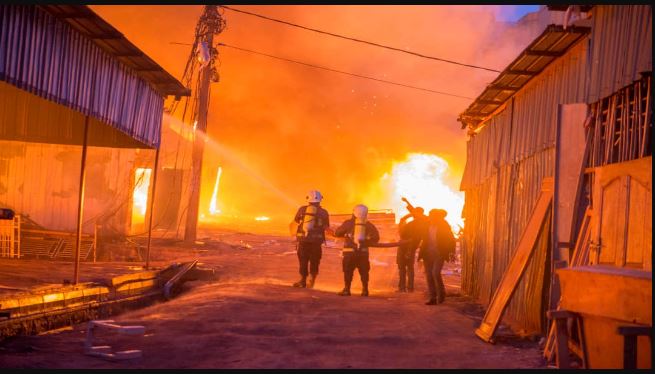 Thaddée Twagirayezu , representing  ADARWA told Kigali Today that the likely cause of the recent fire outbreak could have been due to electrical short circuit, which is not yet totally confirmed since they had  worked on the wiring system after the last fire outbreaks.
According to him, 10 workshops which were affected by the fire had their electrical installation upgraded, after the previous outbreaks, and that had it been the cause (short circuit), the fuse would have disconnected the power supply automatically.
Twagirayezu added 'We can't deny electrical malfunction, through a short circuit, but why is it always happening when the workshops are closed, in our absence, not during working hours. And this has happened more than once!'
He went on to say, 'It was claimed   that last time there were people suspected to have poured petrol before putting up the fire. We can base on this to support a thorough investigation, as we had also wished in previous incidents, but we don't know why it was not conclusive.'
Kacyiru Branch Manager of Rwanda Energy Group (REG), Ernest Ingabire, also concurred with ADRWA that fire outbreaks that usually occur during the night ought to be investigated well.
Ingabire said, " We can't rule out poor electrical installation because it is one of the causes to such incidents, but the question remains why   fires always break out at night, when electricity is not in  full use.'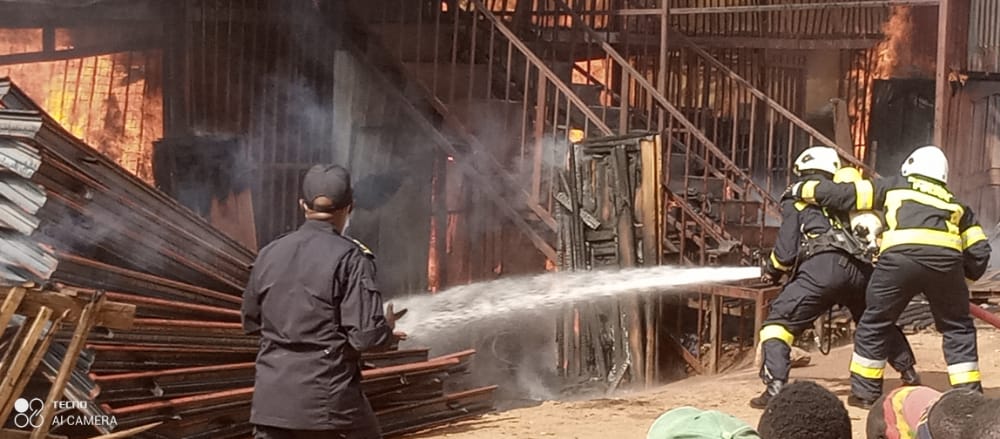 Xavier Dusengimana is also among people who made losses due to Sunday's fire at Gisozi market. According to him, he lost furniture and several machines worth over Rwf 50 million.
'We had not finalised the insurance process, it was mid -way and this makes our recovery process very difficult.', said Dusengimana.
Laetitia Yankurije, a mother of two does business in wooden curtain  poles and related materials. She claimed having lost property worth Rwf 300,000. It is   a business the whole family, including her husband was depending on. They can't afford putting back the same business to life and the only option to them is going back to the village.
Yankurije lamented "Our only hope was in this business; I can't imagine the way out. I have always been sure of earning at least Rwf 20,000 profit per day, I don't know what to do next, am going back to the village… This is not my wish, God protect me.'
According to the Executive Secretary of Gisozi Sector Providence Musasangohe, authorities are making a keen follow-up on what will yield out of the on-going investigations  by the Rwanda Investigation Bureau (RIB); to determine   If there are people behind the fire outbreak or simply out of poor electrical installation.