News has it that Bill Gates Is Dating Paula Hurd, Widow of Former CEO: "But She Hasn't Met His Kids Yet"
The Microsoft co-founder, 67, is dating Paula Hurd, widow of Mark Hurd, the CEO of software company Oracle and the one-time boss of Hewlett-Packard, who died in 2019.
"It's widely known that Bill Gates and Paula Hurd are dating, but she hasn't met his kids yet," a source said.
Gates and Hurd, 60, were photographed together at the Australian Open last month, sitting side-by-side as they watched the Men's Singles Final.
News of the relationship comes close to two years after Gates and his ex-wife Melinda French Gates announced they were divorcing after 27 years of marriage. Their divorce was finalized in August 2021.
Gates and French Gates, 58, share three children, daughters Jennifer, 26, and Phoebe, 20, and son Rory, 23. Jennifer is currently expecting her first child with husband Nayel Nassar and is "due any day," the source adds.
Hurd was married to her late husband for nearly 30 years, until his death in October 2019. They share two children, daughters Kathryn and Kelly.
The relationship news comes just days after Gates was asked during an interview if he hoped to find love again.
"Sure, I'm not a robot," the billionaire said during an interview with the BBC.
Since their divorce, Gates and his ex have remained committed to their work with The Gates Foundation, which they founded in 2000.
"I think we have a productive working relationship, and I think that will continue," French Gates said during an interview last year, describing their relationship as "friendly."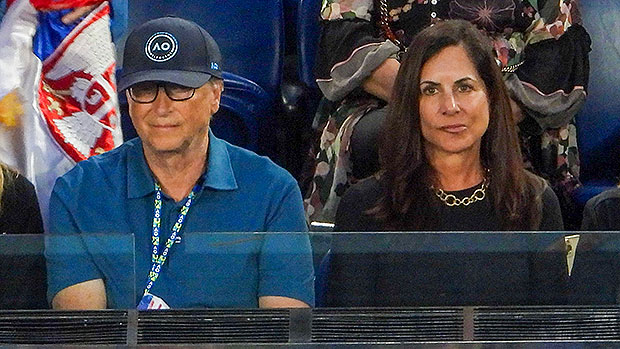 "Certainly, I wish him well," she added.
Opening up about their split back in October, French Gates called it "unbelievably painful, in innumerable ways."
"I had some reasons I just couldn't stay in that marriage anymore," she said toFortune magazine. "But the odd thing about COVID is that it gave me the privacy to do what I needed to do."
"My main concern, of course, was trying to protect my kids through it," the philanthropist added. "And we got to the other side."
In his annual year-end blog post in December, Gates — who has previously said he "will always be sorry for the pain that I caused Melinda and our family" — reflected on having hit "some personal low points over the past years," which included "the end of my marriage."