President Paula Kagame has backed FIFA President Gianni Infantino to continue his efforts to develop football, pointing out that under him, the sport is becoming more inclusive. Infantino was reelected unopposed at the 73rd FIFA Congress sitting in Kigali.
The Head of State made the observation while delivering his opening remarks at the congress, the first FIFA elective congress to be held on the African continent.
"Under the exceptional leadership of Gianni Infantino, football is becoming a more inclusive global support sport. I first got to know Gianni 8 years ago when he was campaigning to lead FIFA,"
"I was convinced by his values and by his vision for the positive role that football can play in society. He was the leader we needed at that moment and everything I have seen from that time until now shows me that he deserves to continue to lead this organization," President Kagame said.
Among other things, President Kagame said that FIFA hosted one of the most memorable world cups in Qatar last year, adding that there is more to come with the number of teams participating in the global tournament.
"I welcomed the expansion of the number of teams participating in the next world cup. Under this format, the slots available for African teams will almost double, creating even more engagement and visibility on our continent.," President Kagame said.
The Head of State pointed out that continuous development of football on the continent is needed for the continent to anchor the sport, beginning with the development of football at the national level, to give young people the opportunity.
"Often the difference between a successful player in Africa and Europe is not talent. It is the lack of quality infrastructure, training and support," President Kagame pointed out, adding that collaboration between countries and partners can deliver the results faster.
"We need to protect and nurture national football. The African Cup of Nations is not a little tournament. Often the difference in a successful player in Africa and Europe is not talent, it is the lack of quality infrastructure, training, and support," Kagame said.
With infrastructure and a developed sports industry, President Kagame said African players can pursue their careers on the continent instead of pursuing opportunities abroad.
President Kagame paid tribute to Infantino and Confederation of African Football (CAF) president, Dr. Patrice Motsepe for their continued efforts to develop football on the continent, including ensuring that even women football is not left behind.
"We also want to ensure equal opportunity for women both on the field of play and among managers, officials, referees and other key supporting professions in football," he said.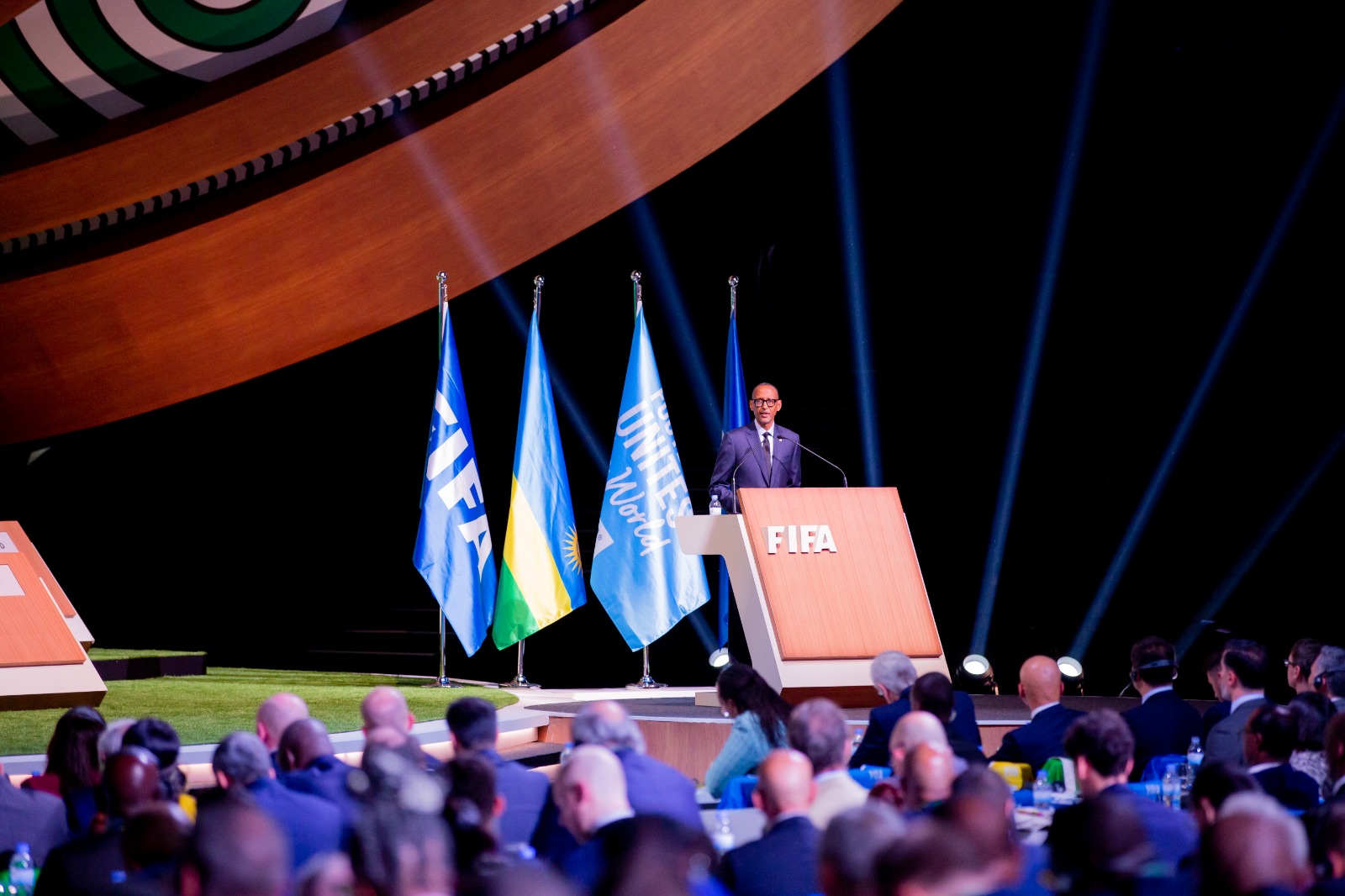 He said that FIFA together with the Rwanda Football Association (FERWAFA) launched a four-year strategic development plan for women's football, noting that this will go a long way in developing football as a sport in Rwanda.
A uniting factor
"Sport is meant to bring people together. In fact the role of sports in our lives, and particularly football, is already becoming a more central and sophisticated role in the lives of people, as other methods of promoting global solidarity become more fragile," President Kagame said.
He pointed out that as a sport, football doesn't need to be politicised as was the case when Qatar hosted the 2022 World Cup.
"What the world needs is to see more of the positive spirit of sportsmanship in our politics rather than bringing political divisions into sports. That speaks to why Qatar was proud to host the world cup and Rwanda is honored to host this FIFA Congress,"
"We need to keep bad politics out of sports as we saw last year," President Kagame said, citing the criticism directed at Qatar.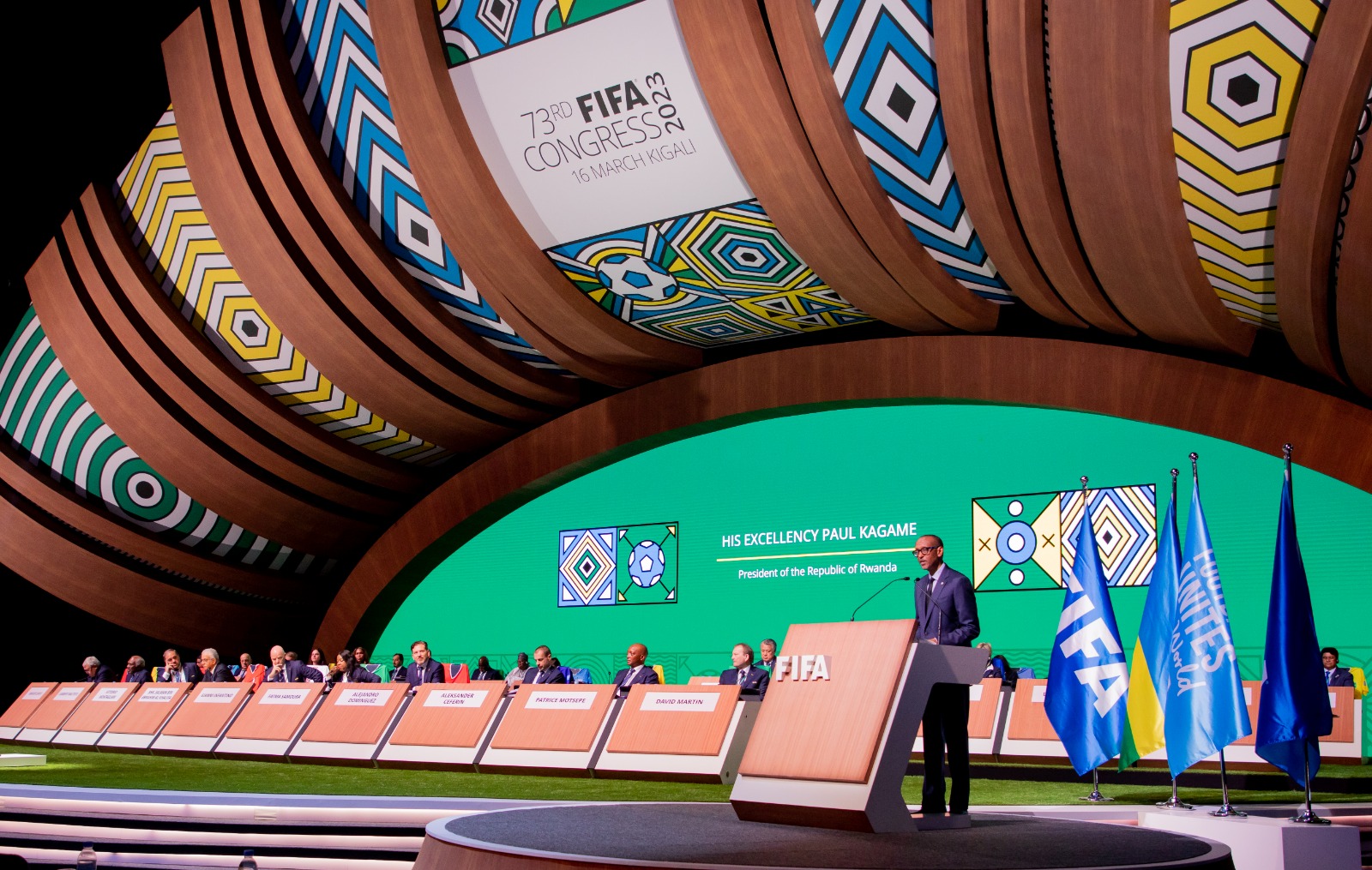 "Instead of asking why it is being held there first, ask, why not?" President Kagame said, questioning those who argued that Qatar shouldn't host the global footballing tournament.
He said the kind of entitlement and attitude which gives some people superiority, should be left behind in history.
He pointed out the selective politics advanced by people with their selfish interest and the existence of racism, where African players still get bananas thrown at them on the pitch and a female referee is booed on the pitch because of a negative social environment are some of the wrongs that need to be corrected.