Effective forensic evidence is used to successfully prosecute those guilty of committing crimes, but also build safer communities based on evidence not speculations.
According to forensic scientists, to create a safer African continent, forensic services should be democratized up to the community levels.
"We must create a safer continent, based on forensic evidence, not speculations. However, this needs to democratize forensic services to the communities. People have to trust evidence based on forensic service," Professor Uomo Eze, President of African Society of Forensic Medicine (ASFM) said.
"For any crime, community members will know the procedures and evidence. They say call the police, refuse people to touch anything. They must have basics of forensic services, trust the results and that creates a safer community," Prof. Eze added.
He made the observation during the media briefing about the upcoming ASFM conference to be held in Kigali City. Themed "Harmonization of Evidence-Based Forensic Science Practice in Africa- A Holistic Approach Towards a Safer Continent," It will run from 8th to 10th March 2023.
The two-day event has tabled several issues for discussions including human tissue banking, Management of the dead, Identification of deceased migrants, Disaster response and management, Prevention of gender-based violence, crime scene management and harmonized evidence-based forensic science practice.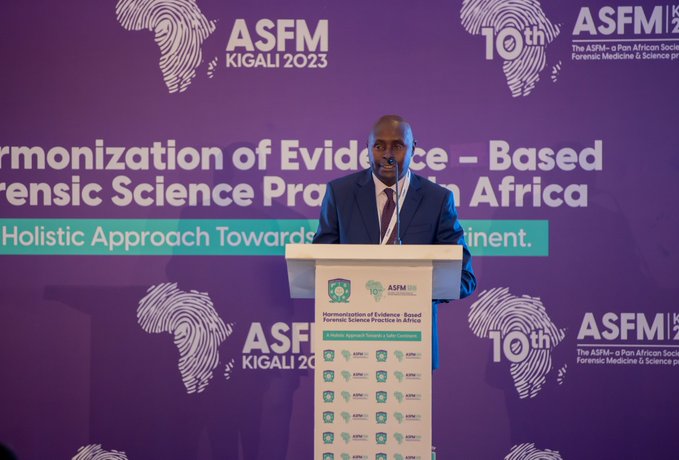 "For five years of operation, Rwanda Forensic Laboratory (RFL)has done an amazing job. There have been drastic changes in supporting the justice system and crime prevention. People know if they commit crime, evidence will be found," Dr. Charles Karangwa, Director-General of RFL said.
"The services basic knowhow needs to be extended to communities, and regions. People trust results from the forensic lab, and it is part of the ways to create safer communities and strengthen the justice system more," Dr. Karangwa added.
Africa Forensic Science Academy to be launched
According to Dr. Karangwa, during the conference ASFM headquarters also known as Africa Forensic Science Academy will be launched, and it will focus on establishing and harmonizing guidelines and training countries on matters related with forensic science on the continent.
"It won't be an academy like UR, it will be a network for setting guidelines and harmonizing them, but also training countries on forensic science. Countries need to have the same skills on forensic services for them to harmonize working conditions and guidelines," Dr. Karangwa said.
"Africa must work together, and Africa Forensic Science Academy will have the headquarters here in the country that is so beneficial to the country, it will help in setting standards and the accreditation process," he added.
Since the establishment of RFL in 2018, over 36000 tests have been conducted. The lab began providing convenient services to the judiciary, members of the private sector, and residents in 2018 following the adoption of the statute establishing RFL in 2016.
It was established as an independent entity that year and is currently managed by the Ministry of Justice. It is equipped with cutting-edge technology and is staffed with professionals and experts who can perform forensic investigations to improve the administration of justice.
It offers a range of services, such as forensic pathology, digital forensics, fingerprint analysis, drug and chemical analysis, document examination, and forensic toxicology.