Toahim Uwizeye 36, an ambitious and promising Rwandan entrepreneur is one of the 20 women, selected by the 'Women in business Initiative', a Sida introduced project in partnership with Norrsken East Africa, that supports them, mostly in business technology.
The Sida Initiative is a 10-month project that started in December 2022, to run till September 2023 and looks at women founders, supporting them with skills, including product development, business management and team management.
Uwizeye is the Founder of OLADO Business Group, an e-commerce business platform that has been operating in Rwanda since 2017.  The company focuses on providing an on-line marketing space that helps over 300 vendors and more than 5,000 users/ buyers to connect  and do business together.
With a bachelor's degree in Computer Information System, Uwizeye also had an opportunity to work in the ICT sector after school and has been hired by one of the international e-commerce platforms. Experience acquired inspired her to start an on-line buying and selling business platform.
Working with a team of 7 people, Uwizeye's on-line   platform has between 12,000 and 15,000 visitors on a monthly basis. She helps vendors to list their products of different categories; both 'made-in-Rwanda' and imported products. The company provides accessibility to both local and international markets.
OLADO Business Group facilitates their customers to buy commodities on line, accessing payment procedures of their choice and having products delivered to preferred destinations.  This also applies to international buyers, who are aided to purchase Rwandan products and are delivered to their home countries.
According to Uwizeye, the Sida initiative has been important to her, because doing business as a start-up, young entrepreneurs in Africa always face challenges and need support from the Government and other partners.
'With a background in Information and Technology, I built a software and a platform, but did not have management and business skills. As an entrepreneur in the making, most of the time I don't have capacity to hire experts. Through Sida, I have been connected with different stakeholders, up to high profile organisations, which an individual in business would not have afforded.', Uwizeye said.
OLADO Business Group has grown, after joining the ICT chamber, under the Private Sector Federation (PSF), which introduced her company to different business incubation programs. Through this journey, they have acquired knowledge on how to access start-ups, grants, coming up with working capital and other skills.
"It's really awesome! linking our company with different stakeholders has enabled us to finalise our software applications. We are able to market ourselves and sustain ourselves, from the revenue we are generating, owing to support from Sida, our government and other stakeholders," she said.
Despite the growth in business, Uwizeye's e-commerce undertaking faces challenges, such as lack of trust from some clients, since on-line business is still a new approach to some people in Rwanda.
 Uwizeye says. 'From the start, most clients were not confident about purchasing products, basing only on samples provided on-line. '
Mistrust also arises when some people hesitate to disclose their personal details, including bank credentials, but with time, there is change in attitude and recommendable progress, as people begin to understanding this technological trend in business.'
Lack of sufficient   working capital is another challenge, since young entrepreneurs invest their little savings and skills from school, which can't take a start-up to an extended level.
The capacity of start-ups to roll out a durable marketing strategy is limited as well, thus not doing enough to promote their brand, or even hire experts to help drive a marketing plan and fit competition.
OLADO Business Group also works with over 100 Medium and Small Enterprises (MSEs), and 12 Cooperatives, operating in rural areas. They guide them into creating presence of their products via the company's on-line platform.
Focus is put on agricultural products, processed with added value for example chill source, honey, essential oils, flowers, art craft, among others.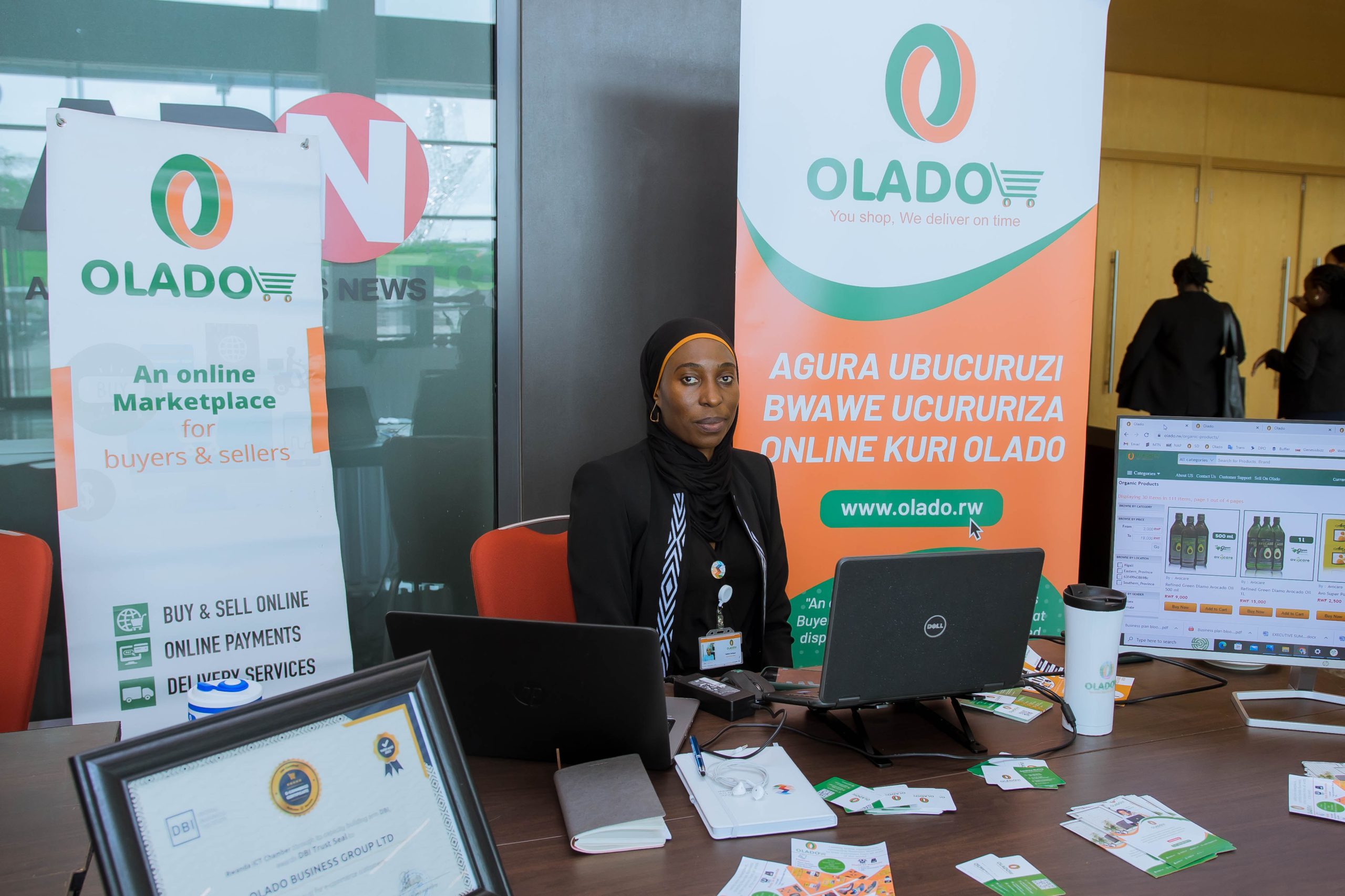 'Gradually, our e-commerce platform enables the sale of their products, both on the local and international market. Having a product but with no market is challenging. So I believe that adding to the Government efforts in enabling MSEs go digital is a role worth applauding.', Uwizeye added.
Working with digital brand Ambassadors, located in different rural areas has also made it easy to educate people on how to use social media platforms for e-commerce purposes.
Brand ambassadors are mostly the owners of internet cafés, trusted by many locals, because they assist them to access Irembo and bank services or listing their products.
Anais Nyenyeri, 22, is another beneficiary of the Sida 'Women in business Initiative' who owns an online business in tourism and car rental services, under a company named 'Ici c'est Kigali', established in August 2022.
Nyenyeri studied Transport and Tourism at the University of Tourism and Business (UTB). She started a website, designed to help tourists coming to Rwanda have basic information; where they have to visit, stay, proposing what might interest them in terms of business, among other services.
Her company also offers car rental services to tourists already in the country.  So far, they have been in contact with over 100 tourists, thanks to efforts from a group of nine vigilante staff.
Nyenyeri said, 'Our business is about introducing tourists to the Rwandan culture, because we want them to understand deeply what Rwanda is about, not only visiting the city centre, stopping at visiting the 'convention centre' for instance, but encouraging them to visit other fascinating tourist sites in rural areas.'
Tourists, according to Nyenyeri, also need to know about Rwanda's history as they touch base in the country, rather than only relaying on broadcast news and programs. They are encouraged to visit Genocide memorial sites to get first-hand information, national parks, museums, among other places for adventure.
Besides offering on-line services, their tourism company has extended to put up a brand shop, selling items like T-shirts with their company's name and logo, bags and notebooks, which are bought in large quantities.
'We strive very much for uniqueness of our products and services offered by our company 'ici c'est Kigali.  Living in a world of competition makes our major aim to grow and impact society as well.', said Nyenyeri.
She started   her business to empower women, as  80% of  her workers are women and 20% are men (drivers) in the car rental department.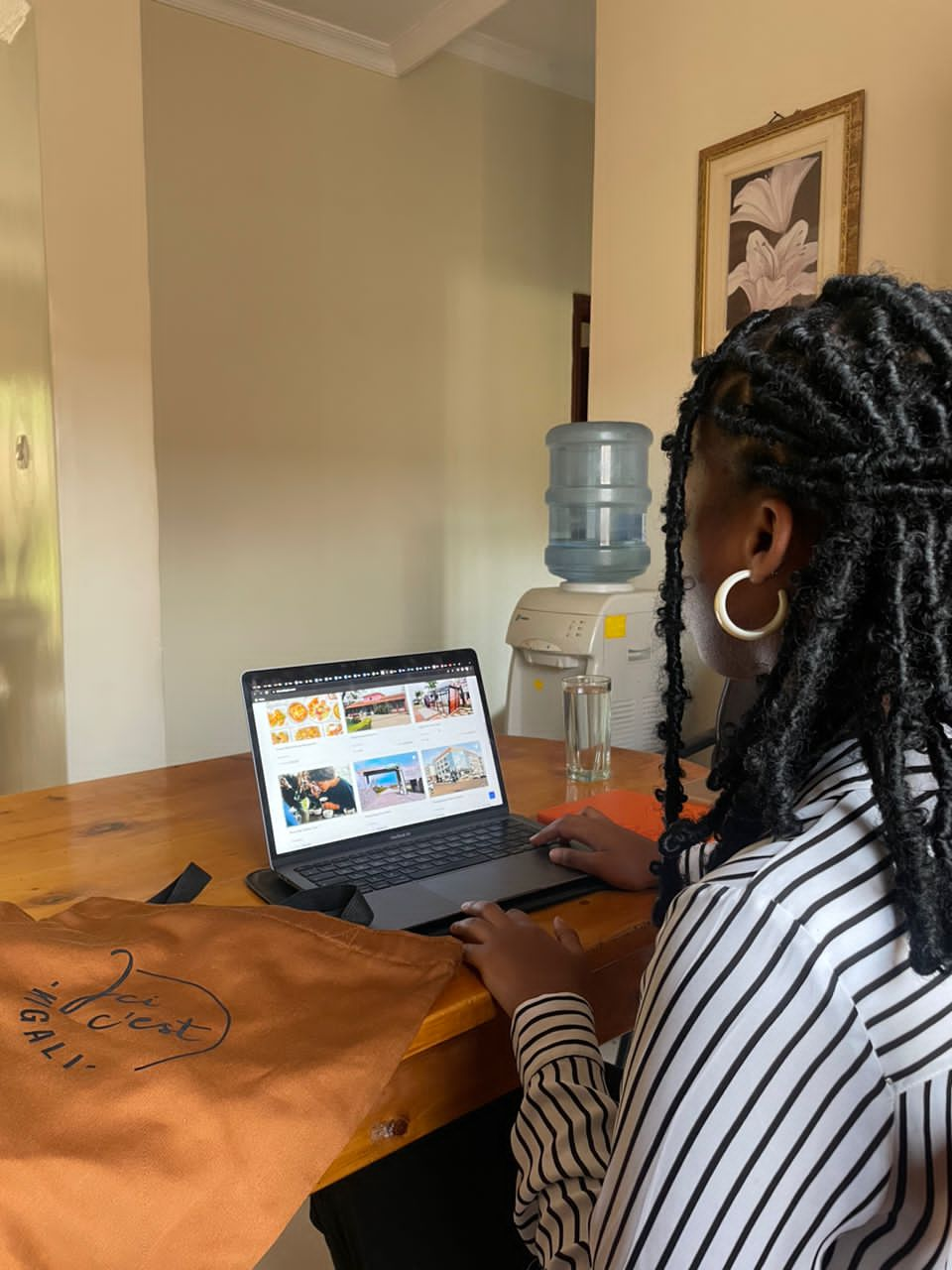 Lack of strong marketing strategies is a major challenge also expressed by Nyenyeri. She further said it is something they have to work on, the reason being that they are still new in business.
She believes they don't have as many customers as they would wish and as business grows, they expect more challenges and have to act according to the tunes of time.
In her future prospect, Nyenyeri plans to employee as many women as possible, including boosting the business of making bags, however not leaving men behind in occupations fitting them.
'Women in business initiative project has paved my way, because I did not do any business course at school. I needed someone to take me through relevant skills and they came as a right partner.  I have gone through amazing   programs for quick acquisition of hands-on skills and hope to make my business grow faster, knowing how to manage it well and my workers.', she stressed.
The philosophy behind 'Ici c'est Kigali' is that beyond promoting tourism, women need to put any idea into reality, by thinking on how to assimilate their ideas to the existing technology.