Rwanda women's basketball team began their campaign at the 2023 FIBA Women's Afro-basket with a stunning 64-35 victory over Ivory Coast on Friday.
Cheikh Sarr's girls looked menacing in front of their opponent as they capitalized on home advantage in the 12-nation tournament that began on Friday, July 28, at Kigali's BK Arena, Rwanda.
Destiney Philioxy, Sifa Ineza, Marie Laurence Imanizabayo, Robertson Crooms, and Hope Butera were chosen by Sarr to take the court first.
Rwanda started the game on a high note, with a comfortable 14-7 victory over Ivorian girls in the first quarter, thanks to the brilliant play of Philioxy, Ineza, and Crooms, who contributed significantly.
In the second quarter, Ivory Coast head coach Zoran Višić motivated his players as they returned well-instructed and managed to put forth an impressive effort on the court, levelling with Rwanda at 14-14. Sarr's team was still ahead with seven points at halftime.
The host team regained the upper hand in the second, beating Višić's side 24-8 in the third quarter to increase their lead to 52-29.
Sarr's side kept their composure in the final quarter, aiming to embark on the competition with triumph, which they achieved by scoring 12 points to Ivory Coast's six. Rwanda grabbed a 64-35 win over their Ivorian counterparts.
Philioxy was the leading scorer for Rwanda as the point guard sank 18 points and dished out seven assists, while Crooms bagged 11 points and grabbed five rebounds. Butera and Ineza both dropped seven points.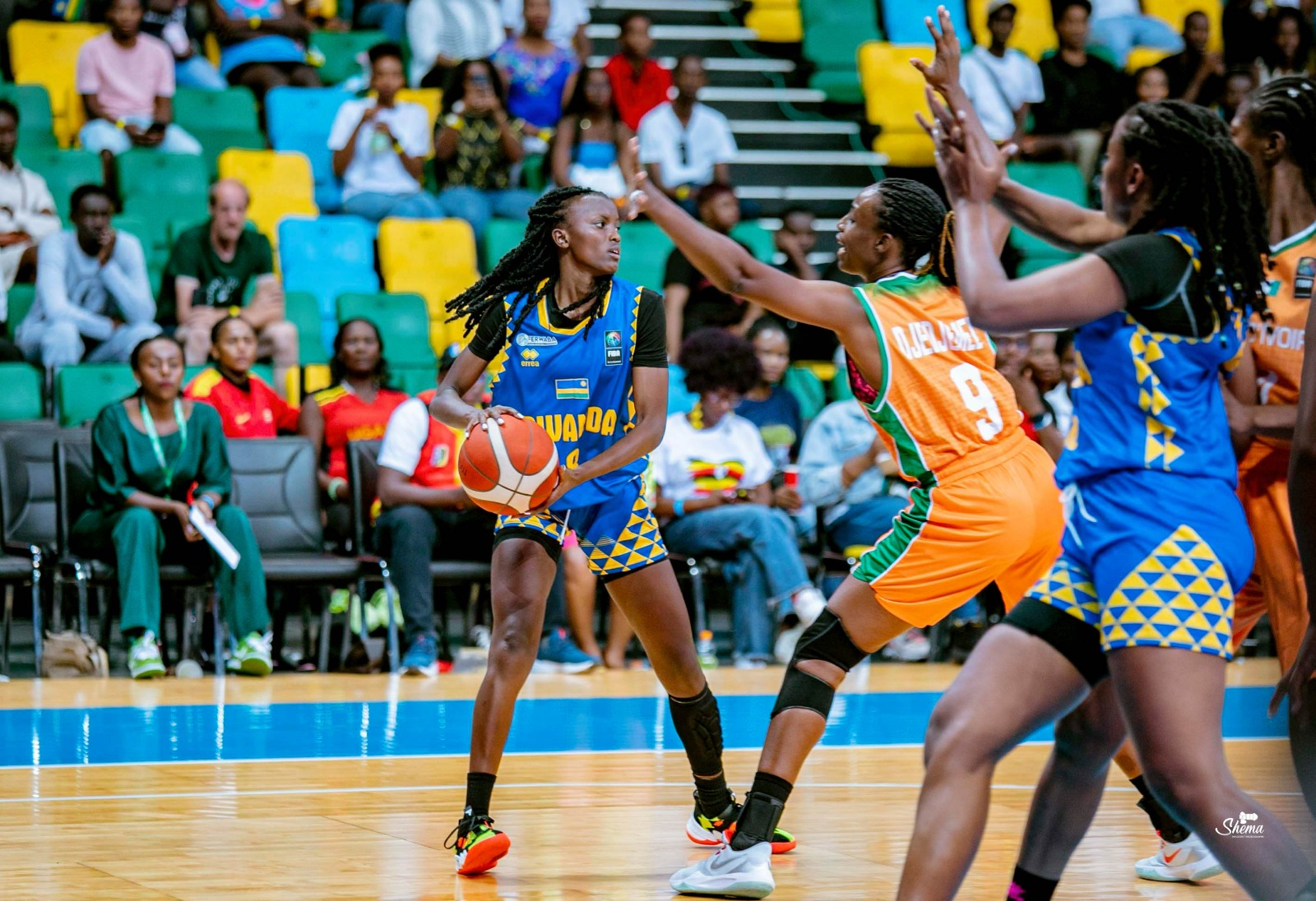 Rwanda will return to action on Sunday, July 30, facing off against Angola, who had a rest on day one, tip off at 6 pm. Sarr's girls will forcibly take on the two-time champion without Imanizabayo, who sustained a serious injury in their group A opener.
Meanwhile, day one's games saw the 2021 Women's Afro-basket winner Nigeria convincingly beating DR Congo 69-35, Cameroon defeating Mozambique 55-53, and Uganda falling short to Mali 80-66.
On the second day of Africa's most prestigious women's tournament, July 29, DRC will square off against Egypt, Mozambique face Guinea, Uganda take on Senegal, while Ivory Coast will play against Angola.