The Rwanda Defence Force (RDF) Spokesperson Brig Gen Ronald Rwivanga, on July 14, told the youth from Rwandan Diaspora community that they are ready to help the Democratic Republic of Congo restore security in its Eastern province if the country asks for help.
A delegation of 65 Rwandan youth living in diaspora who are on a two week trip to Rwanda visiting the activities that demonstrate the bravery of the Inkotanyi in liberating Rwanda, were received on behalf of the Chief of Defence Staff, by Brig Gen Ronald Rwivanga, the Defence and Military Spokesperson and Lt Col Vincent Mugisha, Head of Civil Military Relations Department at the RDF Headquarters.
One of the visitors asked Gen. Rwivanga why RDF is committed to help foreign countries yet there is a problem at the neighbor (DRC).
"We are in a very insecure region. I would say that Congo, our neighbor, has been in trouble for many years. How can we put effort into helping foreign countries while our neighbor has no security for many years?" the young man asked.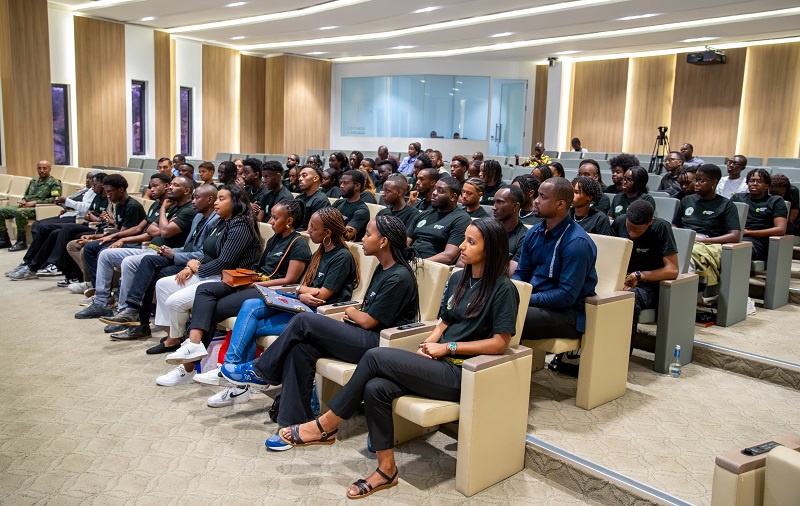 In response, Brig Gen Rwivanga said: "If they asked us, we would help them right away as we did before when they asked help from us. There are many operations we carried out together especially in solving the problem of the so called Democratic Forces for the Liberation of Rwanda (FDLR) and other armed groups operating in North and South Kivu."
"It's something we can do if they give us that opportunity. The problem is, do they have that will? That is the thing we don't know," he said adding, "We know for sure that things are not going pretty well in DRC but political will is important. If one refuses to accept your help, then it's up to them, but for us, we are ready."
The spokesperson said that RDF has recorded high in several operations, an indication that in DRC, peace would be restored, were they given this opportunity to intervene.
Case in point is Mozambique, especially in Palma and Mucimboa Da Praia.
"So, how can we fail to restore peace in DRC which is next door?" he asked.
Brig. Gen. Rwivanga briefly presented to the youth RDF's achievements including the presence of approximately 6,000 Rwandan troops who rotate in Mozambique, the Central Africa Republic, and South Sudan peace missions.
RDF is also present in social activities back home, including building shelter for the needy, medication, construction of schools and supporting the community in several activities like farming.
This is on top of public infrastructure like roads and bridges maintenance/construction, access to clean water, to mention quite a few.
The youth from Rwanda diaspora visited the Ministry of Defense after visiting the Campaign Against Genocide Museum located at Rwanda Parliament where they received information that instills the culture of patriotism among the youth.