The YouthConnect Africa program, a youth empowerment program has managed to secure investments worth Rwf 5billion in Rwanda alone in the last ten years since its establishment, officials have said.
The purpose of the YouthConnekt Africa Hub is to provide a holistic solution to alleviate the challenges faced by African youth by widening the pool of economic, social and civic leadership opportunities through National YouthConnekt initiatives.
The program, which started as an annual Rwanda youth gathering to inspire youth-led innovations and nation building, has since grown with presence in 32 African countries.
Beneficiaries like Jeannette Umutoniwase, the proprietor of Inzira Dreamz Network (in Bugesera) who won a Rwf500,000 seed funding in 2018, to start a made in Rwanda product company, says the funds have enabled her to advance her business ideas.
Today she majors in producing made-in-Rwanda fashion clothes, bags and shoes and currently has capital to produce 50 pieces per product to supply the local market and clients in three African countries and the USA.
During the 10-year anniversary of YouthConnekt themed "10 Years of Impact", held August 23, 2023; Rwanda's Minister of Youth, Dr. Jean Nepo Abdallah Utumatwishima revealed that the program has already invested Rwf2.5billion to youth entrepreneurs start up projects.
"All those projects together have invested Rwf5 billion into the economy of Rwanda and created permanent jobs for 36 thousand people," Utumatwishima said.
The minister urged young Rwandans to take advantage of the forum to think of big projects and solve social economic problems in their respective communities to reach national development and contribute to the country's growth.
At the annual conference, the youth get an opportunity to share and pitch business ideas, innovations, but also inspire others in leadership roles.
Roselyne Nyirahategimana from Rusizi District, an agricultural value chain entrepreneur and Director of 'Work Roselyne' company says the program played an important role in her achievements, where she got leadership skills, business advice which helped her achieve her current status.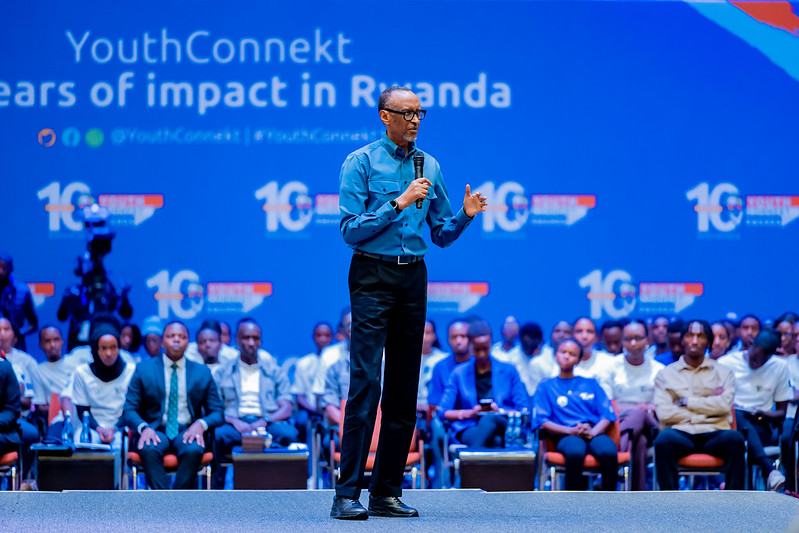 President Paul Kagame, who officiated the 10th anniversary celebrations asked the youth of Rwanda and Africa in general, to change their attitudes and practices and take Rwanda and the rest of Africa out of poverty, which has become a chronic condition that makes some of the rich countries look down on this continent and its inhabitants, as if they are the ones who created.
President Kagame reminded the youth that regardless of their age, they have a great task, to find out the reason why Africa is not developing like other continents, so they must be motivated to solve that problem.
President Kagame called on the youth to always strive for self-esteem, stressing that achieving this requires raising the awareness of everyone.