The First Lady, Mrs. Jeannette Kagame has called for renewed efforts to strengthen unity and reconciliation among Rwandans, through 'Ni Umunyarwanda', a foundation on which she said the country's togetherness is built.
The First Lady made the call on Sunday while opening the second day of the 16th annual forum of Unity Club, which is ongoing at Intare Conference Arena in Rusororo, Gasabo district under the theme "Ndi Umunyarwanda: Igitekerezo-ngenga cy'Ukubaho kwacu" (The main idea for our existence."
Mrs. Kagame pointed out that the theme for the two-day retreat is appropriate in the sense that looking back over the past three decades, Rwandans have overcome insurmountable challenges to emerge as one people and one country.
"To understand the value of this them, it is necessary to look back a little, and to see what has been built in these almost 30 years since Rwanda was liberated, which makes us happy with what has been achieved, in the journey of building the unity and resilience of Rwandans,"
"We chose to be one- to be a united Rwanda, a country loved by her people, people who are determined to work for, protect and defend their country," Mrs. Kagame said.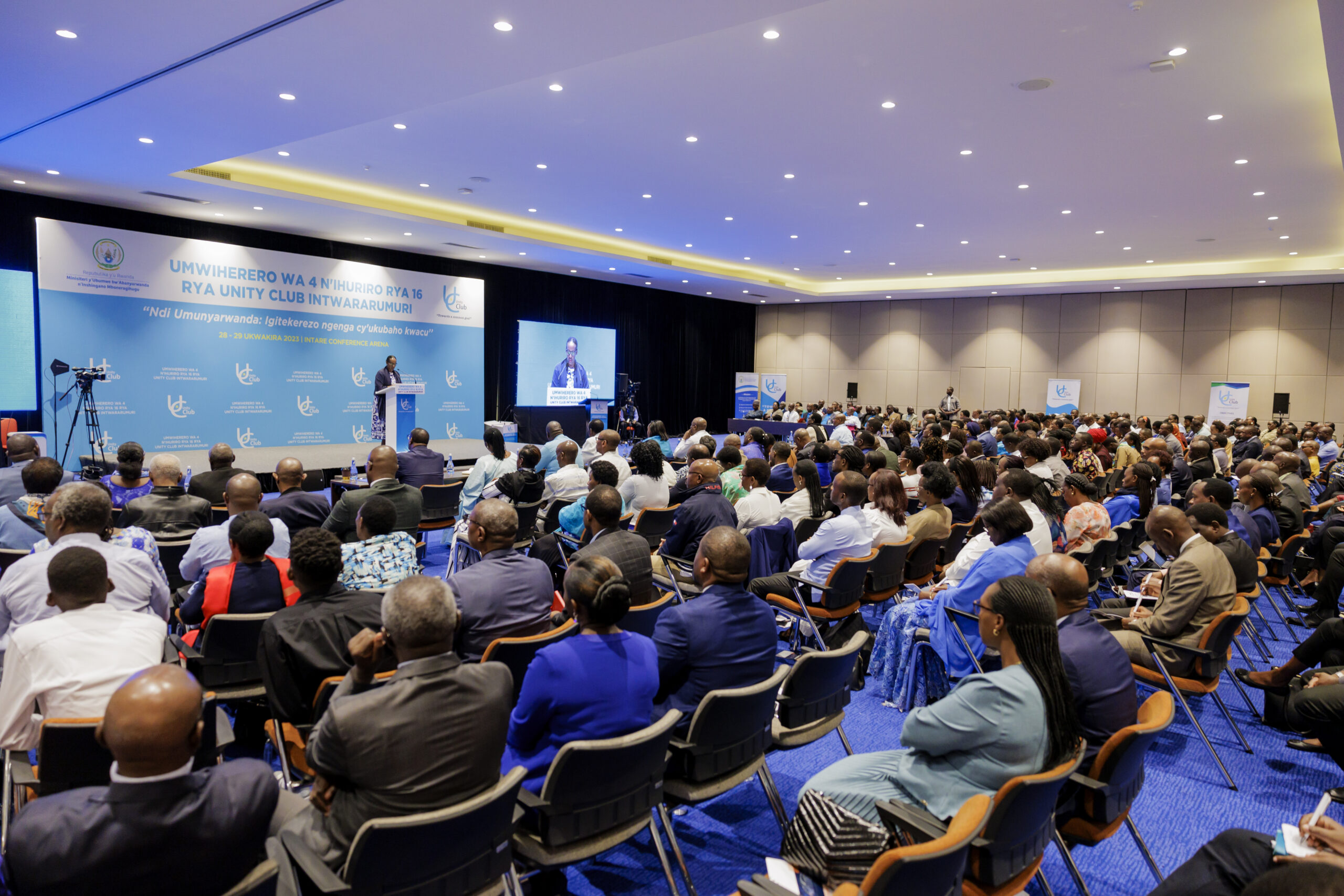 Picking it up from the discussions of day 1, the First Lady reiterated the importance of members of Unity Club, continuing to be torchbearers in society, first by exhibiting high levels of integrity and spreading the light to others.
She pointed out that Rwanda's difficult past, characterised by ethnic divisions is the main reason Rwandans have embraced 'Ndi Umunyarwanda', to ensure that the differences that tore them apart before do not recur.
"'Ndi Umunyarwanda' is a duty and a right – it should be at the centre of everything we do,"
"It should not be just a slogan or a sentence but rather something that is part of us, up to our DNA, so that even our descendants will grow up with these values that characterize us," Mrs. Kagame said.
As the patron of Unity, the First Lady said the organisation which brings together current and former members of cabinet and their spouses said they will continue to contribute towards efforts to make 'Ndi Umunyarwanda' a cornerstone for nation building.
Mrs. Kagame said that regardless of the difficult past Rwanda went through, many Rwandans exhibited resilience and continued to do good, amidst challenges, setting a good example of how humanity overcomes adversity.
"Since 2015, we started recognizing individuals with outstanding acts of humanity and kindness 'Abarinzi b'igihango', to celebrate the people who went out of their way to save others, even putting their lives on the line,"
"Some are present and here with us, others have passed on and are no longer with us. We recognise and celebrate all of them," she said.
Be role models to your children
The First Lady told Unity Club members, senior officials and invited guests that it is their duty to pass on these values to young generations, urging them to lead by example, by shunning bad practices such as corruption, selfishness and favouritism, among others.
These practices, she said can be a major stumbling block to national development and can set back the country to the dark past if not nipped in the bud.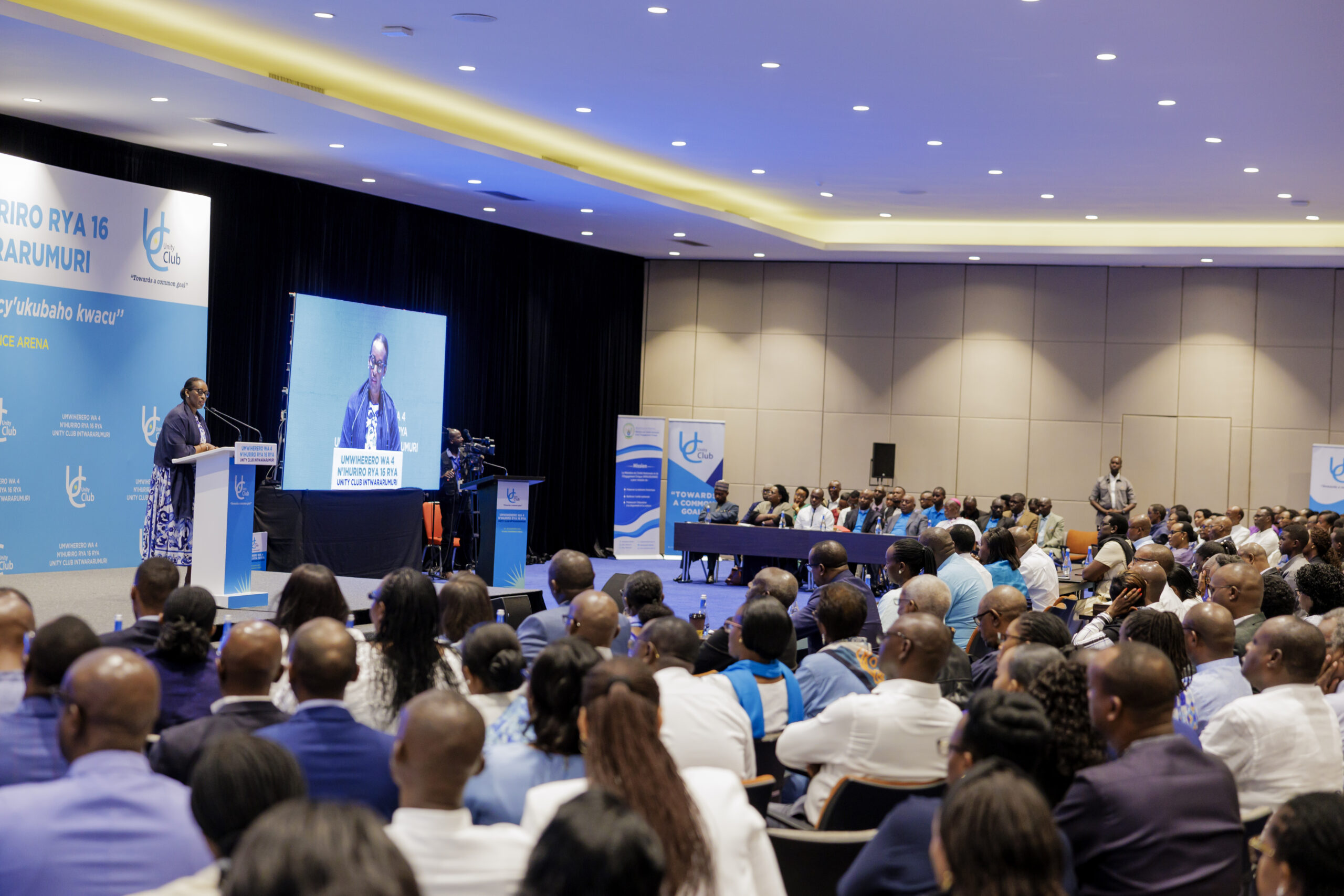 Among other things, she urged members to conduct themselves in an exemplary manner and offer guidance to the younger generations as a way of carrying on this legacy.
She also challenged young people to take up the mantle and carry forward 'Ndi Umunyarwanda', pointing out that there is no such a thing as too young to play a role in nation building.
At the same time, she encouraged elders to take up the responsibility of guiding young people on the right path and also be the guardians of the nation.
"As elders, we must always strive to discern and know who and what wants to disrupt our unity and confront it early. Rwanda and being Rwandan is the most important thing for all of us," Mrs. Kagame said.
More efforts needed to promote unity and reconciliation
In his speech, the Minister of National Unity and Civic Engagement, Dr. Jean Damascene Bizimana, said that while Rwanda has attained impressive levels of unity and reconciliation since the 1994 Genocide against the Tutsi, more efforts are needed to consolidate unity and reconciliation.
Dr. Bizimana cited the issue of the genocide ideology as one of the challenges the country faces today, which if not tackled early can set back the gains registered in uniting Rwandans.