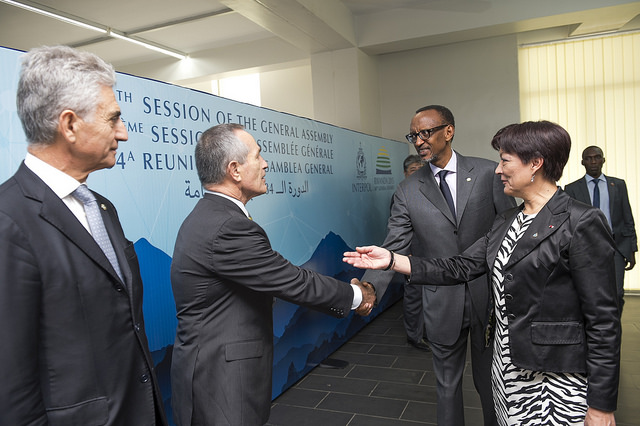 President Paul Kagame is seeking more collaboration from Interpol to track down genocide fugitives roaming around the world.
Kagame, whose government stopped the genocide against Tutsi in 1994, expressed satisfaction for Interpol's work in arresting genocide fugitives, but said;  "there are out there who need to be brought to book'.
The President was officially opening the 84th Interpol Annual General Assembly taking place in Rwanda's capital Kigali.
More than 400 Genocide fugitives roam around 30 African countries alone, with less efforts by the host countries to arrest and extradite them to Rwanda.
Elsewhere in the world, Rwanda in collaboration with its partners including United States are hunting nine notorious Genocide fugitives that have escaped justice for the past 20 years, despite a heavy bounty on their heads.
The US, set a US$5m reward for any information leading to or arrest of the suspected murderers.
These include Felicien Kabuga, accused of being the chief financier of the genocide, Protais Mpiranya, who commanded the notorious Presidential Guards, and Augustin Bizimana who was Defence Minister during the genocidal regime.
President Kagame said that global cooperation is the sole solution in dealing with trans-national crimes.
He believed that with Interpol, the world can learn a lot in bringing to book all fugitives around the globe.
"Interpol is a good model for effective international cooperation. The world can learn a lot from how it does business," he said.
Chief Terrence M Cunningham, president of the international Association of Chiefs of Police committed the association's will to 'building community trust by police."
Johnson Busingye, Rwanda's Justice Minister had earlier issued a concern by governments that pay lesser attention to facilitate genocide fugitives trackers, yet sheltering a number of them.
During the meeting of chiefs of police on Sunday, they agreed to extend stronger collaboration in capacity building, sharing timely information as a path to eliminating multinational crimes that continue to destabilize global security and welfare of citizens.
President Kagame told delegates and police chiefs from Sub-Saharan Africa, "By cultivating shared values and norms of law enforcement, Interpol makes the world a safer place."