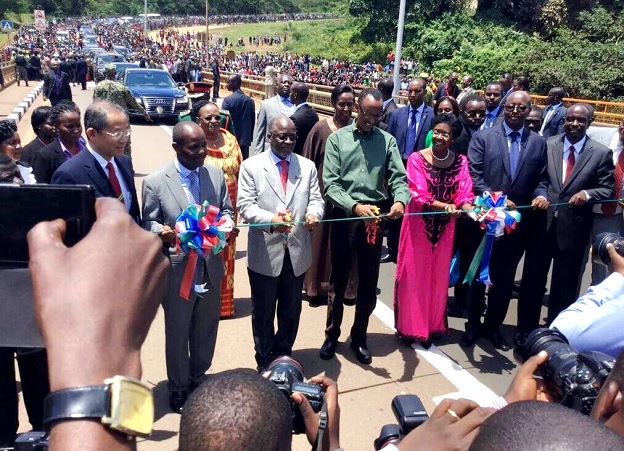 Tanzania's president John Pombe Magufuli this morning drove all the way to the border with Rwanda in his first working visit outside the country since becoming president in November 2015.
President Paul Kagame was at Rusumo border earlier in the day to welcome his counterpart. A red carpet was rolled down for president Magufuli who arrived with a large motorcade.
Jubilant residents from both countries eager to catch a glimpse of the two leaders, swarmed the border located between Rwanda's Kirehe district and Tanzania's Ngaara Province.
The two leaders jointly commissioned a (Tsh61 billion) multi-million dollar One Stop Border Post service.
The border post consists of a two lane international bridge that will handle 1000mt of weight-replacing a 40-year-old  small bridge that had no capacity.
"We arrived here for important matters…to officially open this bridge which was built by African Development Bank and JICA," Kagame said.
"I would wish that the bridge handles five times more the 2000 people who cross here every day to even more," said President Kagame.
According to customs officials at the border, the new bridge will reduce time to clear transit trucks from one hour to twenty minutes.
President Magufuli said the new modern border post shows that "unity is strength."  For Magufuli, East African region is a blessed land with unlimited resources, and that only cooperation can push the region to prosperity.
The Tanzanian leader known for his tough stance against corruption, will spend two days in Rwanda.
It is expected that Presidents Kagame and Magufuli will hold bilateral talks this evening at President Kagame's country home in Muhazi, before attending a state banquet later in the evening at Serena Hotel.
The two Presidents and First Ladies will tomorrow light a candle of hope to mark official commemoration of the genocide against Tutsi.
Pictorial of Kagame and Magufuli One Boarder Post inauguration ceremony.