The First Lady of Rwanda Mrs. Jeannette Kagame has offered her full support to young Rwandans investing in projects that deal with health issues – as a major technology summit opened in the country.
Mrs. Kagame made her pledge during her address to a youth series forum 'Smart Health Opportunities in Africa' on the sidelines of this year's Transform Africa Summit taking place at Radisson Blu and Convention Centre in the capital Kigali.
"The health of Rwandan population has always been on top of national priorities. Our duty is to empower youth with life – saving information and encourage them to take the lead in curbing health issues," she said.
This year's Transform Africa Summit will focus on Smart Women, Africa Smart Cities with the youth given platform to pitch their ideas to potential investors.
At this morning's youth series forum, young Rwandan innovators with health projects were given platform to present their projects before the First Lady of Rwanda, First Lady of Sao Tome Mrs Nana Trovoada, head of UNESCO, Irina Bokova and other high level delegates.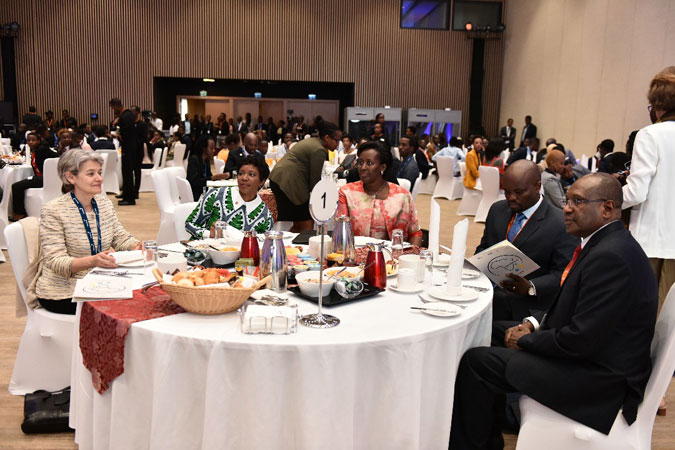 Presenting their projects include young entrepreneurs who were awarded by the First Lady in February 2017 under iAccelerator initiative of Imbuto Foundation.
Of them, Girl District is an initiative of Uwase Dominique and Shakira Umutoni who intend to break the ice on topics that were previously avoided by the society while they could help the youth have information on sexual and reproductive health to avoid risky behaviours.
Their messages will be channelled through comic but straight to the point books that were adapted to the needs of an audience included between 16-24 years of age.
A-4 student team who are working on 'Umbrella' a code that will be used by the public to ask questions and get answers via a short message on Mobile phone. The student team also worked on 'Umbrella' a code that will be used by the public to ask questions and get answers via a short message on Mobile phone.
In February, the First Lady, under Imbuto Foundation awarded Umbrella, Girls District, Tantine and Tubivugane TV Show with $10,000 each to implement their projects but were also promised to have an opportunity to present them in front of potential investors in Transform Africa.
Speaking at the session today, Mrs Jeannette Kagame told innovators that their great ideas and strong health systems will definitely change Rwandan communities for the better.
First Lady's philanthropy organization – Imbuto Foundation currently runs 6 projects linked to health sector and targeting different segments of Rwandans.
The latest was iAccelerator which supports young Rwandans creating IT-related projects that provide solutions to health issues.
Mrs. Kagame said: "Last year, we launched the iaccelerator Rwanda, which saw young people designing sustainable and youth-friendly solutions."
According to the First Lady, "Issues affecting the well being of youth, 40% of population, simply cannot be ignored."
She told participants that Rwanda's track record in education, health, political and economic innovations "should inspire us all".
"We must learn how to capitalise on innovations, adapt and improve them to respond to new realities and resulting priorities." For Mrs Kagame, "We hope to see the process enabling people to see in a challenge an opportunity to innovate. The First Lady also hopes to see in this Forum everyone feeling the urge to share what they learned.
The series forum also featured panellists discussing health issues and highlighting solutions through the use of ICT.
Davide Piga, UNFPA country representatives who featured on a panel said: "Rwanda is a country in which I see high level of involvement and which gets the priorities right.