The First Lady Mrs Jeannette Kagame has told a high level dialogue in Azerbaijan that to end violent extremism, men and women must be empowered together as a joint effort.
The First Lady of Rwanda was speaking Saturday at the 4th World Forum on Intercultural Dialogue taking place in Baku – Azerbaijan 4 – 6 May 2017. The Forum has brought together officials from government, international bodies and nongovernmental organisations.
Their discussions are centered on ways forward to build societies based on equal opportunities as well as an inclusive framework of tolerance and respect for diversity.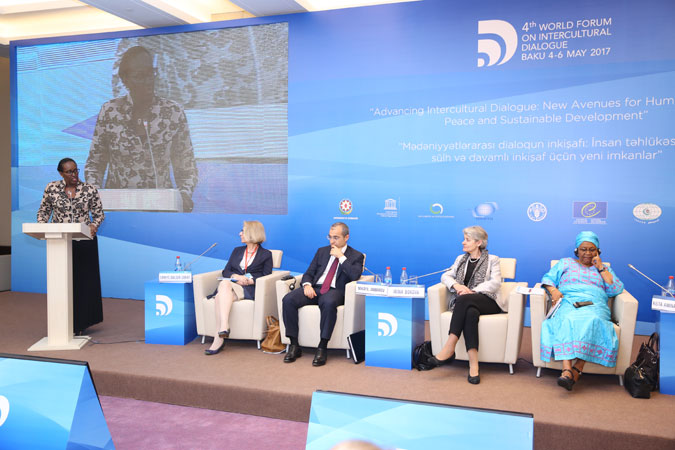 This morning, Mrs Jeannette Kagame was on panel with Ethiopian counterpart Roman Tesfaye and Keita Aminata Maiga the First Lady of Mali, along with Irina Bokova, the Director-General of UNESCO, among others to talk about Countering Violent Extremism through Girls' Education.
"Countering extremism through girls' education is important, for a vibrant society is one that gives an equal shot at a better life to all," said Mrs Kagame.
Founder and Chairperson of Imbuto Foundation, the First Lady has spearheaded efforts to promote girls education. Her engagement has been rewarding the best female students. Since the launch of this program, 4,522 girl students were awarded.
For Mrs. Kagame, "In order to bring an end to violent extremism, and the radicalisation of young people, we must assess our expectations for our societies."
That means in other words that, "leadership matters in enforcing inclusive policies that empower all citizens, irrespective of gender, race and religion."
The First Lady highlighted the context of Rwanda in ending violent extremism, saying: "After the Genocide Rwanda wanted to restore human rights for all, enable every citizen to fully participate in their nation's development."
Mrs Kagame said the history taught Rwandans that "education is a powerful tool. So, we worked tirelessly to put the power of education to the right use."
She Indicated that violent extremism has stolen much from communities, and hurt our girls and women in unspeakable ways.
And from this, she made a call to the world saying, "Together, let's embrace our power to establish well-formed societies, with systems that rely on policies based on proven approaches."
The First Lady of Ethiopia Roman Tesfaye added her voice saying, "education gives girls a chance to thrive and to secure a safe future."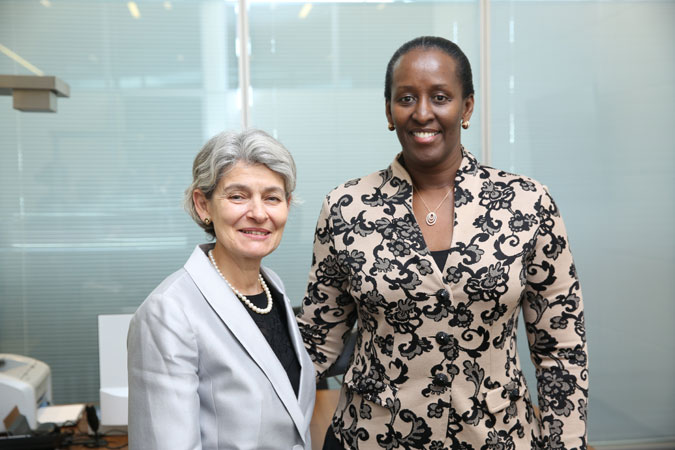 UNESCO's Irina Bokova said, "We face a new global battle for hearts and minds and women – girls are at the heart of it."
In her understanding, "Tolerance and peaceful co-existence are not enough. We need solidarity, sharing and acceptance of differences."
UNESCO's stand is that Dialogue between and within cultures can become a powerful antidote to rejection and violence.