Rwanda has started offering free diagnosis and vaccination against the deadly Hepatitis B disease.
Several points have been set up by Rwanda Biomedical centre(RBC) to conduct this massive exercise at; Centre de Jeunes in Kimisagara, Amahoro stadium, Bumbogo stadium in Gasabo district, IPRC-ETO Kicukiro and at Masaka hospital.
Rwanda considers Hepatitis B a dangerous health hazzard currently killing millions around the world.
In an interview with KT Press, Dr. Jean Damascene Makuza, director of Viral Hepatitis and Sexually Transmitted Infections (STIs) unit at RBC said that hepatitis B and C can last over 20-30 years in someone's body without being detected.
However, "the level where a patient starts showing signs is when the disease can hardly be treated," Dr. Makuza said.
Hepatitis C caused by a virus attacks the liver.
"Most people have suffered and died of the diseases because of not seeking early tests," Dr. Makuza told KT Press.
Different Hepatitis affecting Rwandans
There are different types of hepatitis viruses Rwandans have suffered for so many years. However, apart from the deadly hepatitis B and C, others are easily treated.
Last year, John Murigo lost his uncle after he was diagnosed with hepatitis B. "We had lived together for years and he never exhibited any sign of illness. But when he began losing much of his weight and yellowing of his eyes, he sought medical attention," Murigo told KT Press.
When Murigo's uncle arrived at the hospital, doctors could not do anything, but to kept him on medication until his last breath. "We not only remained sad for the loss but the family was also left bankrupt," Murigo told KT Press.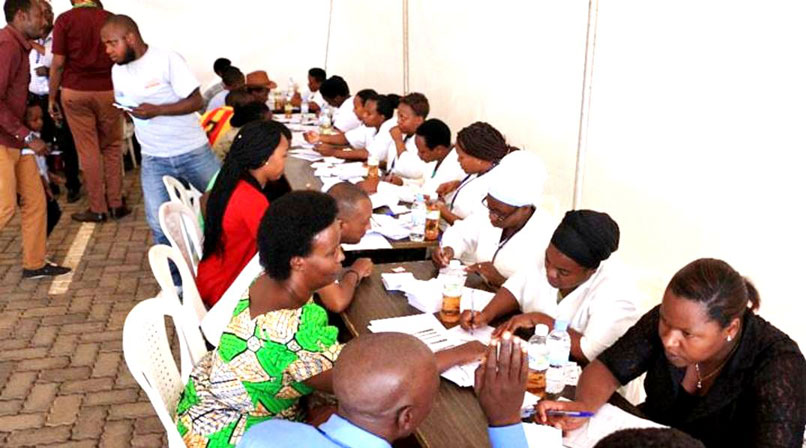 Hepatitis B is never treated. But according to Dr. Makuza, a vaccination is the only solution to live a hepatitis B-free life. "Normally, children below 15 years get the vaccine at the 6th week since their birth. But anyone above that age should always go for vaccination," Dr. Makuza told KT Press.
Dr. Makuza says hepatitis B is mainly transmitted through sexual intercourse just like HIV. While hepatitis B is never treated but can be vaccinated, health officials warn that hepatitis C can be treated 'but at an expensive' cost.
At first, treating hepatitis B in Rwandan hospitals was Rwf65million ($78000), but government subsidized its medicine by 99%. But the treatment still remains expensive.
"Not every Rwandan can raise Rwf650, 000. People need to do regular tests and know their health status," Dr. Makuza advises. For one to maintain a hepatitis-free body, you need to do tests every year, including a vaccination for hepatitis B.
Government has also slashed down the cost of conducting tests for hepatitis from Rwf75, 000 to Rwf30, 000. "We are still looking for partners to continue cutting down the cost," Dr. Makuza told KT Press.
According to World Health Organisation, in 2015 alone, hepatitis B resulted in 887, 000 deaths worldwide, mostly from complications while approximately 399 000 people die each year from hepatitis C.
However, WHO says that Antiviral medicines can cure more than 95% of persons with hepatitis C infection.
On June 21st, Ministry of health launched a month-long campaign to test and vaccinate hepatitis in Nyagatare district, Eastern province – hundreds of residents were tested and others vaccinated.
According to Dr. Makuza, 240,000 people will be tested while 400,000 will receive vaccination of the deadly and untreated hepatitis B.
The campaign targets Rwandans with 45+ years with possibility of infection, categories of people in high risk of infection like the prostitutes and the youth.
According to Dr. Makuza, 20 referral and province hospitals have been availed with equipment to diagnose and treat hepatitis disease.