This afternoon, President Paul Kagame presided over a new cabinet swearing-in to begin a seven-year term. Yesterday the new Prime Minister Dr Edouard Ngirente took oath.
Shortly after the new cabinet took their oaths, President Kagame addressed the new team warning he was "fed up" with some government officials that have chosen to live in "comfort zone". The cost for their inefficiency was negatively impacting the country's production.
Even before campaigns for his re-election kicked off, President Kagame showed he was frustrated by poor implementation of government plans.
By pinpointing at particular Ministries today, Kagame warned this time he would not tolerate complacent officials.
"I will start saying publicly what we say in internal cabinet discussions. I will not say it in any other place," Kagame told an attentively listening cabinet and other senior state officials at Parliament building.
Kagame cited the Education Ministry, Infrastructure Ministry, Agriculture Ministry, the Ministry of Health and Ministry of Justice.
For the Infrastructure Ministry, Kagame said; "You find someone was supposed to construct a road, but the road becomes a pedestrian path, not the public road we wanted. Instead of a 6-meter road, they build a 3meter road. Amid all this, there is nobody making sure what was planned is what has been constructed."
For health Ministry, most of its projects are implemented at a slow pace. Kagame directed the minister to find a lasting solution. "Find your own medicine to solve the issues in that Ministry," said Kagame directly looking at the line Minister Diane Gashumba.
The other issue Kagame mentioned is officials swindling taxpayers' money. He said the Ministry of Justice has been reluctant to deal with the vice.
"I wonder what the ministry does as tax payers money is swindled by different officials…what are you doing?" he said.
Citing recent media reports showing how billions had been borrowed from banks and defaulters failing to repay without being prosecuted, Kagame asked, "how come? Where is the judiciary?"
He said in some ministries, you find more than 3 ministers there but spend up to 6 months without speaking to each other. "What do you expect from your subordinates when you the senior officials are creating the paralysis?" the President asked.
In the 35-minutes speech, Kagame, said he has repeatedly raised the same issues in closed doors government meetings like the national retreat. "I will not be reading this speech today, am holding open discussion with you," he said, setting aside the prepared address.
Under the new government, the President said he will not wait for government retreats and other national closed-door-meetings to expose those who do not implement their tasks.
"I will start naming ministries and any government departments where no work is done to shame them," Kagame said.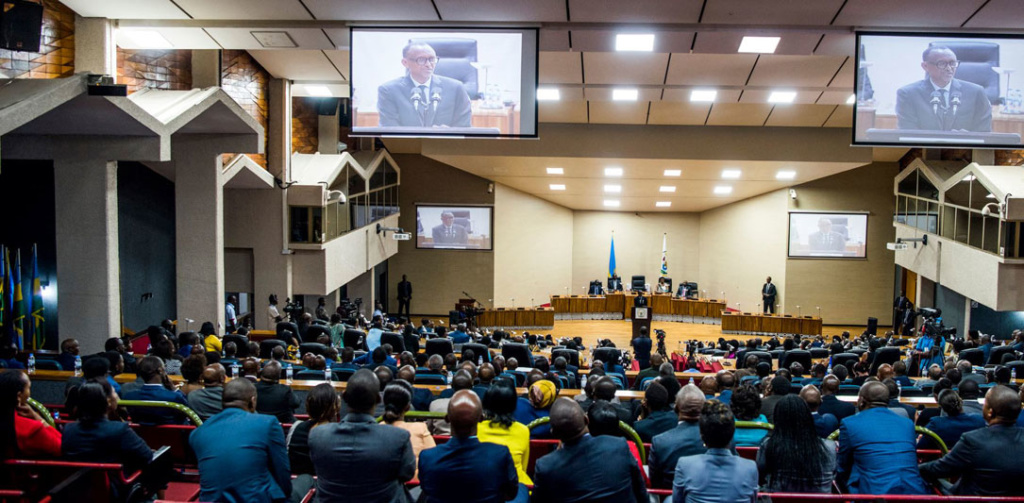 The President told his cabinet that Rwanda has unique problem – being landlocked with no access to sea ports, and in response need "extraordinary solutions". As a result, the President said, it comes with huge costs on goods imported to Rwanda.
As a result, he said, "We can't afford to be in the comfort zone. We can't sleep on the job if we must address the unique challenges we face. Often we talk about things and we keep repeating the same thing over time and don't act. We cannot afford to do that."
"Some of what impacts negatively on us emanates from our neighbours who, without warning, may develop problems overnight. That automatically falls back on us because a route for our exports could be closed."
"I believe that those who have just sworn-in know the huge expectations Rwandan have in them. I hope these responsibilities will be implemented as expected."
Kagame thanked them for heeding to the call to serve the country. "I also want to thank you for the commitment to accept these new tasks."
The President asked all cabinet Ministers and Permanent Secretaries to closely work with the new Prime Minister.

Kagame told his new cabinet to maintain "Kunyura iy'ishyamba" – loosely translated to mean "doing the unthinkable" to solve country's problems as it has been in the past 23yrs after the 1994 genocide against the Tutsi when the country had been completely decimated.
Appearing in 5 groups, each minister held the national flag with the left hand and the right hand raised as they repeated sentences read to them by a prepared person. From taking the oath, they moved foward and bowed before the president along with the top four national leaders. They then turned to face and greet the cheering audience, which included family members.
The new cabinet is comprised of 31 members (20 cabinet ministers, 9 state Ministers and 2 heads of key institutions with cabinet member status).
Of the total members of cabinet, 14 are women representing 45%.
Meanwhile, Ministers Claver Gatete of Finance and economic planning, Jean Philbert Nsengimana of ICT and State Minister in the Ministry of Foreign Affairs and East African Community, Olivier Nduhungirehe were not sworn-in as they are away on official assignment. They will be sworn-in at a later date.