President Paul Kagame has told delegates from the UK Cricket Circle to "always feel at home" while in Rwanda.
The President this afternoon, amidst heavy downpour joined thousands of Rwandans and 400 delegates to inaugurate the historical Gahanga Cricket Stadium.
Despite heavy rain, Kagame rejected the umbrella and kept delivering his speech.
The Rwf950-million state-of-the-art international cricket stadium in Gahanga Sector, Kicukiro District is among 10 best cricket stadium in the world.
About 150 delegates from UK alone attended the event. Among UK delegates was Sarah Margaret, Duchess of York.
Former British Prime Ministers, Tony Blair and David Cameron are patrons of the Rwanda cricket initiative – Rwanda Cricket Stadium Foundation (RCSF) – a NGO that is registered in Rwanda and the UK.
Kagame paid tribute to them and the team that has made Gahanga stadium project a reality.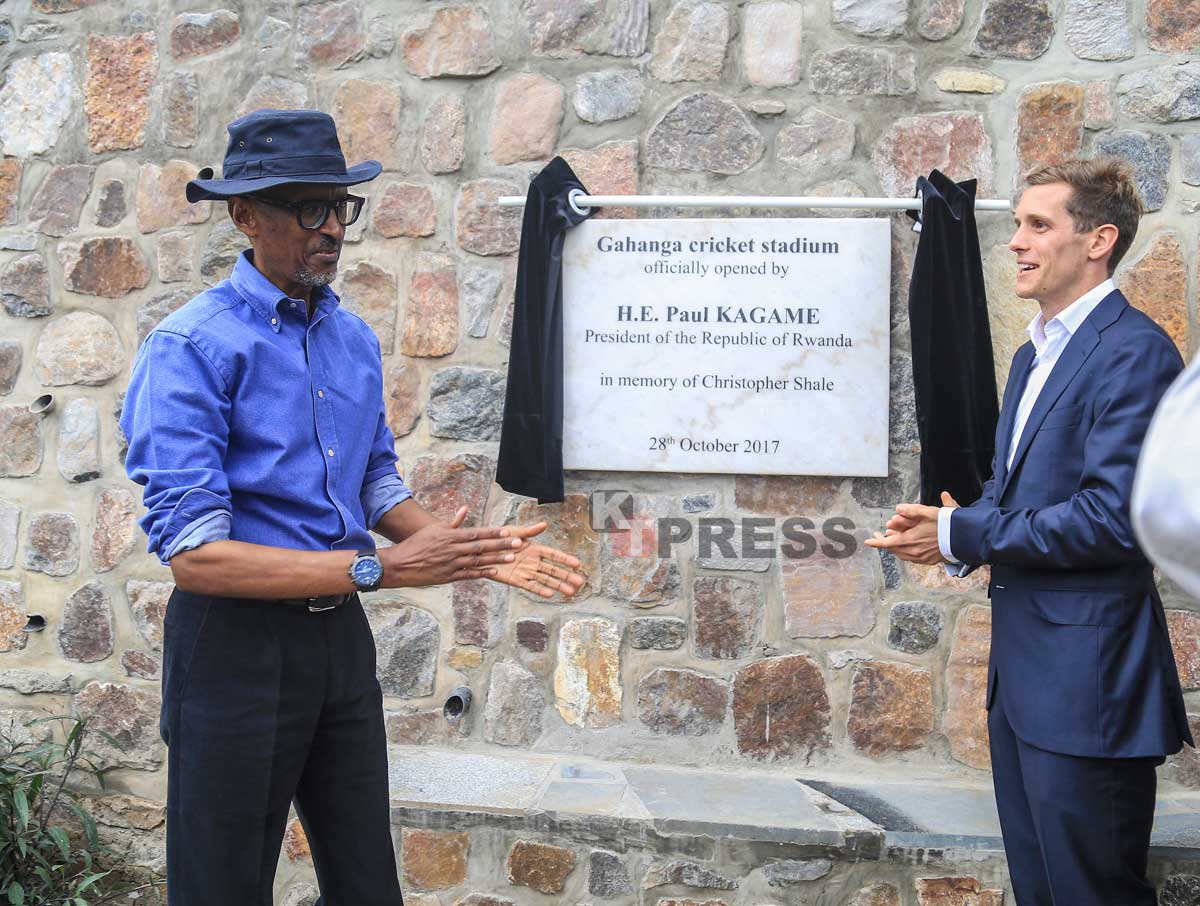 "I want to thank you for the good job done and you should always feel at home while in Rwanda," Kagame told a cheering crowd that endured a 3-hour heavy downpour.
The President said that Gahanga stadium is a foundation that will improve cricket in the country.
"With this new stadium, we expect Rwandan boys and girls to play cricket at the highest level, "he said.
Earlier before the launch of the cricket stadium, President Kagame and delegates joined thousands of Gahanga sector residents in the monthly community work – Umuganda.
Today's umuganda saw the laying down of a foundation for the state-of-the-art secondary school that will benefit communities around the stadium.
The school will be equipped with modern teaching materials such as libraries, science laboratories, and recreational facilities among others.
It will accommodate 1360 students in 34 classes made out of 2 classroom blocks.
After participating in the construction activities, Sarah Ferguson told KT Press that Rwanda's Umuganda should serve as a lesson of unity and working together.
"I love Rwanda and this exercise is a sign that we should live together," she told KT Press.
Addressing Gahanga residents, President Kagame said that his decision to join them for Umuganda is triggered by his wish to continue delivering development to them.
"I came here to reaffirm my commitment to work with you. Let's keep working together and develop our country," he said.
Back at Gahanga cricket stadium inauguration, the first inaugural game was played and involved teams divided into two pools where pool A' comprised of Rwanda, Coutts, Eton Ramblers and Kenya and Pool B' consisted of Christopher Shale (Surrey), Grannies, Yorkshire Tea and Uganda.
The top two teams from each pool will chucker and batter to the semi-finals and the grand finale on October 29.
The Cricket game was included in 1998 Commonwealth Games in Malaysia. This is the only time cricket was played at Commonwealth Games.
Rwanda is also a member of the Commonwealth countries since November 2009, and the Gahanga event is expected to change Rwanda's history and repositioning in one of the games that the Queen of England gives value.