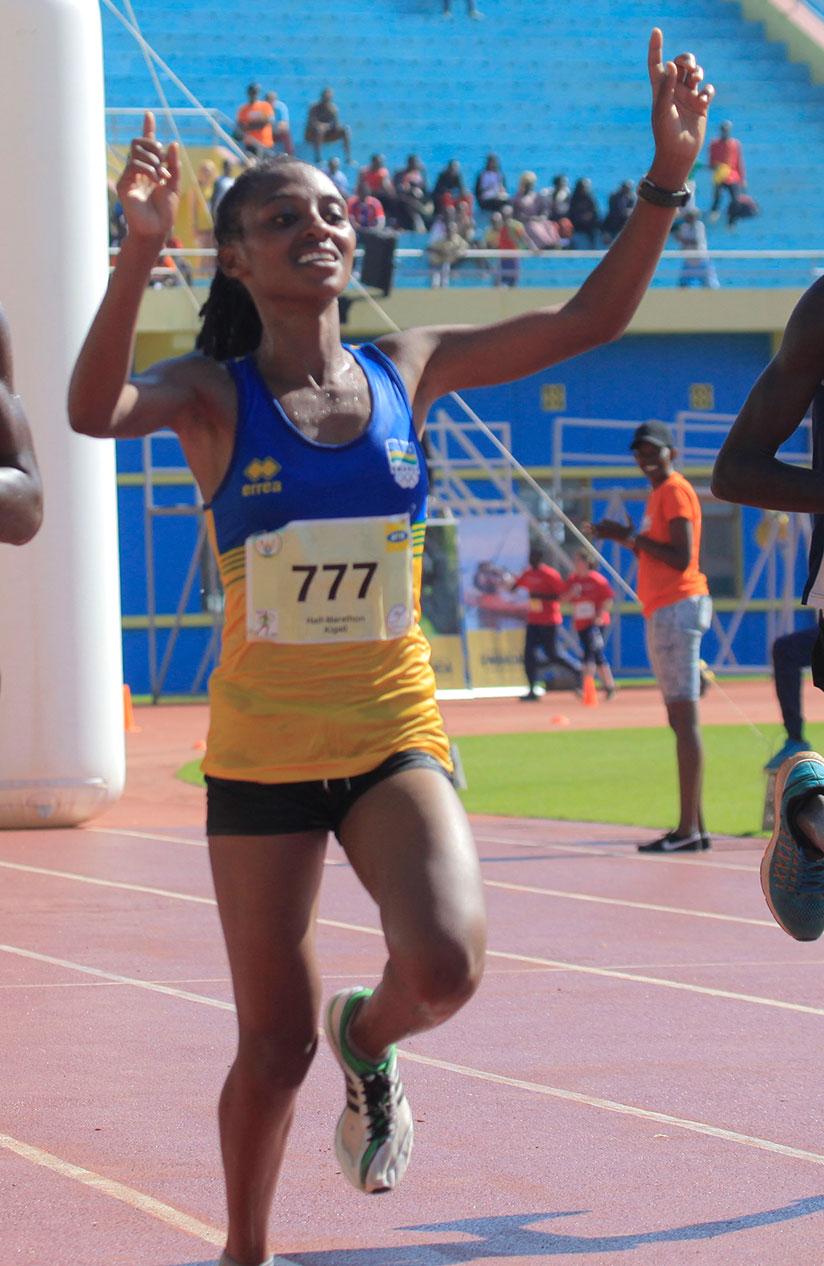 Rwanda's middle-distance runners Salome Nyirarukundo and Hitimana Noel emerged winners of the inaugural 'Kigali Run Blue' half marathon race held on Sunday.
Hitimana, a professional athlete with APR athletics club won the 21km race in one hour, five minutes and twenty seven seconds to come ahead of Kamonyi's Manirafasha Primier who crossed the finish line eighteen seconds later.
Myasiro Jean Marie Vianney (MCAC), Gakuru David (NAS) and Nzabonimpa Evaliste (APR) finished in third, fourth and fifth respectively.
In the women category, 20-year-old youngster Nyirarukundo who made history by becoming the first Rwandan female athlete to win the 2017 Kigali Peace Half Marathon since the inception of the annual event in 2005, extended her good performances as she won the women category in one hour, fourteen minutes and twenty two seconds.
She ensured a 1-2-3 finish for APR athletics clubs as Iranzi Celine and Yankurije Martha came in second and third positions in 1h20'17 and 1h23'22 respectively.
Nirora Primitive (NAS) and Niragire Vivine finished fourth and fifth clocking 1h26'04 and 1h26'44 respectively.
The winners (men and women) walked away with Rwf100,000, second-placed with Rwf80,000 while third, fourth and fifth will get Rwf60,000, Rwf40,000 and Rwf20,000 respectively.
The first edition of the Kigali Run Blue attracted 2000 participants who took part in the half marathon event and 5km run for fun.
The race was organized by Rwanda Athletics Federation (RAF), Rwanda Biomedical Centre (RBC) and Rwanda Diabetes Association (RDA) and sponsored by Tigo Rwanda and the Ministry of Sports and Culture.
According to Crispin Gishoma, the head of the Diabetes Association (RDA), this year's edition was aimed at sensitizing people to do sports which will protect them from life style diseases like Diabetes.
Kigali Run Blue Half Marathon Results
Men
1. Hitimana Noel (APR) 1h05'27
2. Manirafasha Primier (Kamonyi) 1h05'45
3. Myasiro Jean Marie Vianney (MCAC) 1h06'03
4. Gakuru David (NAS) 1h06'17
5. Nzabonimpa Evaliste (APR) 1h06'24
Women
1. Nyirarukundo Solome (APR) 1h14'22
2. Iranzi Celine (APR) 1h20'17
3. Yankurije Martha (APR) 1h23'22
4. Nirora Primitive (NAS) 1h26'04
5. Niragire Vivine (APR) 1h26'44