Rwanda women's junior team won gold on the first day of the African Continental Championships held in Kicukiro District, Kigali City.
Rwanda and Burundi took part in the 18km junior women category of the Team Time Trial held earlier on Wednesday morning.
Rwanda junior women team which was composed of Mushimiyimana Samantha, Irakoze Neza Violette and Nzayisenga Valantine won the race in a total time of 36'06"44 to come ahead of the Burundian trio of Iradukunda Yvonne, Niyubuntu Goreth and Habonimana Charlene who posted 50'22"60.
In the men's junior category, Rwanda won silver as they came second behind winners Eritrea by registering a total time of 26'56"28, coming 49 seconds (49"16) short of the gold medal spot.
The Rwandan junior team was composed of Nkurunziza Yves, Nzafashwanayo Jean Claude and Gahemba Barnabe.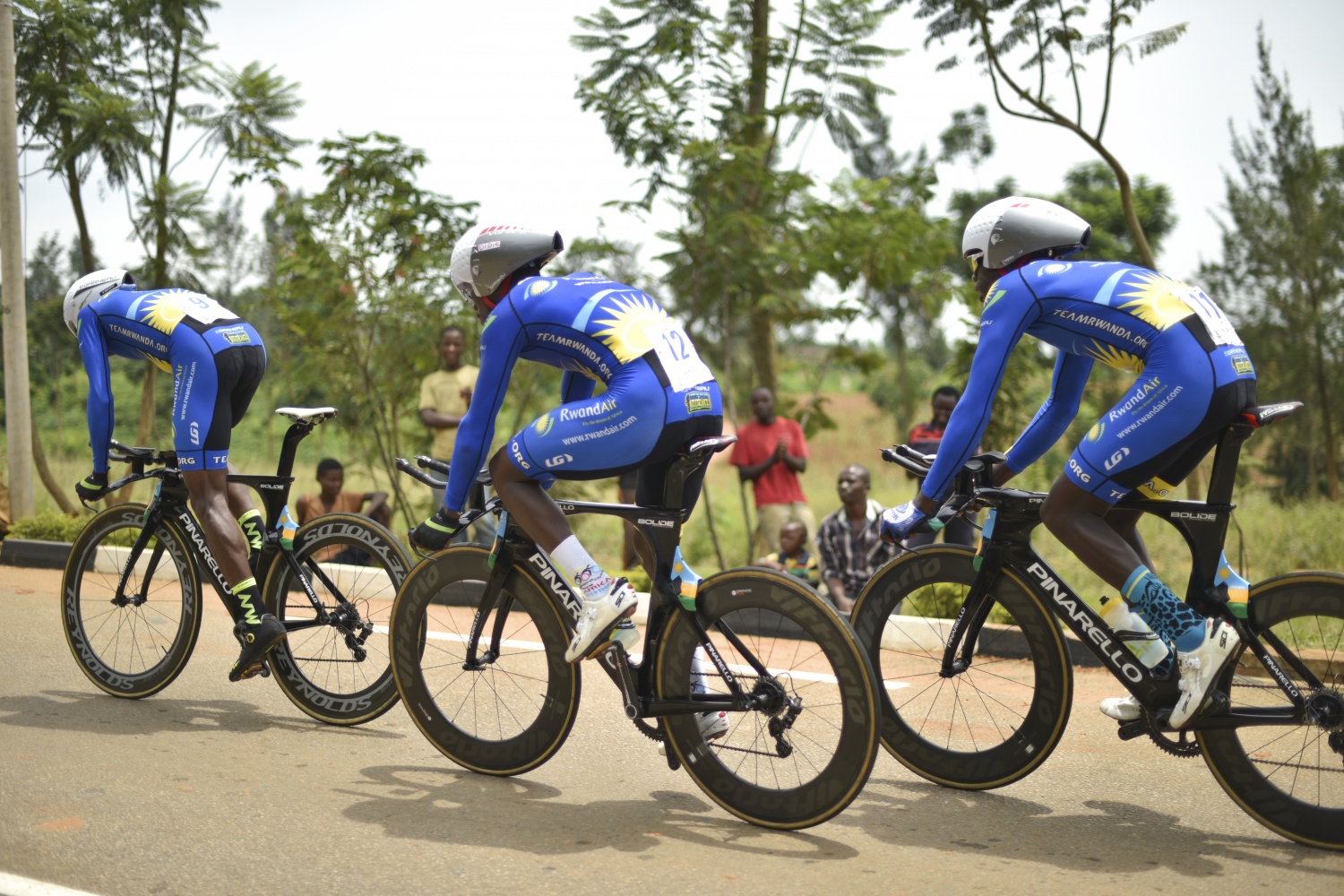 Namibia won bronze as they clocked 28'19"00 courtesy of their trio riders namely;  Miller Alex, Van Der Merwe Schalk and Koen Dieter.
The women elite category attracted Ethiopia, Eritrea and hosts Rwanda. Over a 40km distance, Rwanda settled for a bronze medal as they came seven minutes and four minutes (07'04"32) behind the Ethiopians who won the race in 01h02'38"60.
The Eritrean team finished second in 01h02'47"35, coming eight minutes and 75 seconds behind their neighbors in the Horn of Africa.
The much-awaited elite men's category went in favour of the Eritrean team while Rwanda won a silver medal. Rwanda team composed of 2015 Tour du Rwanda winner Jean Bosco Nsengimana, 2017, Tour du Rwanda, 2018 Tour du E=l'espoir and Tropicale Amissa Bongo reigning champion Areruya Joseph and star rider Adrien Niyonshuti finished the 40km distance clocking 51'45"48 to come seventeen seconds (17"20) behind the Eritrean team.
The Eritrean team took gold thanks to experienced riders in Musie Mehari Saymon, 2014 Tour d'Algérie winner Debesay Mekseb and Ghebreigzabhier Werkilul Amanuel.
Algeria settled for a broze medal as they came in forty nine seconds behind the winning Eritrean team.
In total, Rwanda managed to win one gold medal, two silver medals and one bronze medal on the first day of the Africa Continental Raod Championship.
More thrilling action is expected on Thursday when the individual time trial in all categories will be staged.
The African Continental Cycling Championships are a series of cycling races held annually since 2005 in Africa, with the best riders of the continent selected from this competition.
This year's event has attracted a total of 167 riders, 122 men and 45 women, representing 22 African countries including the giants of Africa such as Eritrea, Algeria, Morocco, South Africa and Ethiopia who are expected to give the hosts Rwanda a hard time in the chase for medals.
Other countries in Kigali for the competitions are; Nigeria, Swaziland, Seychelles, Namibia, Djibouti, Mauritius, Benin, Kenya, Burkina Faso, Ghana, Zambia, Sudan, Uganda, Democratic Republic of Congo, Egypt and Burundi.
African Continental Championships – TTT Kigali-Kigali Wednesday Results
Elite Men (40km)
Eritrea 51'28'28
Rwanda 51'45"48
Algeria 52'15"15
Elite Women (40km)
Ethiopia

01h02

'38"60
Eritrea

01h02

'47"35 08"75
Rwanda

01h09

'42"92
Junior Women's TTT (18.6km)
1.Rwanda 36'06"44
2. Burundi 50'22"60
Junior Men's TTT (18.6km)
1.Eritrea 26'07"12
2. Rwanda 26'56"28 49"16
3. Namibia 28'19"00 02'11"88