Ibuka, the umbrella of Genocide survivors' association has proposed use of the DNA forensic analysis to identify exhumed bodies of victims of the 1994 Genocide against the Tutsi.
Every other year, new remains of victims of genocide against Tutsi are discovered, and in most cases without the contribution of genocide perpetrators who always hide the spots where they buried the victims. It is part of Genocide denial.
As a matter of example, on March 24th, casual workers who were laying the ground for construction of a new house in Gatsata, Gasabo district discovered more than 20 bodies in the process.
In certain circumstances, it may be hard to ascertain names and origins of the remains, unless a scientific proof is availed.
Currently, community identifies Genocide victims by the clothes found on exhumed bodies and several other visible signs, most especially those that were discovered based on evidence and testimonies of convicted perpetrators and survivor's witness.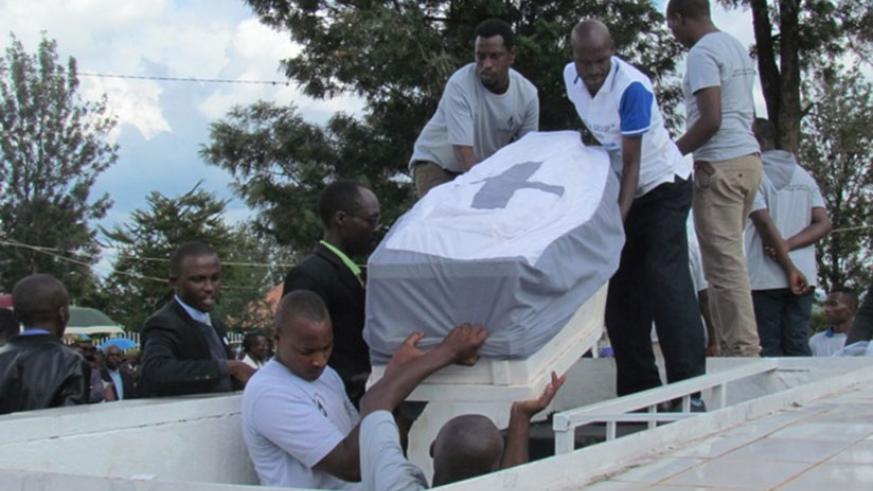 The president of IBUKA Prof. Jean Pierre Dusingizemungu said that Rwanda has developed a technology to use advanced forensics to identify bodies, thus, the technology should be used to identify bodies of the Genocide victims beyond doubt.
 "As we develop, we need advanced research and technology to have evidence of Genocide and scientific proof to identify the bodies of the victims" said Prof. Dusingizemungu, while addressing University of Rwanda-Huye campus students on April 10th.
Ibuka's request comes at a time when Rwanda is planning to open a state-of the art $9.2 million National forensic laboratory in Kigali, which was formerly run by the national police.
Naftali Ahishakiye, Executive Secretary of Ibuka, told KT Press on Wednesday, that there is still lack of information, from the community and convicted perpetrators, on the whereabouts of the remains of victims which is still a concern for the future.
"It is very had to get this information, but we are hopeful that with time and change of mindset, Rwandans will be able to speak out so we give a decent burial to victims of genocide against Tutsi," Ahishakiye said.