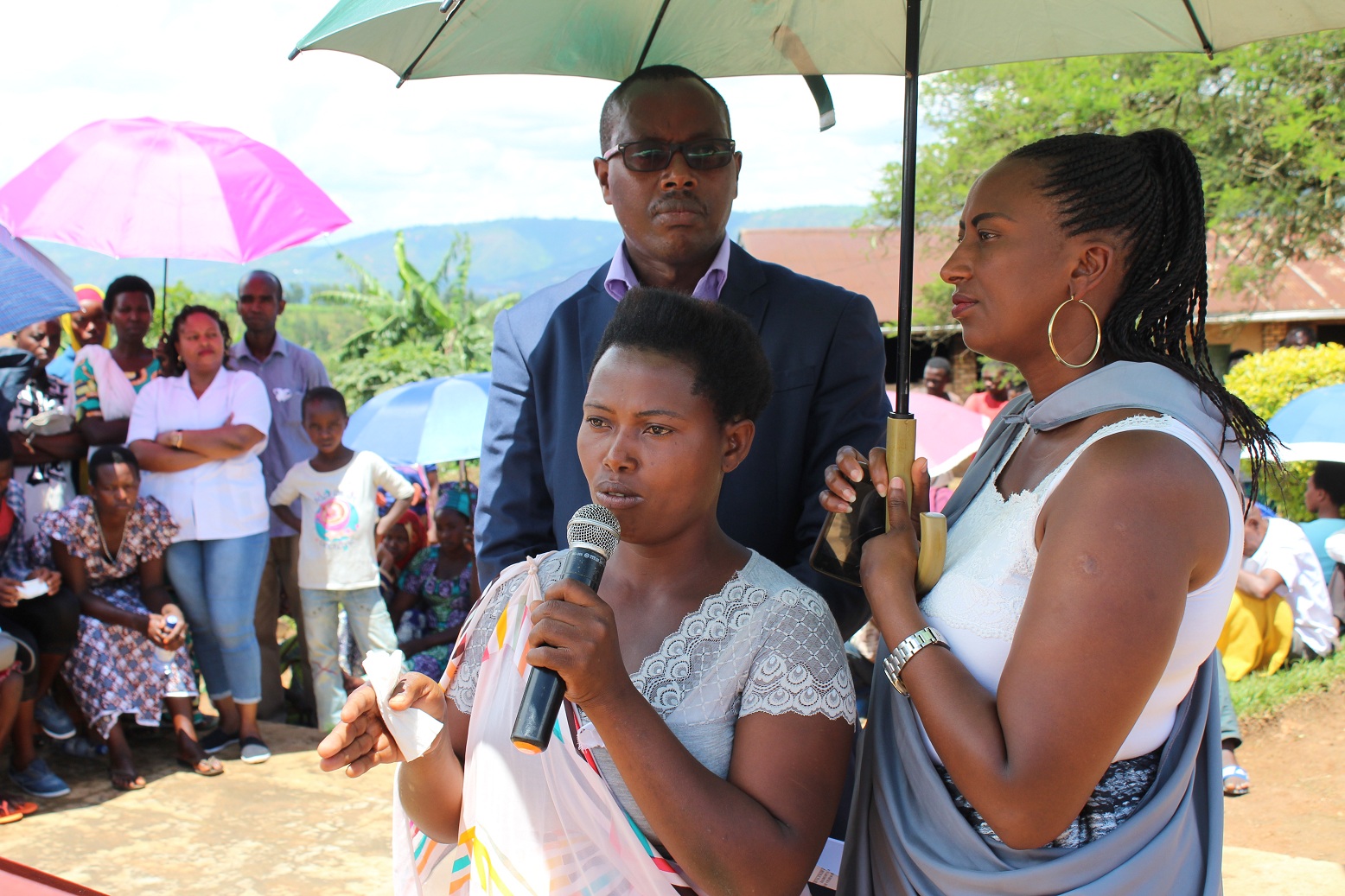 Vestine Mukanyana giving testimony of how she was gang raped in Kamonyi district, formely Gitarama prefecture
During the entire 100 days period of the 1994 Genocide against Tutsi, Vestine Mukanyana, then 19 years old, was gang raped by two men who had discovered her from dead bodies.
One of the suspects she only identified as 'Lambert' and his brother turned her into a sex slave for the entire Genocide period.
A testimony she delivered for the first time – 24 years after she was gang raped, shocked mourners – prompting Police and local leaders to launch investigations against the suspects.
It all started on the evening of April 7, 1994, Mukanyana and her family had a shouting huge group of Interahamwe militias running towards their home in the former Taba Commune – current Rugalika sector in Kamonyi district.
"We left our house and went into hiding in a nearby coffee plantation. In the wee hours, our father came out of the hiding and went out to get us bananas because we were starving. He never came back," Mukanyana told mourners alluding to her father's death.
Later on, Interahamwe stormed their hiding place and grouped them among other thousands of Tutsi who had been rounded up together for their final breathe.
"We were grouped together and Interahamwe started mass killings. I was hacked twice and fell under dead bodies," Mukanyana told mourners.
After the killings, Interahamwe started collecting dead bodies and transported them to dumping sites. But among them was a breathing Mukanyana.
When Lambert (who was among the killers) noticed her, Mukanyana screamed for help and pretended to be a Hutu.
"He took me to his house. Whenever his wife went out, Lambert would start raping me. In the evening, his young brother who always went out to kill would also return and rape me. They did all this throughout the Genocide period," Mukanyana told shocked mourners.
Surprisingly, Mukanyana revealed to mourners that members of her family who survived the Genocide rewarded Lambert 'for saving their child".
She said she had never revealed to anyone the suffering she went through, neither had she told them that the 'savior' was a criminal and Genocide perpetrator. He used to go out to kill and then come to 'reward' himself.
"My family came and rewarded him (Lambert) for hiding me. In fact, they decided that I stay at his house," Mukanyana said.
In her family's mind, the man was much older than Mukanyana and was a considered 'guardian'.
 "The reward gave him the luxury to repeat his acts. But when he attempted to rape me again, I fought him this time and left his house," she said.
Several speakers at the commemoration event called for further investigations to track people who committed Genocide crimes but still live freely.
According to Marthe Umugiraneza, Executive Secretary of Rugalika sector, theyhave engaged security organs to launch investigations to ensure the suspects are brought to book.