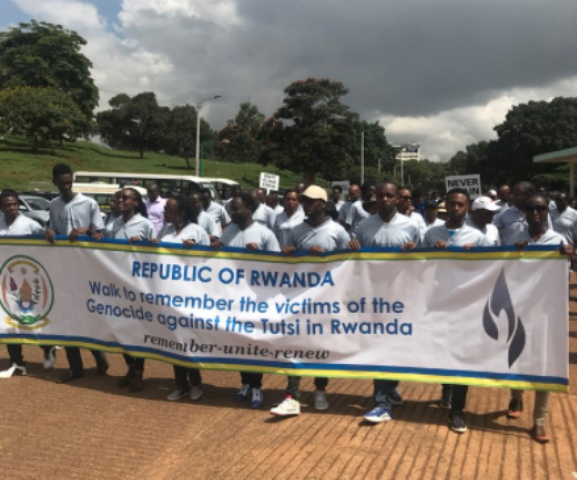 Rwandans in Kenya during a walk to rememberRwanda has once again made an appeal to United Nations to "kindly" help track genocide fugitives currently roaming across different capitals around the world to face justice.
"As we remember the victims, kindly look at these indictments…look at the credibility of the indictments, ask questions, but help us bring these individuals who are known by names and locations to justice," Rwanda's High Commissioner to Kenya – Ambassador James Kimonyo made an appeal today.
Ambassador Kimonyo, was speaking on Tuesday at the 24th commemoration of the Genocide against Tutsi at UN regional headquarters in Kenya's capital Nairobi.
He said that Rwanda has done its part in issuing indictments, but key genocide perpetrators who were sophisticated and able to escape the country still enjoy safe haven in capitals around the world.
In December last year, Jean Bosco Siboyintore, Head of Genocide Suspects Tracking Unit at office of the Prosecutor General told KT Press that Rwanda has so far issued indictments against 835 fugitives in 34 countries around the world.
Ambassador Kimonyo told mourners at UN headquarters that most people who planned, and executed the genocide faced justice back home through Gacaca and classic courts.
But those who managed to escape, he said, "They live in our capitals. They work there. They are teachers; they do business and many other things."
In February this year, Paul Doumer Hospital in France sacked Charles Twagira – a Genocide fugitive a week after he had been hired, following protests from Rwanda.
Charles Twagira was convicted of Genocide crimes by Rwandan courts. During the 1994 Genocide against the Tutsi, Twagira was a Regional Director of health in the former prefecture of Kibuye, in western Rwanda. He is also one of the Genocide planners in Kibuye Prefecture, where he incited local population to commit Genocide.
"Don't let them work in your universities and hospitals. I know most of your countries are so advanced in terms of delivering justice," Ambassador Kimonyo said.
Twenty-four years later, the United Nations finally recognised the Genocide in Rwanda as 'against the Tutsi' – pledging support to Genocide survivors to tell their stories.
Speaking at the event, Rwanda's High Commissioner to Kenya, Ambassador James Kimonyo recalled the UN's failure to save Tutsi in the Genocide, but reminded that this year's theme should be a reflection to turn back and change things.
"It is high time for us to come to a collective pledge of never again," he said.
Meanwhile, Sahle-Work Zewde, the Director General of United Nations office in Nairobi delivered a message of the UN Secretary General.
"This day remains an important occasion not only to honour but also to reflect on how all of us governments, United Nations, civil societies; private sector and other segments of society can contribute to build a world where genocide and other mass atrocities cannot take place."
"The International community sends a strong message to perpetrators that they will be held accountable," she said.
The event was also marked by the sorrowful testimony by Josephine Murebwayire, a Genocide survivor who lost all her six children, a husband and two brothers during Genocide against the Tutsi.
Meanwhile, commemoration activities run throughout from April 7 to April 13 during the official week, but will continue until July 4 this year.