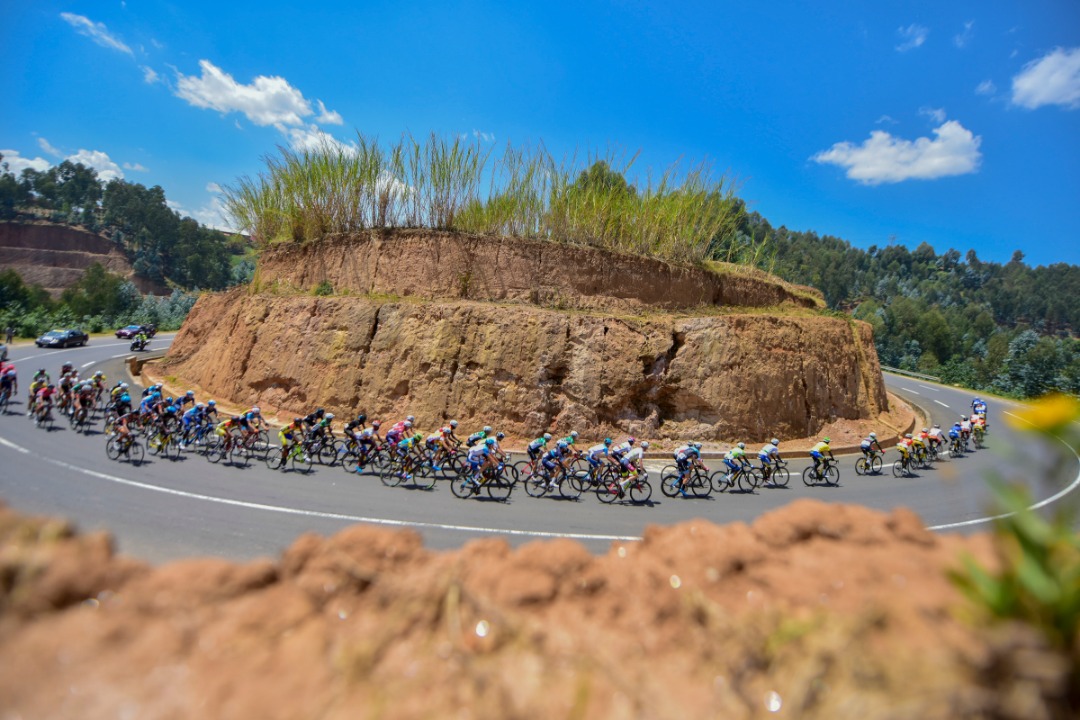 American rider Rugg Timothy from Team Embrace the World won the 135km race of Tour du Rwanda's stage four which started in Musanze District to Karongi District on Wednesday afternoon.
Rugg clocked 03h31'25' to win stage four after a breakaway of more than 110 kilometers. The American knows the country of the Thousand Hills, following his double success victories in 2016 where he took accolades for the prologue in Kigali and the Karongi-Rusizi Stage.
After the stage victory, Rugg said, ""I did not expect the stage to be that difficult," he said. "This morning, I did not feel well and I could not imagine going into such a challenge. I'm happy to win here; it's a race that I really enjoy. "
He offered his new team, the Germans of Embrace the World a second consecutive victory after that of Julian Hellmann yesterday in Musanze. On the edge of Lake Kivu, Timothy Rugg found his smile after a year 2017 marked by health problems. He was able to resist in the last long descent to Karongi as his lead began to fall after the climb to the top, from 5 'to 2'30' '.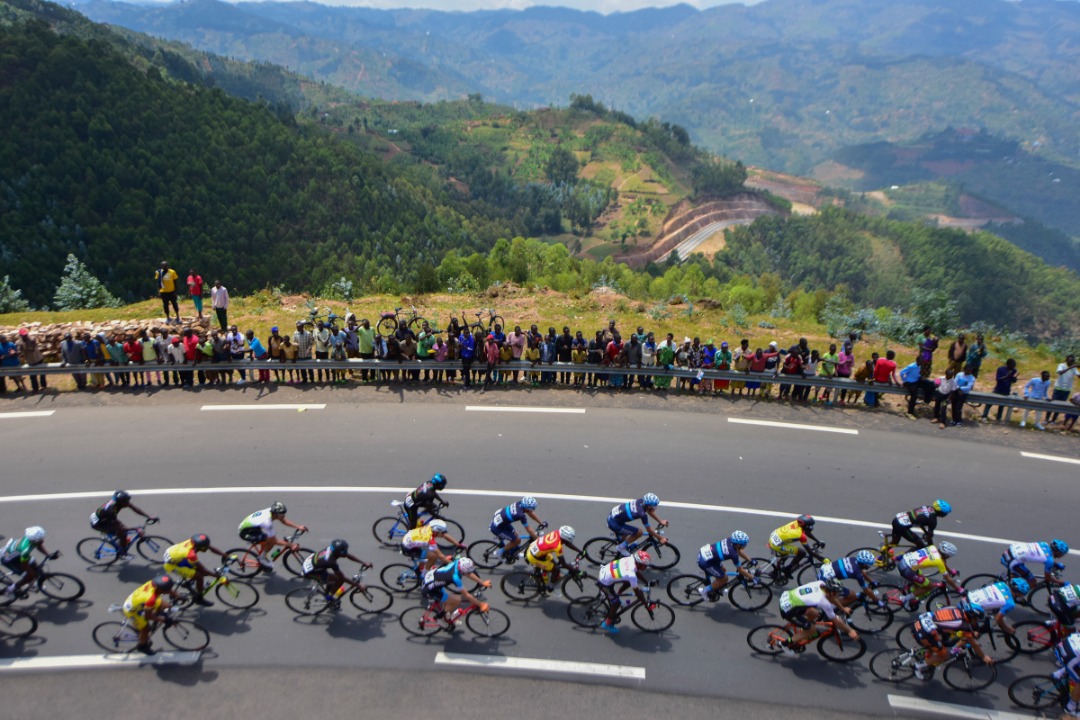 Rugg came two minutes and ten seconds ahead of Team Rwanda riders Hakiruwizeye Samuel of Team Rwanda and third placed Munyaneza Didier who finished in third slot coming two minutes and twenty four seconds.
Team Rwanda rider Mugisha Samuel finished in eighth position after coming two minutes and twenty eight seconds to retain the yellow jersey.Mugisha had some scares in the downhill but he secured his yellow jersey, although the Spaniard David Lozano, 4th overall, had taken four seconds in the last kilometer.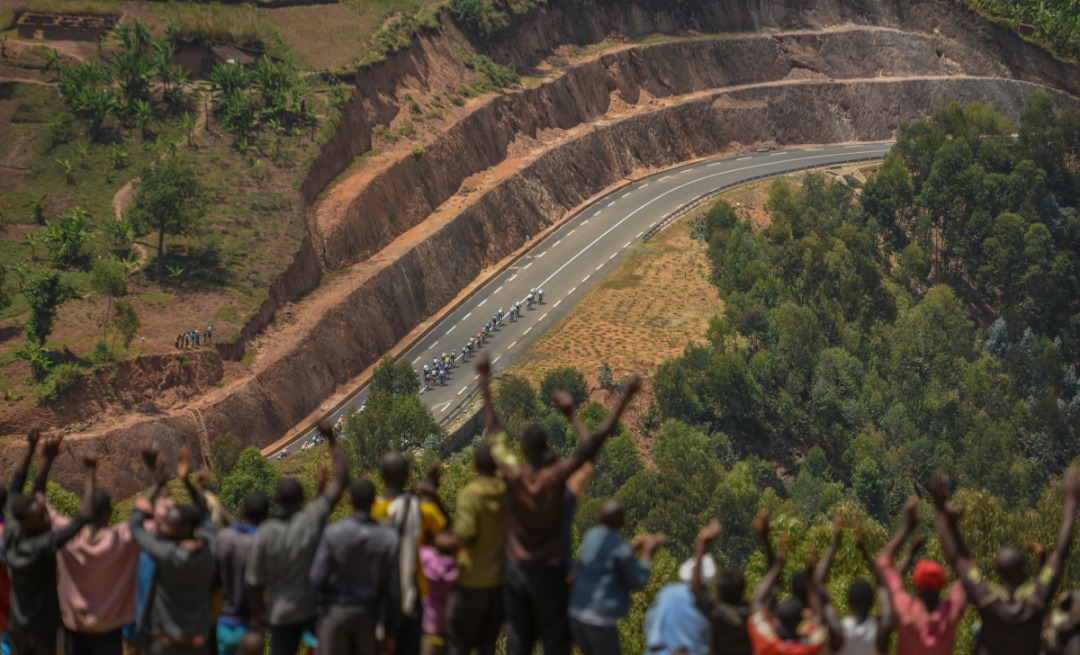 Tuesday's Stage three winner Hellmann Julian from Team Embrace the World managed a ninth place finish clocking 03h33'56 respectively.
On the general standings, Mugiha still maintains a 21-second gap ahead of second-placed Uwizeye Jean Claude of POC Cote de Lumiere and Ethiopia's Hailemichael Muru.
The 20-year old Mugisha also scooped the lead on the standings for the best young classification, best African rider and the best Rwandan rider respectively.
The king of the mountain after four stages is Rugg Timothy of Team Embrace the World, Rwanda's Benediction rider Hadi Janvier emerged on top of the sprints classification; POC Cote de Lumiere won the Team Classification while Rugg was also recognized as the best combativity rider.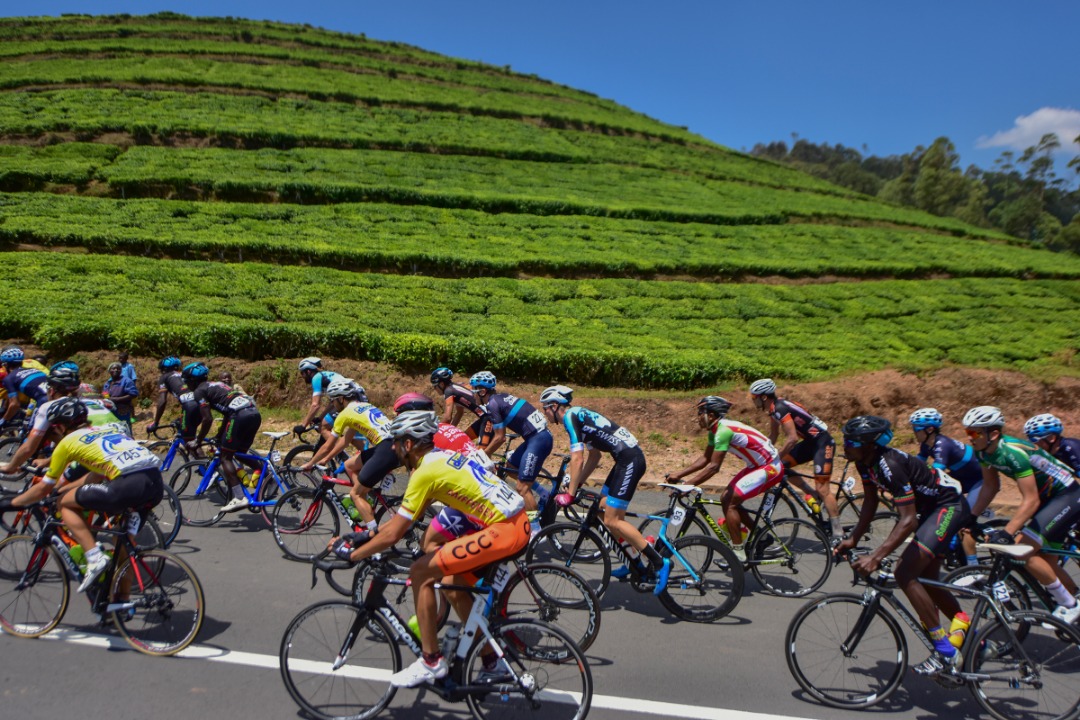 Action continues on Thursday as riders will have to contend with three difficult climbs in the 95.1-kilometre Stage 5 from Karongi District to Rubavu District while Stage 6 — from Rubavu to Kinigi – which also has three climbs in its 108.5-kilometre distance, where cyclists will ride on the foot of the breathtaking Volcanoes National Park, home to the famous mountain gorillas on Friday.
10th Tour du Rwanda
Stage 4 Standings (Musanze-Karongi)
1. Rugg Timothy (Team Embrace the World, USA) – 03h31'25"
2. Hakiruwizeye Samuel (Rwanda) – 03h33'35
3. Munyaneza Didier (Rwanda) 03h33'49
4. Lozano Riba David (Team Novo Nordisk, Spain) – 03h33'49
5. Uwizeye Jean Claude (POC Cote de Lumière) – 03h33'53
6. Mugisha Moise (Les Amis Sportifs) – 03h33'53
7. Hailemichael Mulu (Ethiopia) – 03h33'53
8. Mugisha Samuel (Rwanda) – 03h33'53
9. Hellman Julian (Team Embrace the World, Germany) – 03h33'56
10. Aebi Antoine (Team Descartes Romandie, Swiss) – 03h33'56 
General Classication-After Stage 4
1. Mugisha Samuel (Rwanda) – 14h07'53'
2. Uwizeye Jean Claude (POC Cote de Lumière) – 14h08'14
3. Hailemichael Mulu (Ethiopia) – 14h08'14
4.  Lozano Riba David (Team Novo Nordisk) -14h09'44
5. Doring James (Team Descartes Romandie) – 14h10'03
6.  Ndayisenga Valens (POC Cote de Lumière) – 14h10'06
7. Hellmann Julian (Team Embrace the World) – 14h10'27
8. Lagab Azzedine (Groupement Sportif Des Petroliers) – 14h10'54
9. Munyaneza Didier (Rwanda) 14h10'55
10. Temalew Bereket Desalegn (Ethiopia) – 14h10'57
Mountain Classification-After Stage 4
1. Rugg Timothy (Team Embrace the World) – 45
2. Hailemichael Mulu (Ethiopia) – 43
3. Hellmann Julian (Team Embrace the World) – 19
4. Mugisha Samuel (Rwanda) – 9
5. Temalew Bereket Desalegn (Ethiopia) – 7
Sprints Classification-After stage 4
1. Hadi Janvier (Benediction) -9
2. Ukiniwabo Rene Jean Paul (Amis Sportifs) – 8
3. Mugisha Samuel (Rwanda) – 6
4. Hailemichael Mulu (Ethiopia) – 6
5. Araujo Bruno (Petro de Luanda, Angola) -5
 Best Young General Classification
1. Mugisha Samuel (Rwanda) – 14h07'53
2. Hailemichael Mulu (Ethiopia) -14h08'14
3. Doring Jonas (Team Descartes Romandie) – 14h10'03
4. Munyaneza Didier (Rwanda) – 14h10'55
5. Temalew Bereket Desalegn (Ethiopia) -14h10'57
Best African Standings
1. Mugisha Samuel (Rwanda) – 14h07'53
2. Uwizeye Jean Claude (POC Cote de Lumière) – 14h08'14
3. Hailemichael Mulu (Ethiopia)  – 14h08'14
4. Ndayisenga Valens (POC Cote de Lumière) – 14h10'06
5. Lagab Azzedine (Groupement Sportif Des Petroliers, Algerie) – 14h10'54
 Team Classification
1. POC Cote de Lumière – 42h29'29"
2. Ethiopia – 42h30'51'
3. Rwanda – 42h38'43"
4. Haute Savoie Auvergne Rhône Alpes – 42h40'57
5. South Africa – 42h54'59'