From Davos where he has been attending the World Economic Forum (WEF), President Paul Kagame has inaugurated the University of Global Health Equity (UGHE) located in Burera district – Northern Rwanda.
Kagame told participants at the event – Friday, that his presence is a testimony he attaches to the school and a very big importance because it was not that easy to make it.
Last night in Davos, the President informed organizers of the summit that he had to fly back home before the end of presentations, because he had a key event to grace.
"I was in Davos up to close 9 o'clock. I kept bargaining because I was told that Zurich airport shuts down at 11 o 'clock yet the drive from where I was is 2.5 hours," Kagame said adding that in the end, organizers allowed him to leave the summit almost three hours earlier.
"I told the authority that were responsible, that it's not that I am important myself but what I am going to do is very important."
To be very specific and convince the summit, which was addressing issues of inequity in the world, Kagame told his colleagues in Davos that the event he was going to attend is a solution to inequities.
"I was referring to this university and the work that you do," Kagame said.
This explanation was very important and no one would resist the idea that Kagame had to fly back home. So, he hit the road to Zurich airport.
"We drove a bit fast and arrived on time, almost two minutes to time," he said.
The plane touched down at Kigali International Airport at 8am.
The president thanked all those that contributed to the existence of the University of Global Health Equity.
"I congratulate all those involved in transforming this bold vision into the beautiful reality that we are inaugurating today," Kagame said.
"In particular, I want to express our special appreciation to Bill and Joyce Cummings for their generous support and personal involvement, over many years. We are happy to have you here with us today."
The Joyce and Cummings Foundation has become loyal partner of Rwanda's health initiatives in quite many areas.
"I also thank Bill and Melinda Gates, and the Gates Foundation, for their financial support for this project, and their sustained advocacy for good health outcomes in Rwanda, and around the world," the president said.
The speech of the president came after Melinda Gates had shared through a video she sent, her happiness to have UGHE launched.
The president also thanked Paul Farmer, the co-founder and Chief strategist of Partners In Health (PIH) of which UGHE is a subsidiary.
"Paul Farmer and the Partners in Health team, together with Rwandan partners, have once again demonstrated, that they follow through on their commitments, and get things done. Your efforts are raising the standard, globally, on equity in healthcare," Kagame said.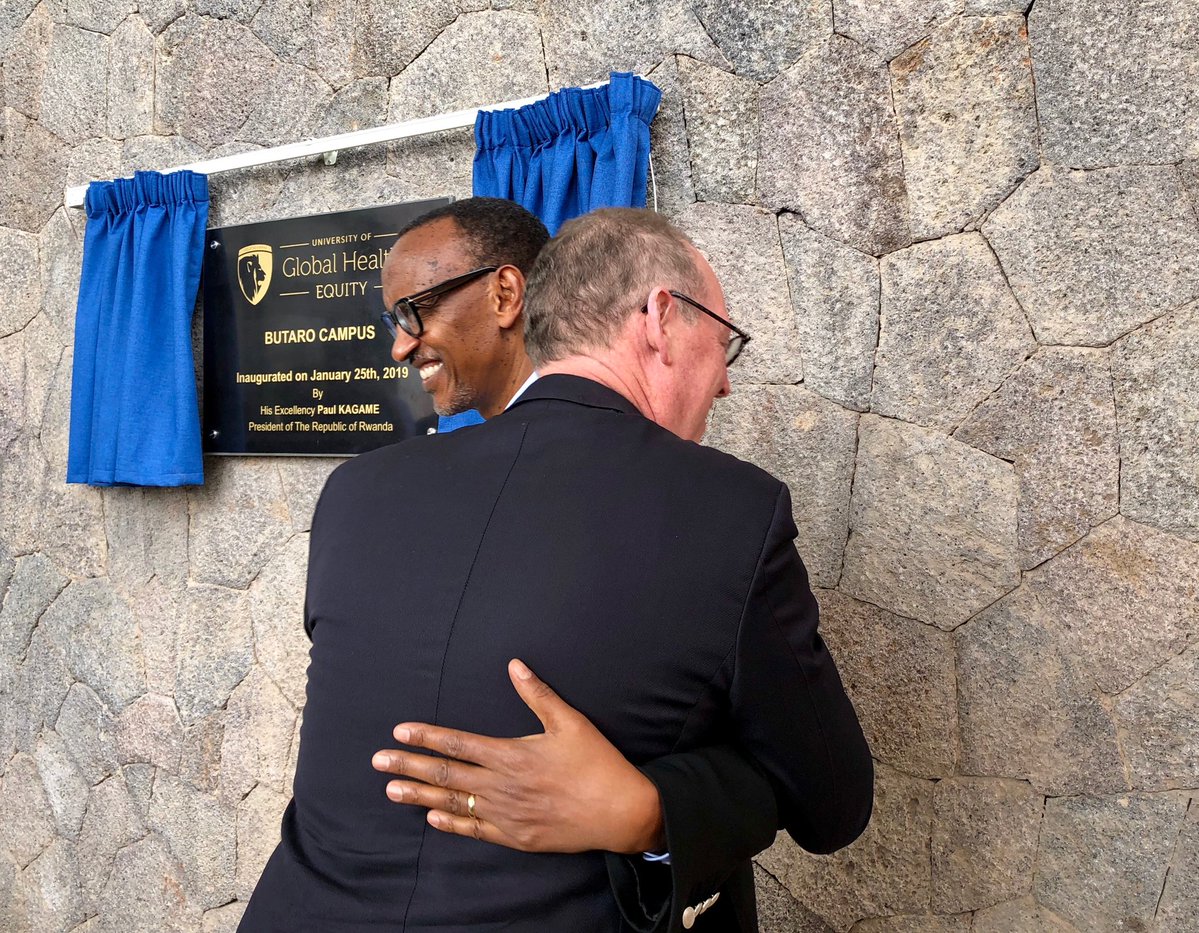 Rwanda at large and President Paul Kagame in particular have a special bond with Paul Farmer.
The president narrated a story that indicate how Farmer was committed to bringing UGHE project to life.
As revealed by the President, he once travelled from Rwinkwavu – Eastern province where Partners In Health support health activities and drove to Kagame's home in Kayonza district.
They had a chat until 2 Pm when Farmer begged to be allowed to proceed to Butaro, but the family of the president refused and advised him to wait until dawn.
Farmer, American – Rwandan himself confirmed his attachment to Rwanda and said about Kagame in a good Kinyarwanda sentence translated as; "He knows himself that he is my hero and my grand brother."
"Partners in Health, known here as Inshuti mu Buzima, has been an important part of Rwanda's journey to better health, for many years," Kagame said.
UGHE, game changer in health service delivery
The president perceives UGHE as a new and additional investment in the human capital of Rwanda and the region.
For Kagame, the name, University of Global Health Equity tells it all. "It is not just about producing highly skilled medical professionals, though that is of course the foundation," he said.
The school is expected to teach students while putting the human factor at the centre of care.
"Hospitals don't treat diseases, they treat individual people, each in his or her social and cultural context," the president said.
Having launched the first phase of the UGHE, Kagame said that Rwanda will keep accompany all the partners in this endeavour to overcome challenges ahead.
He thus welcomed the world to UGHE saying; "It is no exaggeration to say that the world has truly come to Burera. We welcome you all, and will do everything within our means to accompany you as you live, study, and serve amongst us. Feel at home."
Construction works for the University started in 2015 and its inaugural graduation took place in May, 2017.
It offers Master of Science in Global Health Delivery (MGHD) as its flagship academic program.
On top of other academic admission requirements, a student has to raise $53,000 of tuition fees. Rwanda sponsors national students with $49,000.