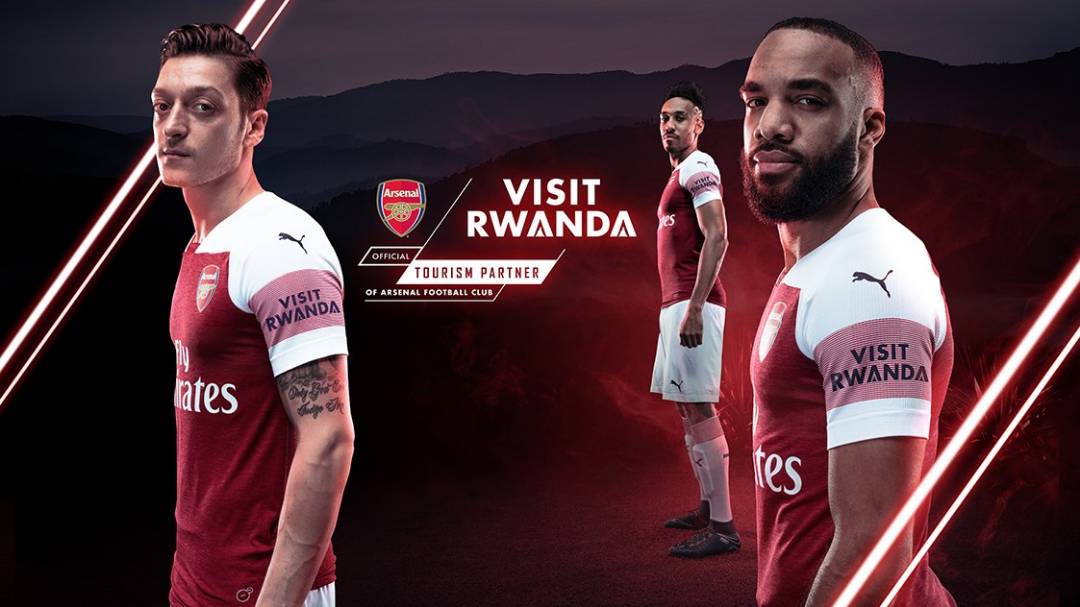 Visit Rwanda, Arsenal Football Club's official Tourism Partner and its first shirt sleeve partner has given three lucky Members a opportunity to visit the Arsenal Training Centre in 'Champion Challenge' which will be held at Arsenal's training ground for the chance to win an 8-day all-inclusive trip to Rwanda.
The development was confirmed on Monday evening in a statement posted on Arsenal.com, The statement read, "Our sleeve Partner, Visit Rwanda, are giving three lucky Members the opportunity to visit the Arsenal Training Centre and take part in the 'Champion Challenge' which requires both physical and mental challenges on 22 January 2019. This will see each fan team up with a first-team player and take part in three challenges, with the winning fan taking home the trip for two to Rwanda,"
The prize includes return flights, accommodation at a stunning hotel or lodge, guiding services throughout the trip and visits to Rwanda's stunning National Parks, where they trek with gorillas and see chimps in their natural habitat.
The three-year partnership which was launched last year in May has seen the new 'Visit Rwanda' logo featured on the left sleeve of all first team, under-23 and Arsenal Women's matches from the new season this August.
As part of the deal, Arsenal players from the men's and women's teams will visit Rwanda and club coaches will host coaching camps to support the development of the game for boys and girls in the country.
The Visit Rwanda campaign is not only about tourism. It showcases Rwanda as an investment destination as well. Visit Rwanda is gaining global exposure through branding on Arsenal's match day LED boards, interview backdrops and the club's stadium tour which attracts more than 250,000 visitors each year. They also have the opportunity to engage Arsenal fans around the world through the club's social media channels.
The deal highlights Rwanda's tourism offerings such as the National Parks, which are attracting record number of tourists due to growing numbers of wildlife including black rhino, lions, zebra, chimpanzees and the famous mountain gorillas, as well as the investment opportunities in the country.
Last year, Rwanda received 1.3 million visitors. In 2017, tourism generated 90,000 jobs and remains Rwanda's largest foreign exchange earner.
Rwanda is ranked as the third easiest place to do business in Africa by the World Bank and has been awarded for its leadership in tourism and competitiveness by the World Travel and Tourism Council (WTTC) and the World Economic Forum respectively.
Rwanda is renowned for the incredible and unique Mountain Gorilla tracking experience, variety of water sports, cycling, hiking, bird watching among other touristic attractions.
The partnership is also being supported by National Geographic who will promote Rwanda as an important tourist destination.