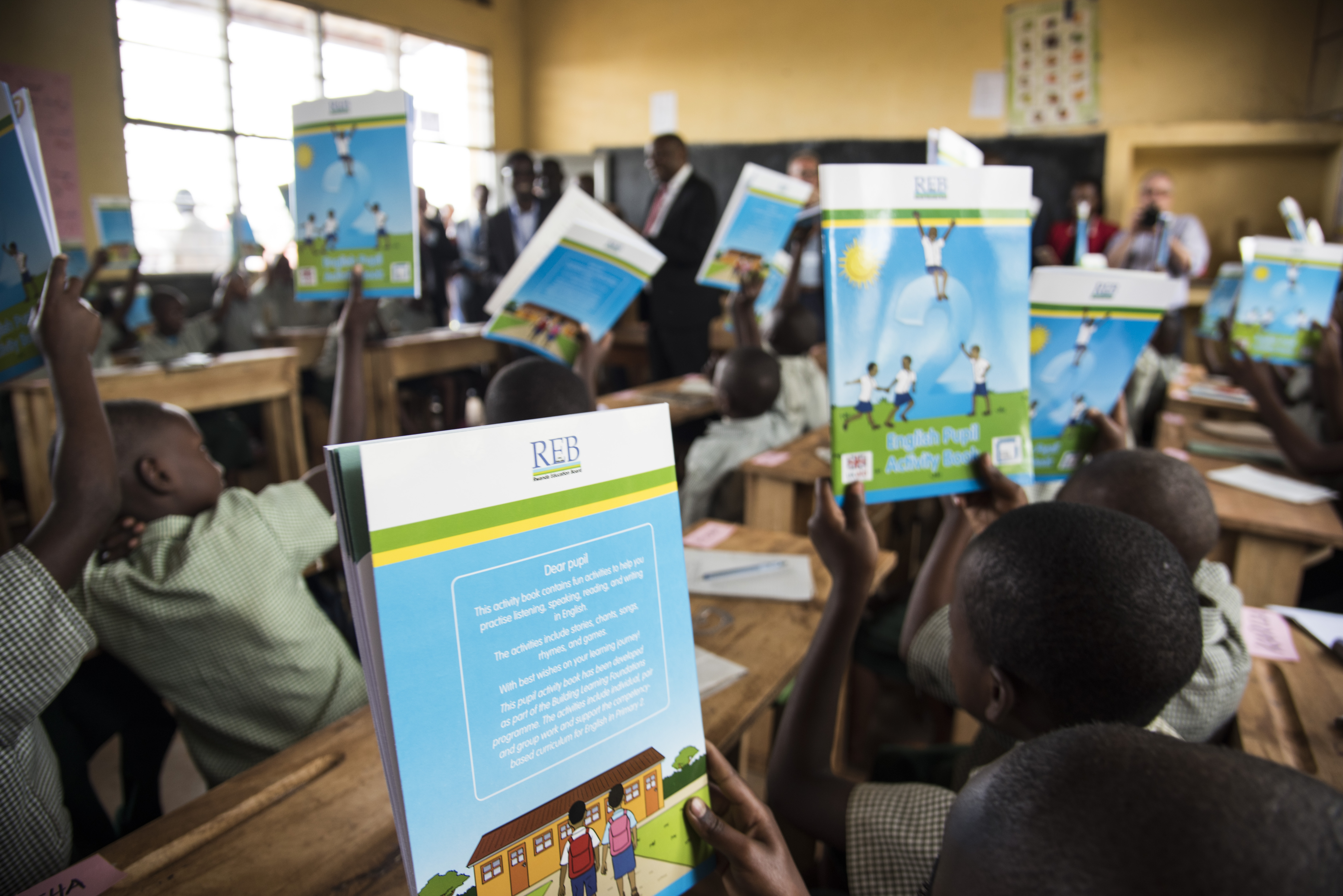 It's a hot Monday afternoon at Kagugu Primary school in the capital Kigali, and Claude Mapine, 11, is seated in a fully packed Primary 3 classroom of 90 pupils.
Each bench and desk has four pupils with each pair sharing one of the freshly distributed English activity books with illustrations and demonstrative lessons for pupils between primary 1 and 3.
The books were donated early this March in a consignment of English and Mathematics activity books, as a way of laying a profound foundation for English and mathematics learning for pupils.
Inside Mapine's classroom, windows are open, but there is barely bringing in enough oxygen to breath as the pupils await the next lesson.
At exactly 2pm sharp, a female English teacher, enters with a guest and asks the pupils to greet the visitor.
'Good morning sir', some greet 'Good afternoon visitor' others say in a mixed up single sound and the visitor say 'Good afternoon class' and this time around they respond back correctly.
This spoken English error is inevitable as the country moves from Francophonie to Anglophone system.
Rwanda joined the commonwealth community in 2009, moving from the French system and has since been using English as an official mode of communication, and compelled most teachers to learn English as a mode of instruction in class.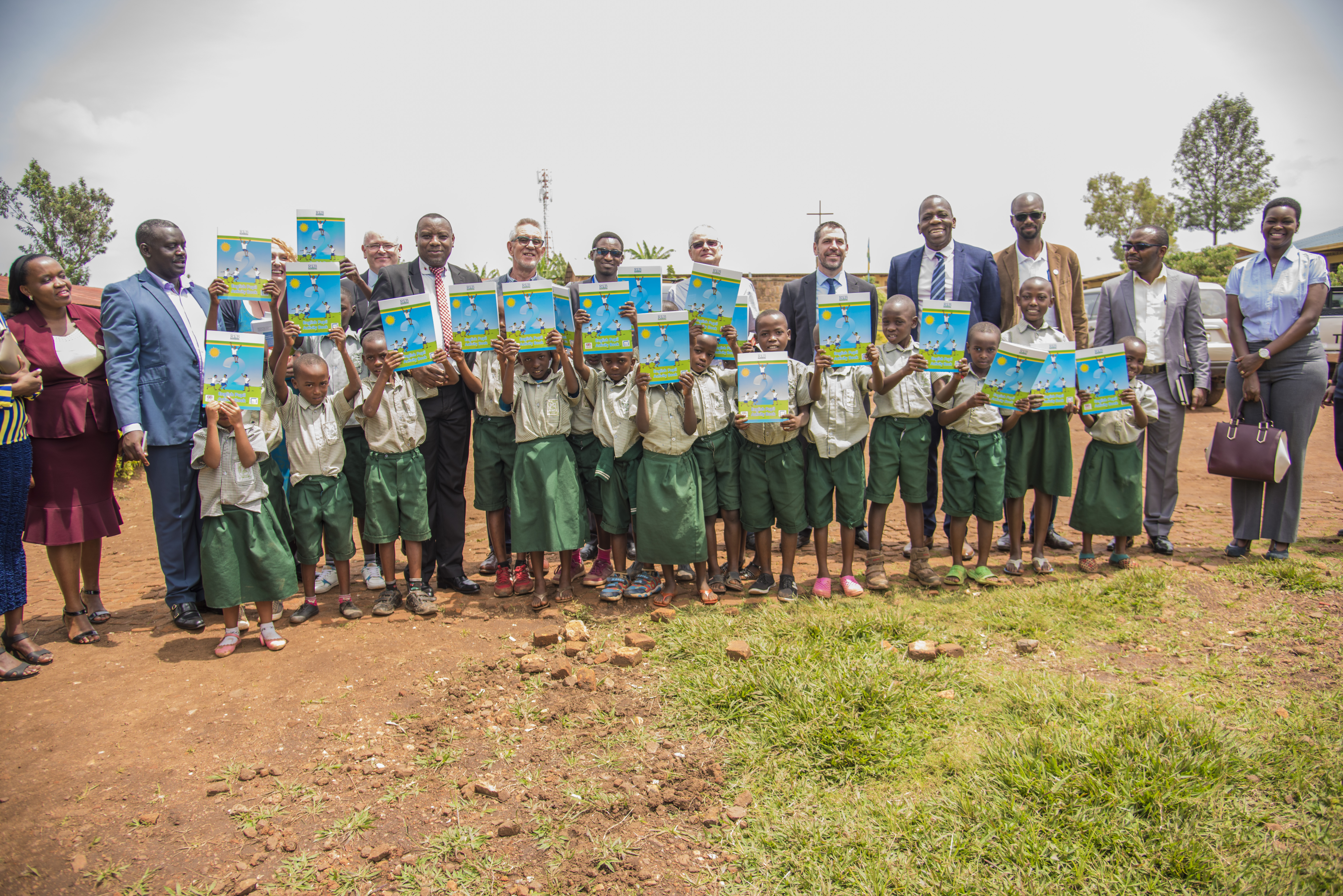 The English lesson of the day is Time- reading and comprehending the months of the year, and dates of the month.
Unlike in the past where a teacher would prepare a lesson using a text book and teach without a guide, both the pupils and the teacher are using an illustrated activity book to avoid more mistakes, and learn by seeing and doing.
"The activity book acts as a guide for me to teach and allow pupils follow the lesson step by step. Pronunciation is hard but with time I feel better when I see pupils interacting and recognizing the lesson," says teacher Alexia Uwimana.
It's clear the English teacher has issues with pronouncing correctly some English words like "Month" which she pronounces like 'Mouth', but she is visibly speaking confidently and her pupils seemingly look like they are following the teacher well.
When the teacher Alexia poses a question to test pupils by asking: What is the second month of the year?
Almost half of the pupils put up their hands to answer the question and the teacher has a hard time choosing who among pupils should stand up and write the answer the question.
One of the front seated female pupils is chosen, and smartly walks to the blackboard and writes it right – February.
Mapine, who seats at the back of class, is following the lesson but cannot hear properly as pupils make murmuring noises and desks squeaking during the lesson but, he has an alternative to aide him catch up fast.
"It's hard to hear some of the words but even when I cannot, I have a book with drawings which can help me understand better and I can also consult with the pupil we are sharing with the book," Mapine said.
On the side, Teacher Uwimana, may have a struggle pronouncing some words, because of the French language background but she also says the teacher's guide book gives her confidence and with time her classroom becomes more fun.
"Illustrations make me feel free with the pupils and the classroom becomes like one happy moment where all children are involved and able to answer correctly and familiarize with the subject matter in the lesson" she said.
To further build this teacher confidence, Building Learning Foundations (BLF) – a programme of the Rwanda Ministry of Education (MINEDUC) and Rwanda Education Board (REB); through funding from United Kingdom's Department for International Development (DFID) has orientated 30,000 teachers of English and Mathematics on the teacher's toolkit across all 30 districts in the country across all government and government aided schools.
The orientations are continuing until July 2019.
The toolkits develop teachers' self-directed learning skills as well as providing support and resources to enable teachers to participate in continuing professional development at school level.
The kits consist of printed books with supporting audio-visual materials on removable media (SD cards for use on teachers' own mobile phones) for each teacher, and two smartphones for each school so that teachers can watch the instructional BLF videos and film their own classes for self-reflection and peer discussion.
In an interview with KT Press, Martha Kampire the BLF Sector Learning Facilitator in Gasabo district said: "Teachers will move towards more learner-centred approaches to teaching, and pupils will have more opportunity to engage in meaningful learning tasks in order to develop their emerging literacy and numeracy skills."
Dr. Irénée Ndayambaje, Director General of Rwanda Education Board (REB) believes early English language and mathematics skills will sharpen a skilled generation as the Primary Gross Enrolment Rate (139.6%) remains too high compared to the 2016/17 Education Sector Strategic Plan (ESSP) target of 106% and Pupil.
"In order for a pupil to learn in English they must have enough vocabulary in order to switch from learning in Kinyarwanda to English as a medium of instruction from primary four onwards," Ndayamabaje said.
Despite immediate struggles of adapting to English language, REB says that Rwanda will showcase its progress during the 2020 Commonwealth Heads of Government Meeting (CHOGM) in Kigali.