On Tuesday morning, at 7am, the Rwandair 737-800NG aircraft touched down at Israel's Ben Gurion Aiport where it was greeted by the traditional water salute on its inaugural flight to the Middle Eastern country.
Aboard the plane were 102 people, including officials, the CEO of the national carrier Yvonne Manzi Makolo, the Permanent Secretary at the Ministry of Foreign Affairs Urujeni Bakuramutsa and the Israeli Ambassador to Rwanda Ron Adam.
Other passengers included Christian pilgrims mainly from West Africa headed to the holy city of Jerusalem who were part of the almost six hour flight operated by Rwandair –a route the airline says will boost bilateral ties between Israel and Rwanda through trade and tourism.
"The route is going to solidify our cooperation with Israel and it will also boost tourism and trade between our two countries. We are going to see more people from Israel coming to visit Rwanda and more Rwandans going to Israel and this will be great for two nations,'' Makolo said.
Annually, hundreds of devout Christians from Rwanda go to Israel to visit holy places. According to the Rwandair CEO, Tel Aviv is one of the world's leading tech hubs and the airline is targeting flying business travelers as well as pilgrims visiting the Holy Land.
According to Clare Akamanzi, the Chief Executive Officer of Rwanda Development Board (RDB), the Tel Aviv route is a strategic one and will boost tourism as well as trade.
"The new route of Tel Aviv that Rwandair is adding is a very strategic one for us. Israel provides strong links in 3 sectors of crucial importance to Rwanda's economy. These are modern agriculture where Israel has pioneered global innovations," Akamanzi said adding that the other areas are in ICT and entrepreneurship for a country referred to a start-up nation.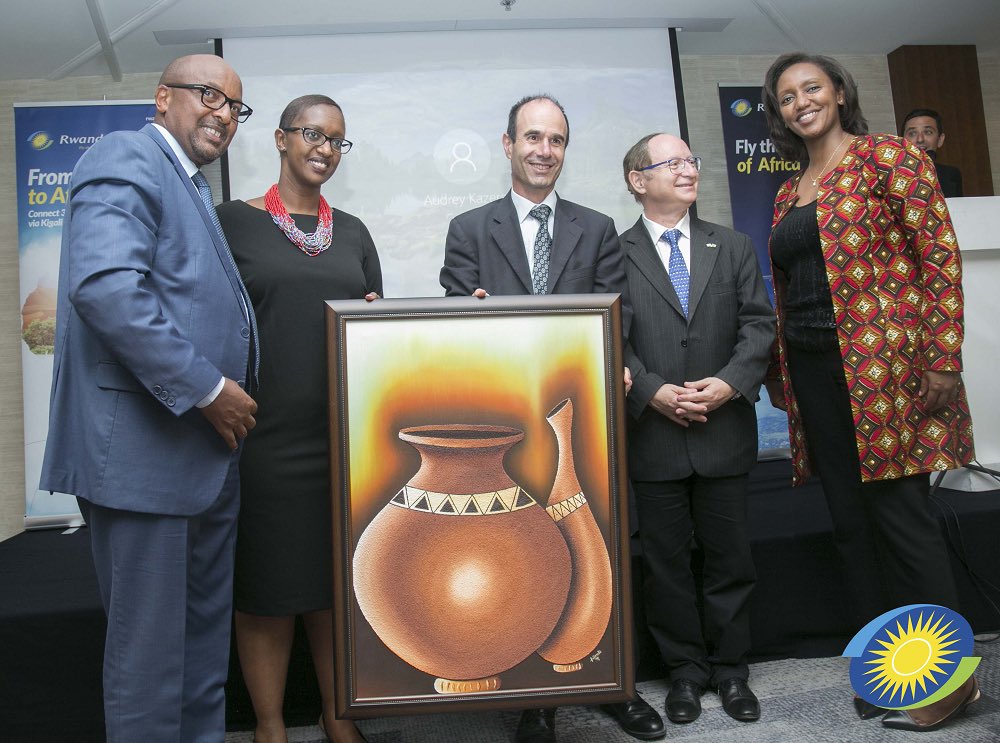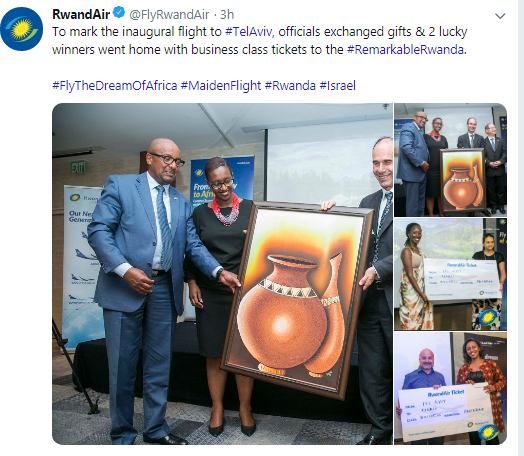 Akamanzi said that the new route will boost tourism, both religious and historical, while more Israelis are expected to visit Rwanda.
"We therefore expect that Rwandair flying to this route will facilitate deeper exchange both ways between our two countries in these 3 areas and more," Akamanzi told KT Press.
Adeline Mukangamije, a devout Christian who travels to Israel at least once in two years to revitalize her faith said that the route will ease the cost and time spent to get to Israel.
"In most cases we had to go through third countries for us to get to Israel, which costs us resources and time," Mukangamije said, adding that the direct route is a welcome development.
In April, Tel Aviv formally opened its embassy in Kigali, making it easy for Rwandans to acquire visas to Israel. Previously visas to Israel were obtained in Nairobi or Addis Ababa.
The Israeli Ambassador to Rwanda termed the flight as a comfortable one and described it as a 'historic moment' for the two countries.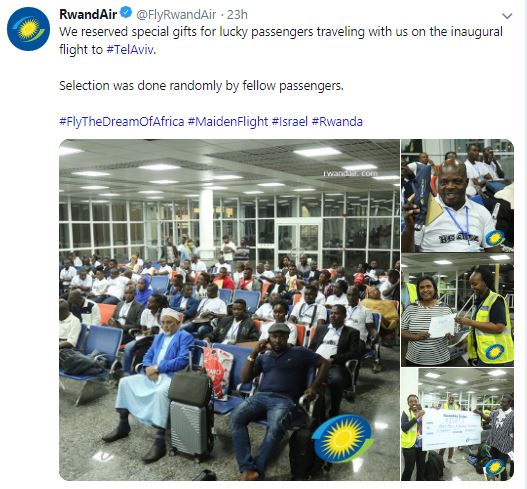 The route, the 29th Rwandair is flying, will be operated three times a week: on Tuesdays, Thursdays and Saturdays using the Boeing 737-800NG. The aircraft has 16 seats in business class and 138 seats in economy class.
The airline is looking to cash in on many religious tourists from west and central Africa via Kigali. Tel Aviv is also considered the economic and technology centre of Israel, with many trading opportunities.
In recent years, relations between Rwanda and Israel have blossomed with both countries agreeing to work together in different areas of the economy.