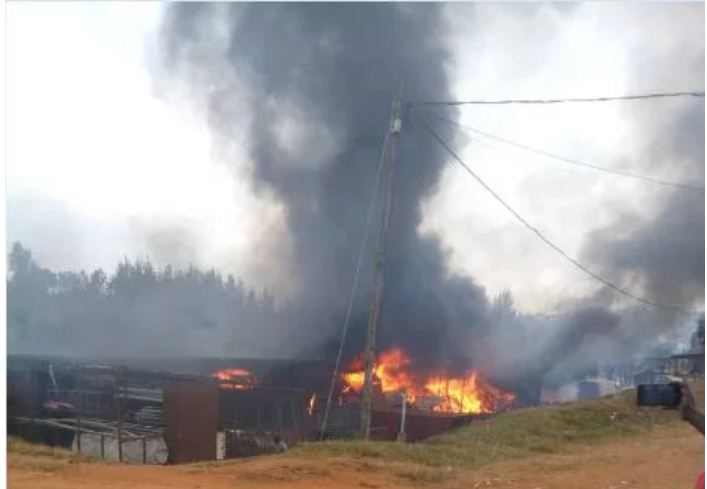 While workers were preparing to go for lunch after a busy morning, Kimironko – Gasabo investors stood in awe to watch helplessly as fireball and dark smoke cloud shockingly gutted their small and medium enterprises of furniture making 'Agakiriro'.
The fire outbreak becomes the third of its kind in a range of just two months with traders in two workshops falling victims.
At the end of last month (June) Gisozi furniture market, the allegedly biggest of the country in Gisozi sector, Gasabo district, in Kigali city was also reduced to ash leaving the owners hopeless because they did not have insurance.
Police Spokesman CP John Bosco Kabera confirmed the incident but said the cause of fire is not yet established.
"We already have the firefighting team on ground and the cause of the fire is yet to be established," Kabera said in a phone interview.
The parliament yesterday pinned the ministry of justice and Rwanda National Police on the state of security especially in Kigali wondering why firefighting equipment is not enough and not privatized.
Deputy Commissioner General of Police Juvenal Marizamunda said that some of the fire incidents are preventable but the poor electrical connection and negligence of security measure by business owners are other measure issues nowadays.
Marizamunda said that currently there is a plan to purchase one firefighting truck in each financial year adding to the existing eight trucks that are stationed in all four provinces and Kigali city.
"It's extremely costly to purchase the fire equipment but we are focusing on more preventive measures. For example, every commercial building must have a hydrant and trained staff," Marizamunda said on Saturday.
For Minister of Justice Johnston Busingye, Rwanda is improving in terms of response to fire incidents compared to ten years ago when there was only one fire truck at Kigali international airport.