Fredric Nzasenga miserably stands next his "completely burnt" carpentry shop in "Gakiriro ka Gisozi" – as the place is famously known.
He looks weak, but not sick. Rather, he is mentally dismantled – following massive fire that gutted his shop – along with others in this famous trading area.
Nzasenga, a father of nine children, picks pieces in the rubble as he reveals how life could have vanished.
It was a sorrowful moment, when last week, Nzasenga watched his carpentry shop burnt down.
Materials such as furniture timbersl stores and wood processing machines were completely burnt.
Nzasenga's Timber stores perished massively in the fire accident that swept Agakiriro ka Gisozi – a One Stop center furniture market in Gisozi sector, Gasabo district Kigali City on Saturday 27.
In deep grief, 45 year old rotated his perished store as he tried to collect half-burnt timbers to build shed for pigs, as a targeted alternative business in rural Kamonyi district-Southern province.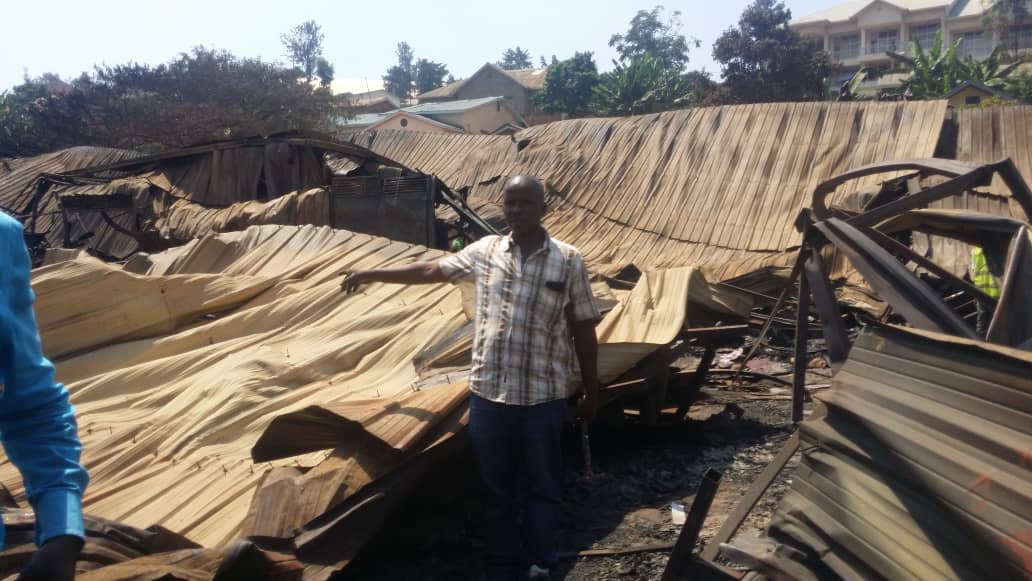 Nzasenga is among 54 traders who lost properties worth about Rwf2 billion in the fire accident.
Twenty four years ago, Nzasenga left his home district, Gisagara in Southern province to look for green pastures in the capital Kigali.
Fortunately, Nzasenga secured an opportunity as a casual laborer – a job that paid him food and less than Rwf300 a day.
With big dreams of starting his own business in the city, Nzasenga started learning skills of timber processing, customers care and accessing timbers from suppliers.
"I learnt timber processing from my experienced colleagues who used machines. After 17 years, I had acquired skills, experience and connections with timber clients and started saving small money to start my own business," Nzasenga told KT Press.
In 2012, Nzasenga opened his shop with less than Rwf100, 000.
"I bought few timbers and stored them, hired machines to processed them for selling. Slowly I got clients and business kept moving forward, but never thought this tragedy would happen to me," Nzasenga said in a seemingly sombre mood.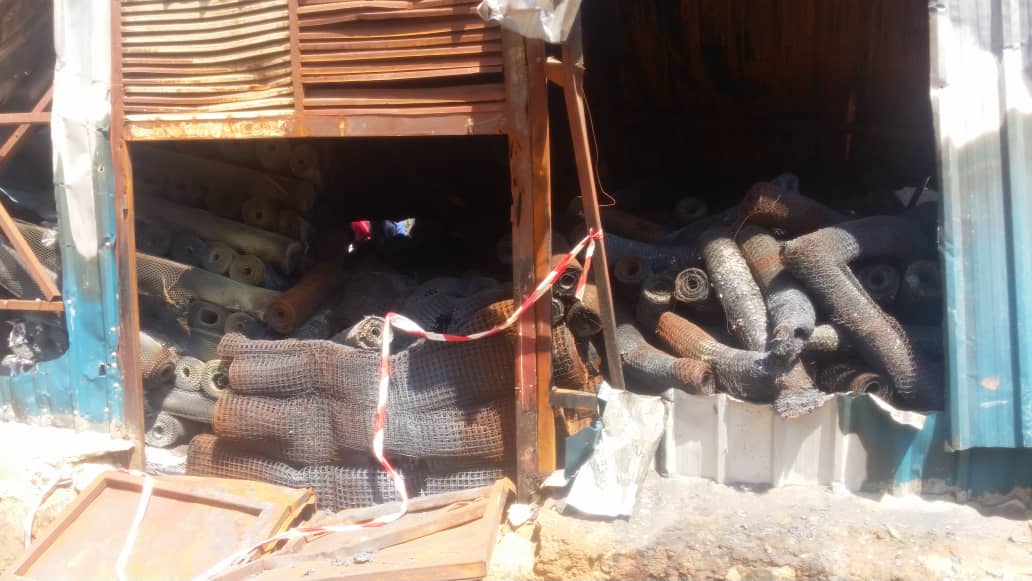 "I never thought the business worth over Rwf17 million would now perish in less than an hour," he lamented.
"I have no alternative of living in Kigali, I will go back in the village and do farming because my children need food and school fees. Only God knows,"Nzasenga told KT Press.
No insurance
Among the 54 traders who lost their properties, only four had insured their businesses, meaning 50 traders risk no compensation.
"I tried to insure my business with Solas Insurance Company, but they told me that my business was in high risk zone and couldn't be insured,"Nzasenga said.
On other side of Nzasenga's destroyed furniture store, another lady was mourning her Hardware shop worth Rwf200Million.
Athanasie Mukeshimana, was collecting half-burnt construction materials and showing UPA Insurance Rwanda personnel how her business was massively damaged.
Unlike Nzasenga, Mukeshimana insured her business.
"I have lost a Hardware business worth Ref200 million and this is the second time. Early last year, the same amount perished and Solas Insurance Company never compensated me up to now."
"I don't have much to say about my perished business" Mukeshimana said.
Viateur Kayigamba, Head of compensation unit at UAP Insurance Rwanda said that, "am doing the study to analyze the amount of goods destroyed, but we are waiting for police report about the causes of fire accident, after that, our clients will be compensated."
"Compensation will be done soon. We want our clients to resume businesses," Kayigamba said.
Teophile Niragire – Executive Secretary of Gisozi sector, said that "we shall have a meeting with district officials next week, purposely to discuss about how these people should resume working in the same place after installing better electricity wiring."
On Saturday 27, eye witnesses told KT Press that they didn't see the source this incident, but, some of them stated that the blaze broke out due to faded wiring system.
Rwanda National Police's Fire Brigade instantly intervened, but few things survived due to gravity of the fire.
Business owners have been advised to always seek insurance for the safety of their belongings.