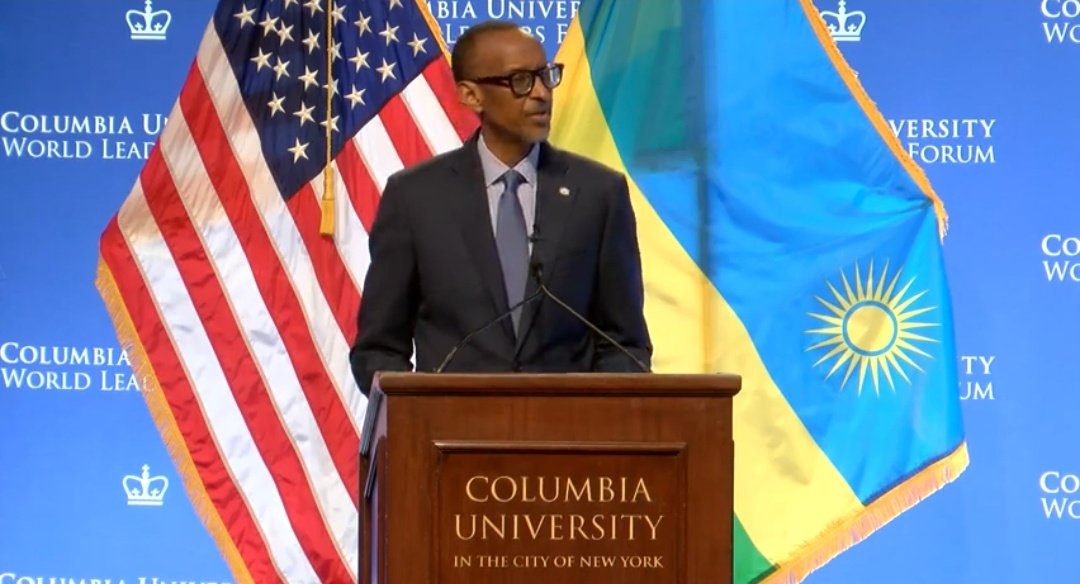 President Paul Kagame says time for dictating Africans what they should do or be is up and now is the time for better conversations and partnerships that can mutually benefit the west and the continent in a more respectable manner.
The head of state made the remarks on Thursday while addressing the World Leaders Forum, a year-round event series at Columbia University in New York which is attended by university students, scholars, and faculty members.
Speaking at the forum which has hosted over 100 heads of state and world leaders from over 85 countries since it was first established in 2003, President Kagame said that Rwandans and African, in particular, have reached a point where their choices need to be respected rather than being dictated upon.
President Kagame said that Africans have for centuries been treated as people who don't know what they want, with others attempting to think for them and determine what they should be on their behalf.
"Africans are constantly subject to this kind of gas-lighting. It is as if the reality we know and live and see, requires external validation. You begin to doubt your own perception, which, is, of course, the whole point," President Kagame said, giving an example of African leaders who are subjected to condescending treatment by western media.
"Most African leaders, including myself, have had the experience of being interrogated by strangers, about everything that is supposedly wrong with our countries,"
"In many cases, the criticism is not based on facts or any direct experience. It is simply prejudice condensed into dogma," President Kagame said.
Referring to a June interview he had with French Television channel France 24, Kagame said that most times he has had to confront people over the condescending approach to African issues, telling them off to let Africans determine their fate.
"Recently, I ended up telling one of them, "Who are you?" By which I meant, what kind of people do you think we are? African leaders answer to their people. There should be no room for intermediaries," he said.
On China
President Kagame gave another example of China, where the west is increasingly concerned about China's influence in Africa.
"We hear that China is bad for Africa. That doing business with China will lead to debt and dictatorship. It is strange when these warnings come from places, which are aggressively pursuing trade and investment ties with China, and which actually hold most of Africa's external debt,"
"So, why would engaging with China be beneficial in some cases, and harmful in others? Something deeper is at play in this discourse: The idea that Africa is a "prize" to win or lose," he said.
The head of state said that it is wrong to assume that other countries can determine what Africa wants rather than Africans themselves.
"The notion that we Africans don't know what is good for us. That thinking has no place in today's world. We have more pressing business. Africa has its own interests to pursue, and we intend to get on with it," he said.
President Kagame took time to speak about the World Happiness Report which constantly ranks Rwanda as one the least happy countries as another example of how the west continuously seeks to patronise Africans, wondering why Rwanda is always ranked alongside countries mired in conflict.
"How could the citizens of the most improved country, in the history of the United Nations Human Development Report, also be amongst the world's most miserable?" he wondered.
"We looked into it. It turns out that the World Happiness Report is based on a single question from the Gallup World Poll," he said, adding that the way that question is phrased leads Rwandans to answer very pessimistically for cultural reasons.
"In the same survey, Rwandans report high rates of positive and happy experiences every day. The way that question is phrased leads Rwandans to answer very pessimistically for cultural reasons. In the same survey, Rwandans report high rates of positive and happy experiences every day.
President Kagame said that ironically, the question on happiness is not used in the World Happiness Report and that the organisers agree the ranking makes no sense. And yet, year after year, the same absurd conclusion on Rwanda is published.
"It takes real determination to stay committed to the reality in front of our eyes. I think it is time to have better conversations. The partnership has been a very significant part of Rwanda's story," he noted.
President Kagame, who spoke at the same forum in September 2015 highlighted the progress Rwanda has made over the years, attributing it to three things -smart policy, finding the money to put those policies into effect and good politics.
"That notion of good politics has a very specific meaning for Rwandans, because of our history. It means unity -bringing people together and making decisions through consensus," he said, adding that today growth is strong, poverty and inequality continue to fall and the service industry has taken off.
President Kagame also spoke about the big changes which are underway on the African continent including financial and institutional reform to make the African Union more effective as well as the entry into force of the African Continental Free Trade Area, the world's largest.
During the forum, President Kagame said that Rwanda has been working with ICAP at Columbia's Mailman School of Public Health, together with PEPFAR, and the Centers for Disease Control (CDC) to measure HIV epidemic control.
"The results of the survey show that 76 per cent of all HIV-positive adults, including nearly 80 per cent of women, have achieved viral load suppression,"
"That means Rwanda's health system is successfully limiting new infections and providing treatment to those living with HIV," he said, also alluding to other different partnerships Rwanda has had with the American university.