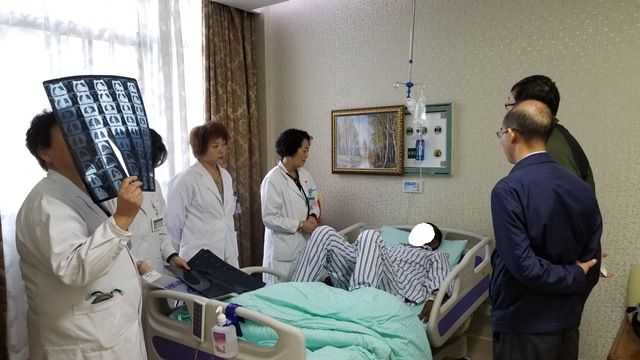 The medical team attending to my colleague. Looking on are People's Daily officialsOn Saturday, September 21, the flight to Gui Yang from Beijing – three hours, to be precise, was not an easy one. The Hotel check-in was 5 am (China time). This was a day after a visit to the famous Great Wall of China, an exhausting trip, too.
Sincerely speaking, such a domestic flight was not supposed to take that much time, but our host was warned by the aircraft company. "Please come as earlier as possible because the airport has strengthened check-in procedure due to the 70th anniversary," our host was warned.
The momentum is high as China prepares to celebrate the 70th anniversary on October 1 – a day since Mao Zedong, whom the world came to know simply as Chairman Mao, led his "People's Army" to defeat the nationalist forces and declared today's People's Republic of China.
By 4am, the last journalist was awake because missing that flight would mean missing the whole week and the wonders that we were looking forward to visiting. To narrow the scope, we are in China as part of the China-Africa media tour.
From Gui Yang to Bijie, a touristic hilly county by shuttle, another two-hour drive was not easy. After lunch with fellow journalists from People's Daily – our host, we were supposed to visit a poverty alleviation project, which required two more hours drive.
To wrap up the busy day, we visited one of the wonders of China, the Zhijindong Cave, which is also a Unesco property heritage. It takes two hours to be through.
When we returned to the bus at the end of the journey to Southern China, everyone was extremely exhausted. As we were having dinner at our new hotel back in Bijie, one of my colleagues said he was feeling so much pain in his stomach.
My answer was "you are just tired. Take care of yourself and you will be fit for the next trip."
He chilled, took the lift with me to our respective rooms. The following morning, everyone was at the café for breakfast by 7:30 am, except him.
"He is not joining us. He is not feeling well today," a colleague told me after talking to him.
"Well, it will take him this morning to recover from the fatigue," I thought, but also asked organizers to follow his case closely.
We started the morning from Bijie integrated alleviation project. If you want, it is similar to Rwanda's one cow per family, combined with the relocation of families from the high-risk zones, model villages and all amenities around it such as Rwanda's Vision 2020 Umurenge Programs (VUP), among other social categories. The difference is, China invested in huge money.
We drove further to visit beautiful cattle meant for the poor, and from there, our guide approached the Rwandan team to ask if anyone was willing to accompany the colleague to Gui Yang provincial Hospital, because "He was tested negative at Bijie county hospital, yet he is still feeling pain."
Without hesitation, I said "I am going with him" and a private car drove me back to the hotel to pick my luggage. We drove to Gui Yang around lunchtime.
I didn't know that the organizer of the training, the People's Daily's Director in charge of International Relations was driving next to us.
Shortly, had we reached Gui Yang Hospital. A team of doctors was already waiting in the parking, and they ushered us into an  executive suite on the 8th floor as they asked my colleague who was at this time walking without help; "are you still feeling much pain?"
He said "No. I am feeling better." I informally learnt that the care of medical personnel was psychologically a pain killer.
Ten doctors in his care, each asking him questions about his case…my understanding was: "With this attention, this man will just spend a couple of hours here."
This also confirmed what I was earlier told that "we are taking your colleague to the best hospital in the city."
One exam, two, three, four, five including a CT scan…
In a couple of minutes, the director of the hospital, a lady in her early forties brings the results of radiography and I was happy she was speaking English. It has widely become so common that Chinese people prefer to speak Mandarin. Mandarin is a group of related varieties of Chinese languages spoken across most of northern and southwestern China.
Back to my colleague, the director of the hospital said; "Not totally negative. He has a small issue with the appendix. It's a really small matter, no big deal," she said, increasing our hope for the better. Appendix develops pain in a condition when it becomes inflamed and filled with pus, causing pain.
"We have ordered dinner for you guys," she added pointing at me and a young lady in her early twenties who had accompanied us, also serving as an interpreter of Chinese, a language whose only words I know vaguely are: good morning and thank you. I look up to learning more in the near future!
"As for the patient, he won't eat for now. It may sabotage medical results," explained the hospital director.
After dinner, I took my luggage from the car, ready to sleep in a couple of hours. I could see the bed was prepared for me in the suite but, the People's Daily official came to me.
"You are returning to the hotel. I am staying here with the patient," he said.
Keeping in mind what it takes him to organize about 30 journalists from Africa, I was shocked.
"But Sir," I asked.  "You have a lot of work, you can't stay here. I rather stay with him," I said, but was overpowered by his will to stay around with the patient.
He had come with his Bijie bureau chief. Pionting at his colleague, he said; "he will do the job."
"As you are a distinguished guest, we can't keep you at the hospital. You have done quite a lot and we are very thankful," he said.
A car was waiting for me outside. I took my luggage and headed to the car with my interpreter, ready to return to Bijie.
Unknowingly, they had booked a suite room for me at Abundant Hotel in Guiyang – just five minutes' drive.
As the name suggests, it has abundant rooms. Well, I just needed one – abundant amenities and, of course, abundant care.
The next morning, as I returned to the Hospital, I found beautiful flowers and a colorfully decorated basket of fruits  in my colleague's hospital bedroom.
"Some government officials brought them to me. It is a symbol of love in this community," he told me.
When I was away, more exams were conducted, and were all negative.
The last one, the supersonic exam at 2am today, Monday 23, also showed that my colleague is alright and can be discharged at any time.
"I want to join my teammates. I can't wait," he said while doctors asked him to be patient.
Professionalism is unique at Guiyang hospital. Doctors can't just let you go without ascertaining that everything about you is alright.
How about hospitality? It has no precedent.
And you can imagine the excitement when the colleague, his name Richard Ruhimbana was discharged on September 24,2019 at 11.00 am, Chinese time.
Everyone wanted a selfie with him. He was thankful to everyone, everyone was happy to see him all smile.
Ruhimbana joined the team of the African journalists who continued the media tour in Guangzou, known to the Chinese as "the City of Flowers".
A foreigner may rather call it, " a city of sky scrapers" and you would be convinced if they send you pictures taken from any corner.