Top officials at Rwanda Education Board (REB) say they are shocked by the alarmingly low levels of student attainment, and poor teaching standards found in many schools in Gicumbi District, Northern Province.
This emerged after a surprise inspection by a team of inspectors, on 23rd September, which was led by Director-General of Rwanda Education Board (REB), Dr Irene Ndayambaje, who said after the visit that, the situation was "completely disappointing."
In Nyande primary school, China Keitets, a private Technical and Vocational Education Training School (TVET), Kibari primary and secondary school, students struggled to manage simple words of welcome to their visitors in any other than Kinyarwanda, or complete simple sentences in either English or Kinyarwanda. Some students were unable to write, welcome visitors.
Addressing the teaching staff, an astonished Ndayambaje said, "These schools are simply sleepy, there can be no excuse for this level of performance from teachers who have been teaching for nine years,"
"How do you tell me you have been teaching for nine years when your upper primary students cannot write a simple sentence like good morning, which should have been mastered in primary one, or even nursery?" he demanded.
The picture was repeated, as Dr Ndayambaje and his team moved from class to class. With only a month to go before the national exams, Ndayambaje wanted to know how it would be possible to bring these students to the required standard.
"What miracle will you perform in one month for these students to pass exams?" he asked teachers.
The headteacher of Nyande Primary School, Theophile Mutuyeyezu, admitted that in the 2018 academic year, none of his pupils attained the grade 1 grade 2, the level for a pass.
"We are sorry about this poor performance, we are going to start special coaching for academically weak students," he offered.
Nyande primary school has a total of 420 students and 8 teachers, a ration of 52 pupils to a teacher. The stipulated ratio established in 2017 is 37 pupils to a classroom. The ration of pupils to teachers is reviewed regularly and changed as more teachers are trained and qualify.
At the China Keites TVET, hairdressing students who on paper completed senior three in Secondary School, could not spell the word welcome.
"How is it possible to have completed senior three, or even primary level, and not be able to spell the word welcome?" wondered Ndayambaje.
A number of schools did not have basic facilities. China Keitets TVET's 200 students do not have a library, eight years since the school was opened – a situation Dr Ndayambaje said was unacceptable.
At Kibari primary and secondary school, none of the senior three students who are due to sit exams next month had basic computer skills.
The school's headteacher, Fabien Yakaramye, excused himself, saying that he had been at the school only nine months, and on his arrival, ICT teachers had studied languages rather than ICT.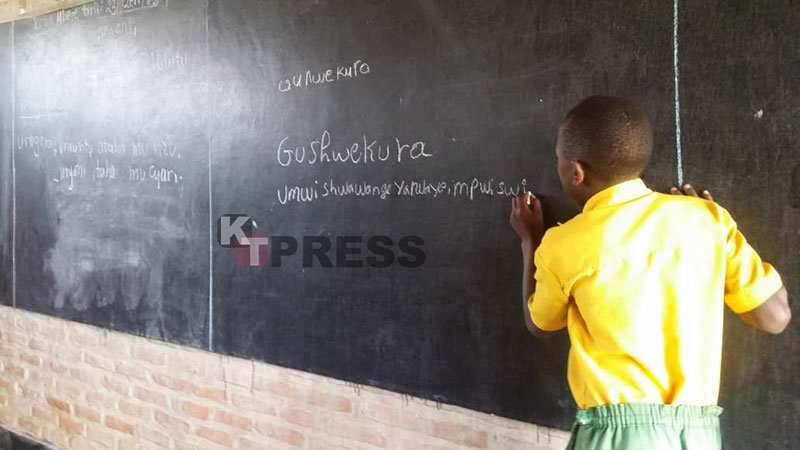 Dr Ndayambaje demanded immediate improvement or resignations of teachers.
"These teachers should improve or resign, we shall strengthen the monitoring of their performance. Some feel untouchable after spending many years at their respective schools. But we shall take strong decisions against them if this condition persists," he warned.
According to figures from the Ministry of Education, 20,000 students in Gicumbi District dropped out of education last year a staggering 6% of student drop-out in the entire country.
The inspections which begun on Monday, and will continue well into next month are part of a Rwanda Education Board initiative themed "Strengthening stakeholders' engagement in the educational transformation to maximize teaching and learning outcomes". The initiative will involve 900 schools.