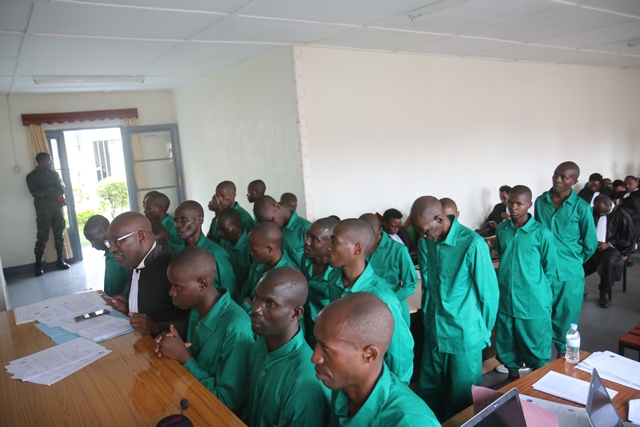 Lawyers defending the case of 25 persons suspected to have worked with Rwanda National Congress (RNC) in forming a rebel group in DR Congo have asked the court to give their clients a chance for rehabilitation.
The suspects are battling a case in which most of them, in their youth, told the court that they were lured by RNC recruiters who promised them jobs, to only find themselves in military training zones run by Burundians.
It is against this background that, Jean Claude Rwagasore, one of the eight lawyers on this case said;
"I believe that my clients are victims in this case and need to be rehabilitated at Mutobo just like other former rebel returnees."
He argued that this move would send a strong message to rebels in the DRC showing that Rwanda is not a place for imprisoning suspects but helping them to become better persons.
The 25 suspects were Tuesday afternoon appearing before the Nyamirambo Military Court to finalize hearing case arguments for bail for all the suspects.
"Unless the suspects are accused of another criminal case like genocide, I believe it's fundamental to grant them bail as required by the law," Rwagasore said.
The Rwagasore argument in the case was shared by most of the lawyers.
The 25 suspects, who include four Ugandans and Three Burundians are facing four counts which include: joining an armed rebel group, treason, conspiracy to commit an act of war with help of other countries, and formation of an armed rebel group.
The military prosecution side didn't add anything on the above allegations but maintained during Monday's hearing that the suspects should not be granted bail because they themselves pleaded guilty to serious counts which should be treated as a risk to attempt to release any of them.
From the prosecution argument to that of the suspects and their lawyers, court presiding judge Lt. Col. Charles Madudu ruled that the decision on granting or denying bail to the suspects will be taken on October 28, 2019.