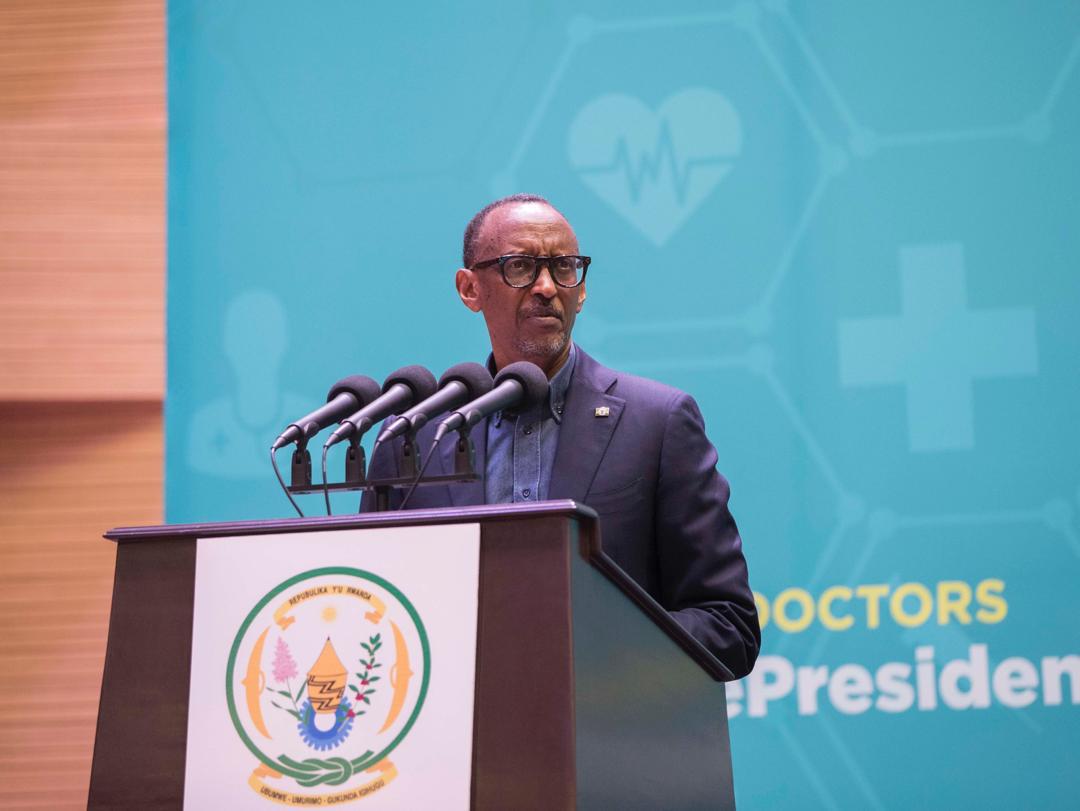 President Paul Kagame has urged medical doctors to put the citizens and country's interests ahead of their own and challenged them to uphold professional ethics, if the health sector has to meet the expectations of the masses.
The Head of State made the call on Thursday while meeting close to 1, 000 medical doctors from public and private hospitals as well as other institutions at Intare Conference Arena in Rusororo, Gasabo district as part of the "Meet the President" series.
During the session, representatives of the medical doctors raised their concerns before the President, among other things highlighting issues of remuneration, lack of incentives, limited equipment to offer specialized care, budget constraints and lack of training opportunities which affect their performance.
President Kagame, giving a background of where the country has come from, the available resources and commitment to improve the sector, he said that while the country does not have the resources to meet their concerns, the medics equally have a duty to the citizens which they should put ahead of their own interests.
"The medical career is guided by certain ethics and principles just like other careers, but how you translate them into actions is what determines that you really understand those principles," President Kagame said, adding that when the principles are not applied right, the country loses a lot.
"On one hand, it is up to you, the professionals and practitioners, you are the one who invested in yourself, in your education and gaining knowledge in what is needed," he said.
President Kagame challenged the medics that if they want to earn a better pay from their profession, their level of service and commitment should match their desire for a better pay and 'bigger budgets'.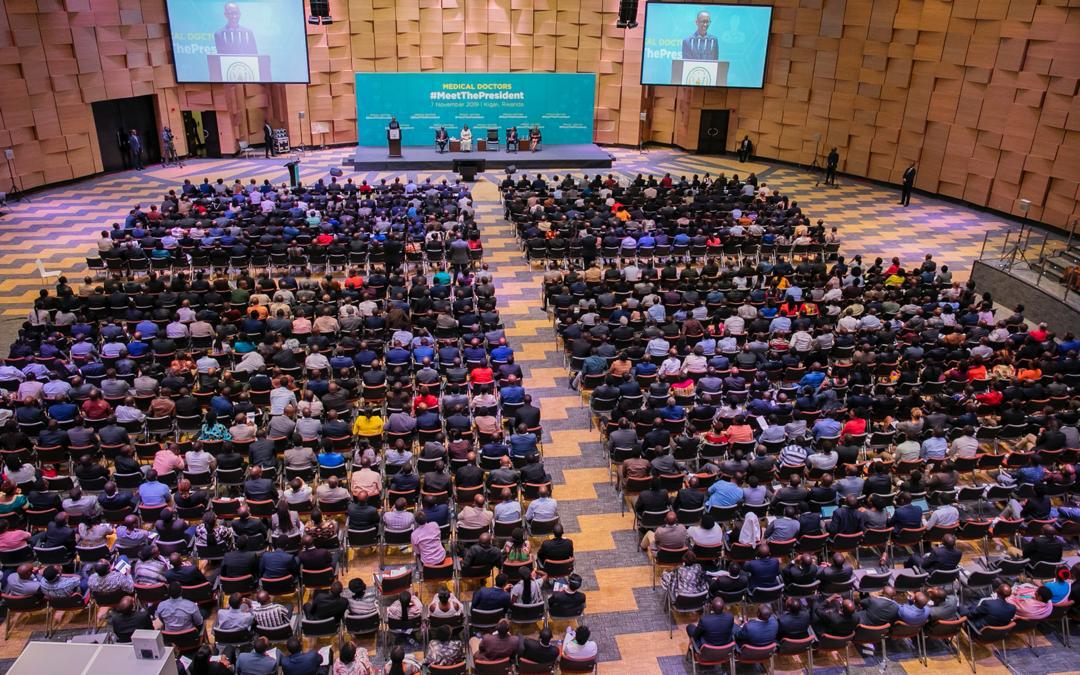 Among other things, he said that, medical doctors have to first deal with their attitude and how they relate with patients and society in general.
During the lengthy session, President Kagame mentioned some of the vices that characterise medical doctors, including poor patient handling, pursuing their personal interests and other forms of malpractices which the doctors must address at their level before looking at what the country can do for them.
"You know what the country can provide and you can distinguish that there are some things that are not available not because someone gives you less value, but because it is not within our means,"
"Your responsibility is to uphold professionalism and learn how to strike a balance between your personal needs and the needs of the citizens you serve," President Kagame said, in a veiled reference to medical doctors running private clinics while abandoning or underperforming at government hospitals.
The Head of State recalled his own example, where he visited Rwanda Military Hospital to have an eye check-up but machines could not work, the doctor instead referring to take him to a private clinic, which he obliged to, only to discover that the private clinic was fully equipped.
President Kagame said that it is a sign of irresponsibility for doctors to abandon public hospitals where most citizens seek for treatment in favour of their own clinics and at the same time still lament about remuneration even when they make millions on the side.
He said that whenever there are efforts to identify where challenges affecting delivery of healthcare services are, there is lack of ownership as people blame one another.
"There is a blame game that goes on between doctors, ministers, mayors, and others. No one has taken responsibility and said I have contributed to this problem, let me contribute to the solution,"
"When I ask Minister, they blame their predecessor, their predecessor blames the previous one. What is left is for the current ones to start blaming the future ministers," President Kagame said, sending the hall into chuckles.
He pointed out some initiatives to improve healthcare services which were previously mooted and efforts put in implementing them but they got abandoned along the way with no tangible explanation.
"No one is accepting responsibility and bringing solutions. That is why we discuss the same challenges for 10, 15, 20 years. The easy thing to blame is budget and seeking refuge in budget. Why do you entertain malpractices and then complain?"
"We can't complain about budget and yet we are the ones chasing away those who are seeking services that they are willing to pay for," he said.
Among other things, he said the failure to follow up on payments and efficiently provide services which people are willing to pay for and at the same time complain about the budget. He also pointed out that there is a lot of negligence and carelessness in the sector.
"Imagine a scenario where someone went to the hospital and said they are a relative of Kagame. They were put in a VIP room and then the bill came to me,"
"When I asked the institution what proof they had before accepting the patient, they had none. How can you say you need money and at the same time allow this kind of behaviour?" he wondered.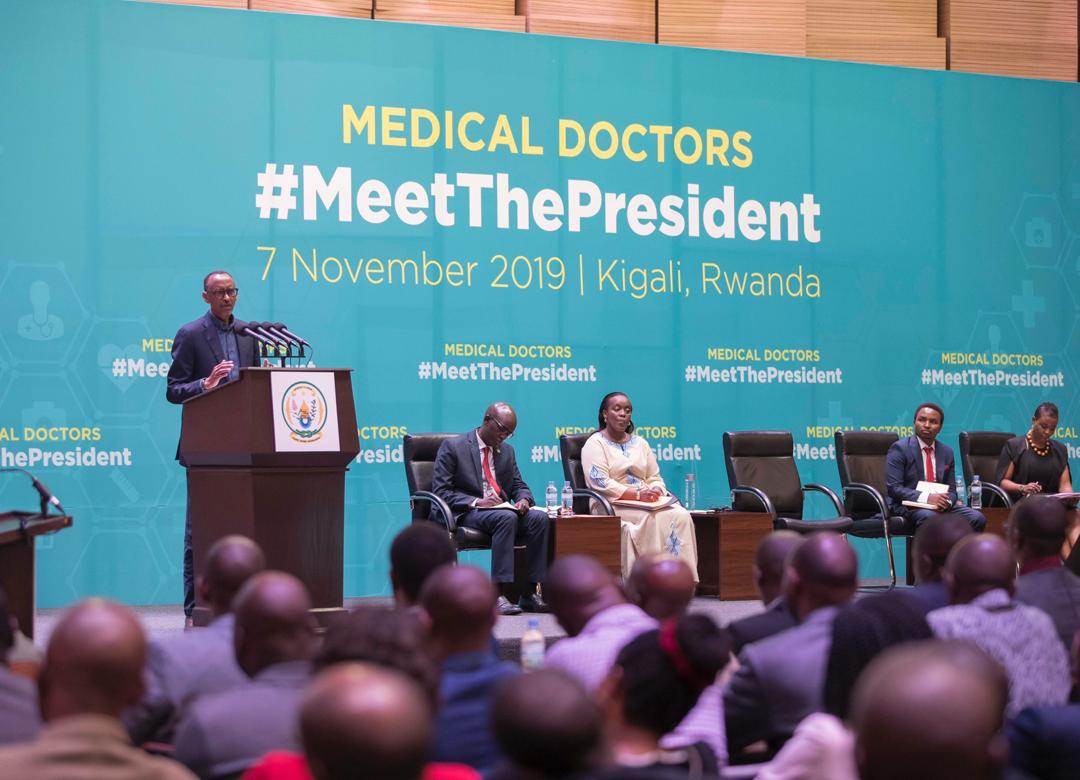 Negligence
On negligence, he said medical doctors have been making the government spend millions on evacuating patients abroad for treatment, for conditions which can be taken care of locally. He said in one case he followed up personally, a patient was about to be sent abroad for treatment over food poisoning.
He said he personally confronted the doctors to inquire why a patient would be evacuated abroad over a simple condition like food poisoning, and a medical doctor said that there is one who died recently out of negligence.
"Sending patients abroad has become a way to appease their families. We say inappropriate words in front of patients who end up more frightened than they should be and the best solution they can think of is seeking help outside the country,"
He said doctors have the responsibility of reassuring the patients that they can rely on their services and capabilities but instead they end up scaring the patients, telling them that they need to seek treatment abroad.
"It has nothing to do with knowledge and skills. You are abusing your own profession. It has nothing to do with remuneration and it has nothing to do with lack of laboratories or facilities. It has everything to do with attitude,"
Shifting focus to officials, President Kagame, said that when a minister goes to a hospital, everything comes to a standstill as everybody runs to receive the official, leaving the patients who are even more vulnerable than that minister.
"How does a professional entertain that? How do you perceive importance over emergency? The Prime Minister goes to get a problem on his finger fixed and the head of the hospital and every doctor comes,"
"Is that how it should work? Have you seen it anywhere else? What does this have to do with your profession? It is absolute carelessness," he said, asking doctors why they entertain such.
On the other hand, he said other patients are looked at in disdain as if to say tell patients not to come back.
According to the Ministry of Health, as of end of September 2019, medical doctors were 1,464 physicians working in both private and public health facilities. They include 504 specialists, 751 general practitioners as well as 209 residents.
One of the key challenges identified was the high turnover of doctors, many of who opting to go for lucrative jobs in NGOs. It was also noted that many doctors who go to study abroad do not return despite the government spending resources on them.
The Minister of Health Dr Diane Gashumba said that Rwanda has made progress in dealing with HIV/AIDS and malaria cases, tremendously cutting down deaths emanating from two diseases.
"We no longer lose lives to these diseases. It is 20 years since we introduced Community Health Workers. These have created huge impact in our health sector," she said, adding that the country has reduced maternal mortality deaths where in some hospitals like Kinihira, Kacyiru and Rubavu among others, no woman has died giving birth in a year.
Among the challenges, she said malpractices to exist among medical practitioners including alcoholism, dishonesty among Doctors who cheat insurance schemes, giving wrong figures, and others.
She said ambulances, are still few despite the government increasing budget. There is a shortage of 174 ambulances. She said the Ministry deployed 150 health workers on borders because of Ebola, which affects services.
Dr Claire Karekezi, one of the leading neurosurgeons in the country gave her own experience, choosing to return from Canada and practice in Rwanda, and help address the challenges the country face.
Upon return home, she joined Rwanda Military Hospital -Kanombe, where she did not only practice but was given the task to start a neurosurgeon service. We started from scratch, there.
"So far, in 10 months, I have handled 2, 000 patients in consultations and operated 80," she said, adding that there is a shortage of specialists countrywide. Karekezi also conducted a research on the state of neurosurgery challenges in Rwanda and is about to publish it.