It is difficult to believe that households that previously lived below one dollar a day could turn around their fortunes and several years later be able to establish a cooperative whose business value is more than Rwf7bn. 
Such is the story of members of the Cooperative for Modern Livestock Farmers in Gicumbi District, known by its Kinyarwanda acronym IAKIB, which has become one of the most successful farmer cooperatives in Rwanda. 
Members of the  cooperative consist of locals who include widows as well as men and women who more than two decades ago were languishing in poverty. 
The cooperative which started off in 2006, with an initial capital of Rwf500,000 today runs a dairy business valued at over Rwf7bn in the Northern Province district. 
In 2002, the Government of Rwanda launched the One Cow Per Family programme, locally known as Girinka, which aimed at giving one cow to one poor household with the view the cow would help the vulnerable household to generate some income and have access to milk for better nutrition. 
Girinka is considered one of Rwanda's most successful homegrown initiatives which have greatly contributed to the socio-economic development of the country and helped to tremendously alleviate poverty in previously poor households. 
According to Pierre Celestin Hakizimana, the head of the Gicumbi-based cooperative, members of IAKIB were among those who benefited from Girinka and they went on to use the opportunity to economically turn around their lives. 
"We started off with a capital of Rwf500, 000 in 2006. We used this amount to buy milk from 19 of the 21 sectors that make up Gicumbi district," 
"Our cooperative was born as a result of the Girinka program of the Government of Rwanda, established in 2002. We started with 300 members but now we have 4,004 members, collecting 34,000 litres of milk a day from more than 10,000 livestock," he said. 
Hakizimana says they have 10 milk collections, including four for their own use, two for rent and four for the state to support them. The milk they collect is sold to Inyange and Blessed Industries in Gatuna while they also use the surplus to make cow ghee, butter and Yogurt. 
The cooperative has also set up a maize flour processing plant where it processes 20 tons of maize per day, and says it is expanding so that by January 2021 it will have started delivering 60 tons of maize flour per day.
They also have a factory that manufactures at least 20 tons of cattle, chicken and pig feeds. Hakizimana said that if they stopped all their activities and diverted the money into building a commercial building, it would be a reasonable one. 
Hakizimana says that as a result, members of the cooperative have had their lives transformed socio-economically, working their way out of poverty while at the same time enjoying the nutritional benefits of their produce. 
He said that as the years go by, they want to engage in more activities that will grow the value of the assets of the cooperative so that members can continue to benefit, pointing out that they have plans to tap into the East African Community (EAC) larger market, going forward. 
"We did all this because of Girinka," Hakizimana said, at the ongoing seminar for cooperative leaders organised by Land O'Lakes Venture 37 in partnership with the Rwanda Institute of Cooperatives, Entrepreneurship and Microfinance (RICEM)/\ 
Hakizimana, who received a Girinka cow 18 years ago, was one of the leaders of 80 different cooperatives being trained by the USAID funded project, with the aim of equipping Rwandan cooperative leaders with innovative leadership and managerial skills needed to transform their cooperatives into profitable and professional businesses.
 Willy Nyirigira, the Director of the Land O'Lakes Cooperative Development Program, said that on their part, they supported Cooperative IAKIB with implements, including milking and refrigeration equipment, as part of efforts to help them achieve their goal. 
"We are currently working on a project to ensure long-term processing and storage of powdered milk, so that it cannot only be sold abroad and but it can also be an alternative for Rwandans whenever there is a shortage of milk especially during the dry season," he said. 
Nyirigira said that Land O' Lakes will continue to train Rwandan cooperatives while at the same time connecting them with their counterparts in more than 80 countries around the world, so that they don't only learn best practices but they also have a wider market to sell their produce. 
The four-day seminar, which was held at Kabusunzu RICEM campus, Kigali -Rwanda from November 3-6, 2020, brought together cooperative leaders and managers who were facilitated by renowned experts who shared with them knowledge from both the Rwandan context and international cooperative industries. 
Land O'Lakes International Development is implementing the Cooperative Development Activity 4 (CDP), a USAID-funded that is focusing on improving the business performance of primary cooperatives and strengthening cooperative apex organizations in Rwanda through capacity development initiatives as well as local and global collaborative learning initiatives.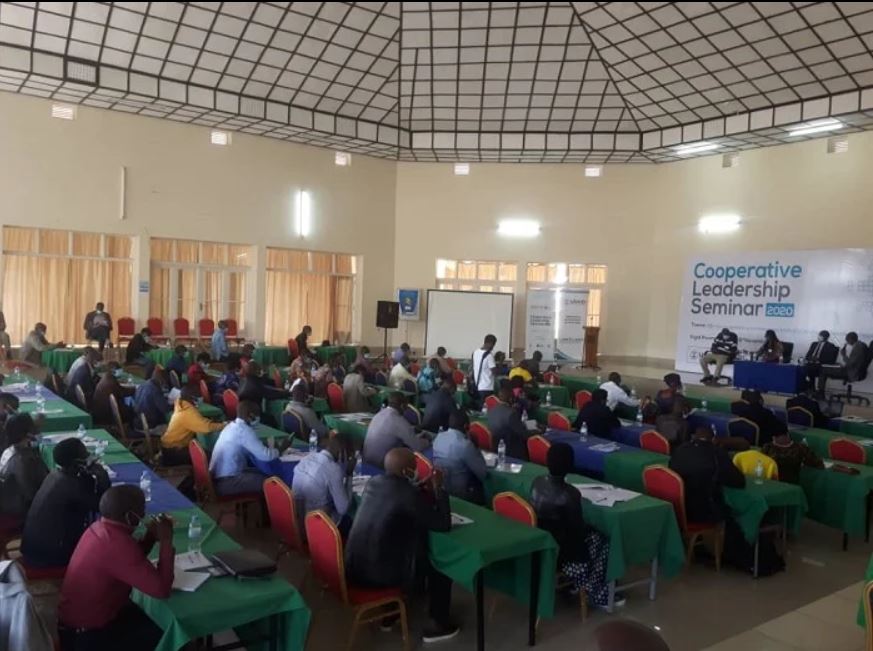 CDP is working directly with National Confederation of Cooperatives (NCCR), RCA, research institutions, cooperative federations, cooperative unions and primary cooperatives located in 3 districts, namely Rwamagana, Gicumbi and Bugesera. 
The mission of the project is to ensure that its partner cooperative organizations improve their business performance and achieve sustainable growth to impact the economic transformation of cooperatives and as well as their members. 
The Government of Rwanda views cooperatives as a potential vehicle through which the cooperatives members could create employment and expand access to income-generating activities to alleviate poverty in their households.