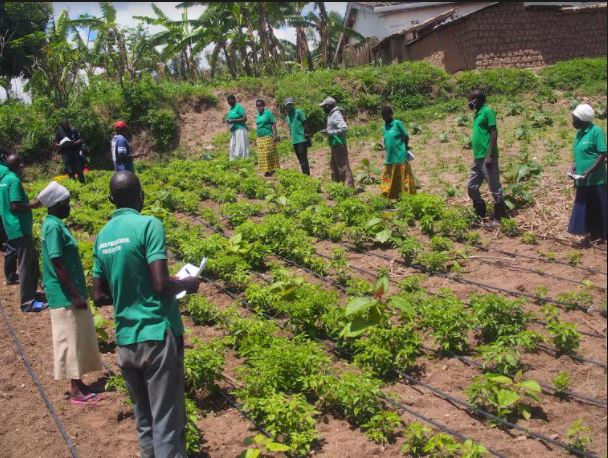 With drip irrigation, farmers can have regular harvests, multiply production, and income. 
The insufficient usage of this system of irrigation has encouraged the government and development partners including Global Civic Sharing (GCS), a South Korean non-governmental  organisation to establish the demonstration of irrigation projects for the benefit of farmers.
Drip irrigation not only allows a farmer to save water, but also allows the application of input since the same pipes with regular outlets from which water drips to the roots of the plants,can be used to chanel 'fertilizer', a  condition that increases crop production.
To encourage the usage, GCS has established five demonstration drip irrigation projects in five cells of Nyarubaka sector, Kamonyi district─ Southern province.
"Drip irrigation is one of the smartest ways of irrigating crops; we established it to teach farmers how it is used. Farmers are supposed to have crops continuously, either in the dry season or rainy," Aimable Twagirayezu – GCS Project Manager said.
"In some areas of the Nyarubaka sector, it is hard to get water from the marshlands, so the possible way to do hillside irrigation is to have pipes connected to tanks through the garden. It is a small scale irrigation system that can be used by farmers to increase productivity."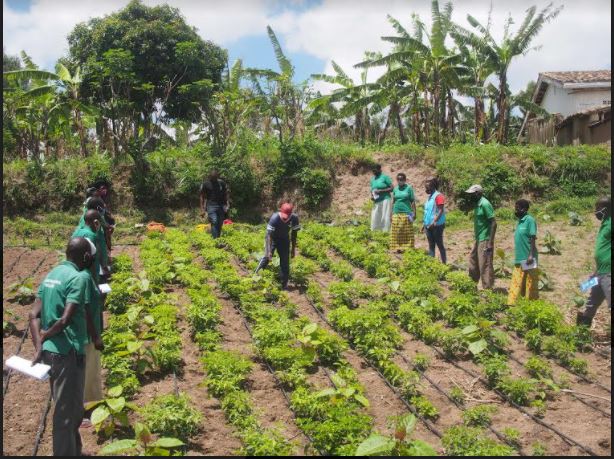 Twagirayezu further said that they established 5 demonstration drip irrigation projects for farmers to learn and practice. 
The projects were established in five cells including Kigusa, Kambyeyi, Gitare, Ruyanza and Nyagishubi. 
This initiative fits in a government drive to increase agricultural production while also expanding irrigation land under the Strategic Plan for Agriculture Transformation (PSTA4).
Under PSTA4, the government targets increasing land under irrigation from nearly 50,000 hectares to 102,281hectares in 2024.
"This technology has a user-friendly and cost-effective technology where upon opening, tank water pushed by pressure runs through the pipes connecting to the garden. In fact you don't need to buy fuel or use engines," Jean Bosco Bisetsa, a farmer said.
In about the last two years GCS donated irrigation equipment estimated to Rwf10milion to support over 1300 small-scale farmers in the Nyarubaka sector.
The irrigation equipment includes water pumps and septic tanks.
The drip irrigation project is an initiative of GCS with the support of Korea International Cooperation  Agency (KOICA).