Three more people were claimed by the New Coronavirus on Christmas Eve in a week which has so far registered 10 deaths since Monday, December 21 -the highest number of deaths in one week since the COVID1-9 in March.
The Ministry of Health in its daily update on Thursday announced 72 new cases and 3 deaths -a 55-year old woman in Huye, a 69-year old woman in Kigali and a 46-year old man in Kigali. The number of deaths has now reached 69 while total cases detected since the outbreak has now come up to 7,670.
The Government has enforced the 8pm to 4am curfew since December 22, with the hope that it can minimise congestion and people getting together in large numbers during the festive season but Christmas Eve was characterized by congestion in the Central Business District and markets as people engaged in last minute shopping ahead of Christmas.
"I am worried, people have forgotten about the directives and are doing everything they can to grab whatever they can and run back home before the 8pm curfew. No social distancing, no precaution, nothing to show that people are scared by the numbers," a youth volunteer told KT Press on Thursday evening.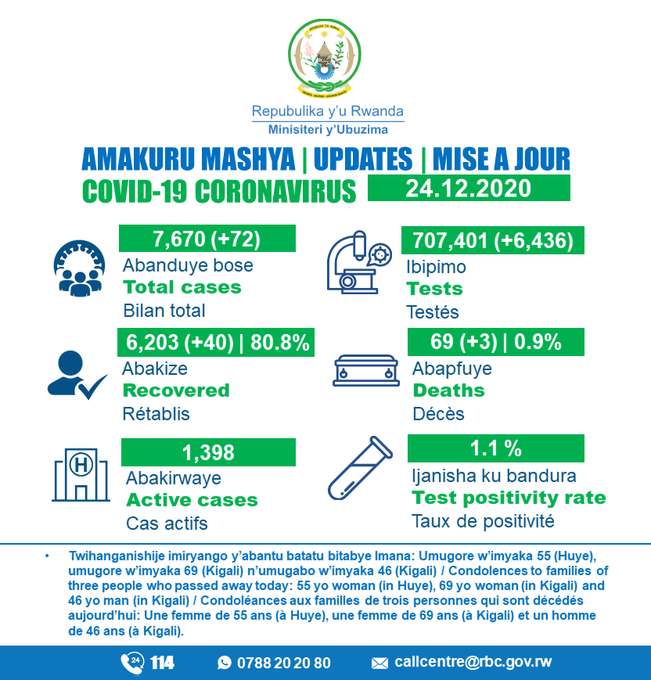 In places like T2000 is town, the influx of shoppers overwhelmed security, prompting management to close out hundreds of people who wanted to come in yet the shopping halls were already full. Long lines of last minute shoppers were seen in Simba Supermarket branches in town while markets like Nyarugenge and Kimironko were teeming with people at 5pm.
By 6pm, roads were clogged as people rushed home, trying to beat the 8pm curfew. Places like Gisimenti, Giporoso, Sonatubes and Kicukiro Centre were still congested with cars as Rwanda National Police moved to clear up the roads in what proved to be the most difficult day for enforcement.
The Spokesperson of RNP, CP John Bosco Kabera has called upon members of the public to ensure that they adhere to preventive measures against COVID-19, by planning their days early and avoiding crowded places.
"Everyone should be home by 8pm. For this to be possible you should plan ahead. Plan your day by anticipating the time your activities will take so that by 8pm you'll be home already,"
"Manage your time wisely. Prioritize what's important and do it on time so that 8pm won't find you on the road. Have a clear understanding of the length of your journey, make sure any trip you take allows you to be able to reach your home before 8pm," CP Kabera advised on Thursday.
To avoid congestion, the Police Spokesperson urged people to use alternate routes.
"We all don't have to use the same routes when there are alternate routes you can use to avoid traffic jam. If you use public transport, make sure you get to the bus park early so that you can avoid overcrowding," CP Kabera said.
RNP has assured the public of security during the festive season but warned against illegal parties and gatherings in homes, which could be a source of new infections. In a period of 7 days, from Thursday last week, Rwanda registered 638 new cases, the highest number in a week.