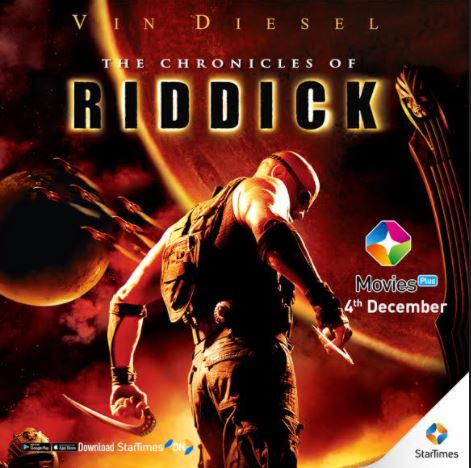 Christmas season equals to family time. And watching a movie with all your loved ones is one of the best Christmas features. 
Africa's leading pay-TV operator StarTimes is offering a fresh line-up of great international movies that will keep children and parents glued to the TV all December. 
"This year, I think most people watched a lot of TV and a lot of movies. But what is coming in December will make them forget about all that they watched before. Among family, action, comedy, blockbusters and classic movies, there won't be any day StarTimes subscribers won't be able to enjoy great cinema," said Vlady Terimbere, PR & Marketing Manager. 
"It is time to refresh your view and spend special family moments."
Science fiction fans will be delighted as ST Movies Plus will broadcast both The Chronicles of Riddick on December 4th and The Chronicles of Riddick: Dark Fury on 11th. Then on December 18th, the monster action movie Van Helsing will be shown, followed by the animated Van Helsing: The London Assignment on Christmas day. 
TNT Africa prepared a bunch of special series during the whole December. 
The Christmas Week Party Special is the way to celebrate Christmas with two fun and family driven titles every evening from Thursday 24th to Wednesday 30th of December. Starting with kids' favorites Wall-E and Shrek on 24th, it will keep going with Terrence Howard's The Best Man on 25th, The Croods, Spy Kids, Race to Witch Mountain (29th) or Willow (30th). 
And on 31st of December, TNT Africa prepared an Original's Eve film marathon with six movies from afternoon to night. The day will start with 2019's Days of Bagnold Summer and end with Escape from Pretoria. 
On December 16th, TNT Africa will celebrate Day of Reconciliation with a mix of action and popular movies about teamwork, empathy and friendship. This programming special will contain features as Bring it on, The A Team and Backdraft, proving that we are better together.
Finally, TNT Africa introduces the Ridley Scott Fan Month. 
Ridley Scott is one of the most successful and popular directors in Hollywood Being known for the classics Alien or Blade Runner. He will be commemorated with some of his features, outstanding Robin Hood, Gladiator and American Gangster. TNT will have every Sunday in a double feature on access and prime time six of his most remarkable films. 
Nollywood aficionados will also be able to enjoy a great feast of movies as AMC Movies channel planned a special Christmas. Christmas Eve will be full of emotions with the drama Beast Within, which tells the story of a blind young man hoping for a better life. And on Christmas Day, love will be in the air with Made in Heaven. 
And to reward its subscribers, StarTimes launched a "1 to 3" project giving each pay-TV subscriber 3 VIP membership on the StarTimes ON streaming app for free!  Then, all family members are able to watch their favourite content simultaneously on various devices. This handy application can provide the users with 150+ live TV channels and 20,000hrs+ programs.
"Christmas is a time to give back. Apart from the 1to3 project, we started several offers to give new benefits to our subscribers. The "Recharge and get upgraded" policy will give whether an upgrade or extra-days for free to subscribers," says Vlady Terimbere. 
According to the "Recharge and get upgraded" policy, Nova and Basic/Smart bouquet Subscribers who recharge for two months will enjoy 2 months of the higher bouquet for free. And Classic, Unique/Super package subscribers will get 10 extra days for free when they recharge for two months. 
StarTimes
StarTimes is the leading digital TV operator in Africa, serving 13 million DVB subscribers and 20 million OTT users in 30+ countries. StarTimes owns a 600+ channels' content platform combining African local channels (75%) and international channels (25%, including Chinese channels 1.5%). The company's vision is "To ensure that every African family can access, afford, watch and share the beauty of digital TV".