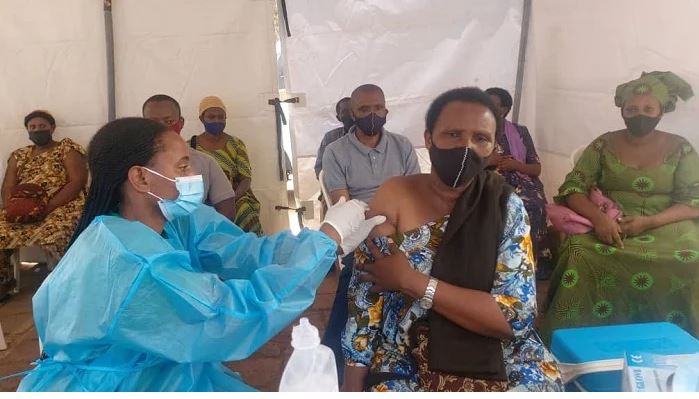 After several groups, Rwanda has started COVID-19 vaccination at market places in Kigali and across the country. 
The first batch of over 240 traders operating in Kigali City Market were this afternoon given a vaccine as part of the ongoing COVID19 immunization program in Rwanda.
Muhima hospital Director, Dr. Pascal Nkubito, who oversaw the activity told Kigali Today it was just the beginning of the wider program to offer the jab to all market vendors.
"All vendors in markets located in Kigali will be vaccinated because there are mixed services offered in such areas, which puts everyone at high risk of catching COVID-19," Dr. Nkubito said.
Rwanda government was last year compelled to twice close down market activities as a result of escalating numbers of new COVID-19 cases recorded in Kigali based markets especially the Kigali City Market.
Some of the vaccinated traders said that though cases of COVID-19 infections in market places have relatively been reduced, they have been working under a high risk.
"After getting the vaccine, I now feel more confident as a businesswomen to provide better services without fear of being infected or infecting others in the process of doing business," said one Diane Birori.
The same feeling of self confidence was also echoed in other 7 major Kigali markets like Kimironko market in Gasabo district and Inkundamahoro market in Nyabugogo, Nyarugenge district, where over 2000 vendors were reached out using mobile vaccine units.
On the same day, 1127 drivers of cross-border trucks and buses have been given COVID-19 vaccine shots at Amahoro National Stadium, in Kigali.
Under the 'vaccine for all' program that kicked off last week, Rwanda has so far vaccinated high risk persons including: refugees and asylum seekers, teachers, medics, security and government officials, elderly and patients with chronic diseases and hoteliers.
Some 240,000 people were vaccinated as of March 12, 2021.
Rwanda has set an ambitious Rwf50billion COVID-19 vaccination program using the AstraZeneca and Pfizer jabs to reach over 7million persons by the end of 2022.