The Japanese embassy in Rwanda has signed two funding agreements with civil society organizations to improve access to safe, clean water and rehabilitation of feeder roads.
The duo funding agreements were signed between Imai Masahiro, ambassador of Japan in Rwanda, and two local organizations including the Rwandese Endogenous Development Association (ARDE) and Community Road Empowerment (CORE) in Kigali, March 16, 2021.
CORE uses 'Do-nou' technology by wrapping soil in a gunny bag to construct roads. This technology was used over 100 years ago in Japan. 
Founded by Prof. Masayuki Kimura, Kyoto University Graduate school of Engineering, this technology is applied in the construction of dam embankments, road maintenance, culvert and bridges, flood routing dykes, footpaths in flooded areas, building foundations, and retaining walls.
Back the grants, $81,788 was given to ARDE, organization that aims at extending clean water to residents across the country. Beneficiaries of this specific project are residents of Bigogwe Sector, Nyabihu district, Western province.
Another $334,744 went to CORE to facilitate the repairing of feeder roads of about 1300 kilometers for three years in 16 districts including City of Kigali's Kicukiro, Gasabo and Nyarugenge districts, among others.
"The two projects will improve the living conditions of local communities," Masahiro said.
"For the Do-nou technology, it is easy to learn, passable and durable. This is the second time we are together, and the last time the project was successfully implemented. The project will help improve agriculture and business opportunities for beneficiaries," Masahiro said.
For the water access project in the Nyabihu district (ARDE) Masahiro said that the construction of water system will cover 4.37kilometers and will benefit 7,900 people of Rega village, Bigogwe sector who will access water at 500 meters. Another 10,000 people will access at water kiosks. 
Paul Murenzi legal representative of ADRE said that the project will be completed in the next six months.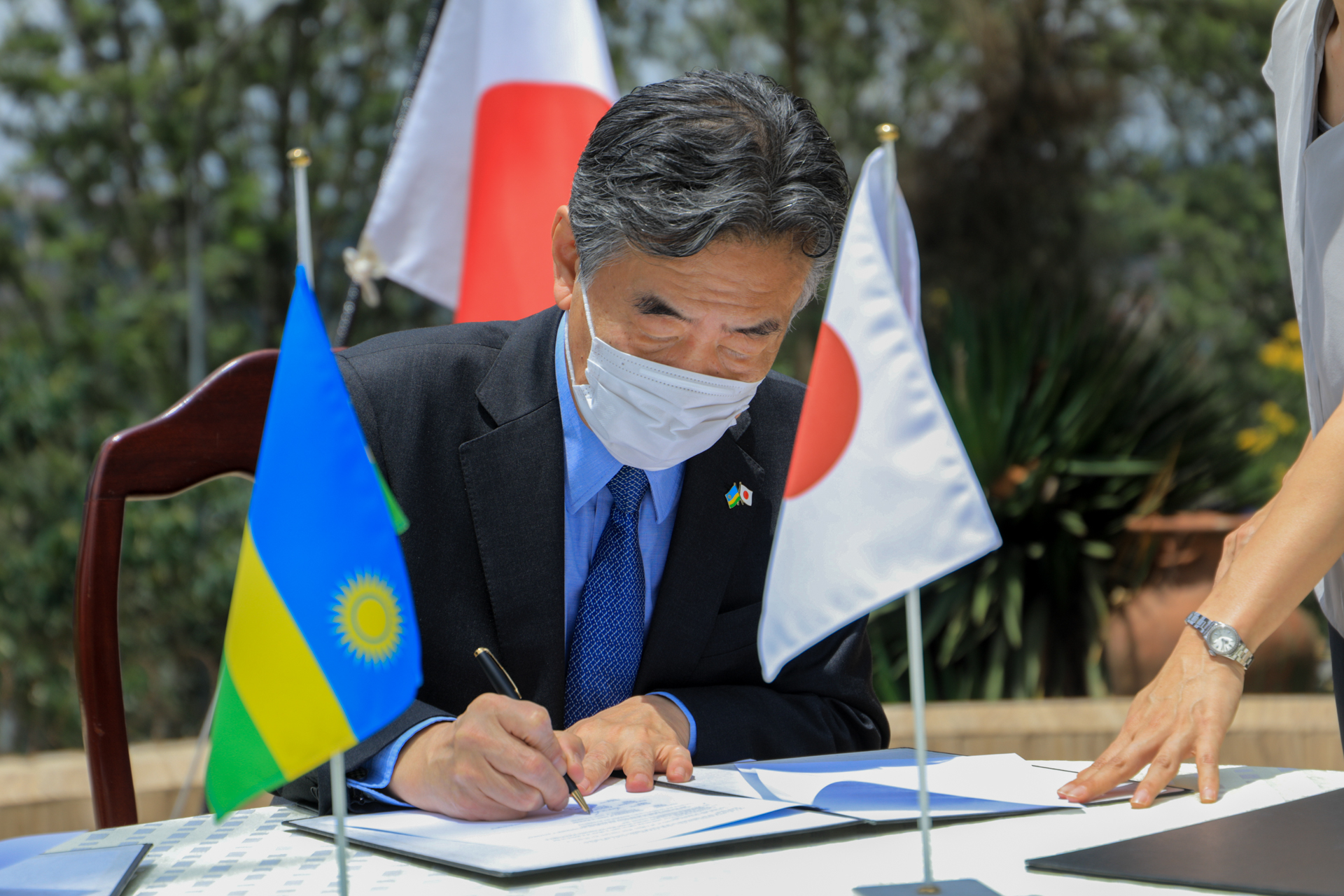 Yuko Yokomizo,  project coordinator at CORE said that it was a great faith from the embassy to the project and much will continue to be done in road maintenance and training youth.
"We managed to train 518 youth in 11 districts for the last three years. For the next three years, we are planning to cover the 16 districts and City of Kigali based districts," Yokomizo said.
She added that in collaboration with government institutions, CORE will fully implement the three-year project that covers 16 districts through youth training and road maintenance.