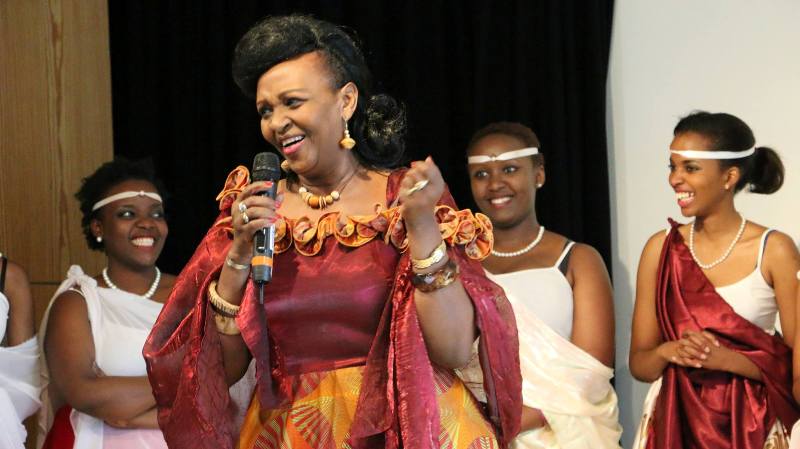 History in the making for Rwandan music as legendary Rwandan artiste and cultural music icon Cecile Kayirebwa's song is named among the top songs competing for a grand prize. 
Kayirebwa's 'None Twaza' named among finalists in International SongWriting Competition (ISC2020).
The Tarihinda singer took to social media to share the good news with her global fan base while calling them to keep voting in order to bring home the prize of $ 150,000 including other multiple prizes from the competition.
"#NoneTwaza has made it to the finals #ISC2020Finalist – Delighted to be part of the 1% artist making it out of 26,000 global participants. Now it's up to a celebrity judge panel to select the winners. You can also cast your vote for People Choice," she posted
71 winners from 25 categories will be named between April and May, according to the organizers of the competition and each will walk away with cash and other prizes, recognition and exposure.
The International Songwriting Competition (ISC) is an annual song contest whose mission is to provide the opportunity for both aspiring and established songwriters to have their songs heard in a professional and international arena.
It is designed also to nurture the musical talent of songwriters on all levels and promote excellence in the art of songwriting, amateur, professional songwriters and musicians are invited to participate.
This year's panel of judges include Cold Play, Lionell Liston Smith, Likin Park, Tom Waits, Irma Thomas, Dua Lipa and many more.
Each song is voted online once per day with a recognized email and those found to be fake will result in disqualification of the song voted.
Cecile Kayirebwa is a well-respected music icon who has managed to preserve, enrich and promote Rwandan cultural music abroad since the 1960s.
In her over 40 years doing music, she has produced many songs for promoting peace including 'None Twaza' which was widely used in the struggle to liberate Rwanda.
Cécile Kayirebwa born 22 October 1946, is a Rwandan singer known around the globe for singing about Rwanda and promoting its culture which has earned her a special position among Rwandans both living in the country and abroad. 
Kayirebwa is also a poet who in 2018 released an E-book titled Wowe utuma mpimba, the poetry e-book is the first of its kind by a Rwandan musician. 
Categories include: AAA (Adult Album Alternative), AC (Adult Contemporary), Americana, Blues, Children's Music, Christian, Comedy/Novelty, Country, EDM (Electronic Dance Music), Folk/Singer-Songwriter, Instrumental, Jazz, Latin Music, Lyrics Only, Music Video, Performance, Pop/Top 40, R&B/Hip-Hop, Rock, Teen, Unpublished, Unsigned Only, and World Music. 
In addition to cash and merchandise prizes, winners benefit from a multilateral promotional campaign designed to give international exposure and attention to their songwriting achievements.