Jean Marie Vianney Gatabazi, the new Minister of Local Government (MINALOC) has directed village leaders to solve existing problems, without residents waiting to fight for microphones to report their problems to President Paul Kagame when he visits them.
Gatabazi was on a one-day visit to Ruheru and Nyabimata sectors, Nyaruguru district of Southern province on 5 April 2021.
Addressing the village and sector leaders, Gatabazi said that on several occasions President Kagame visited Ruheru and Nyabimata sectors, but residents were seen fighting to have the floor to report their problems.
He said that some local authorities hesitate to address people's problems and later call them 'mentally ill.'
"If you call a person mentally ill, how can such an individual help with community policing, how can they give you information, how can they become your informer?" Gatabazi asked village and sector leaders. 
Gatabazi said that residents should be pillars of security by reporting every information about strangers in the village, but not leaving it all for the security personnel.  
"When you meet a stranger, whether putting on a military/ police uniform or civilian wear, ask them who they are because you may happen to discover that they are not out there for a good cause," Gatabazi said.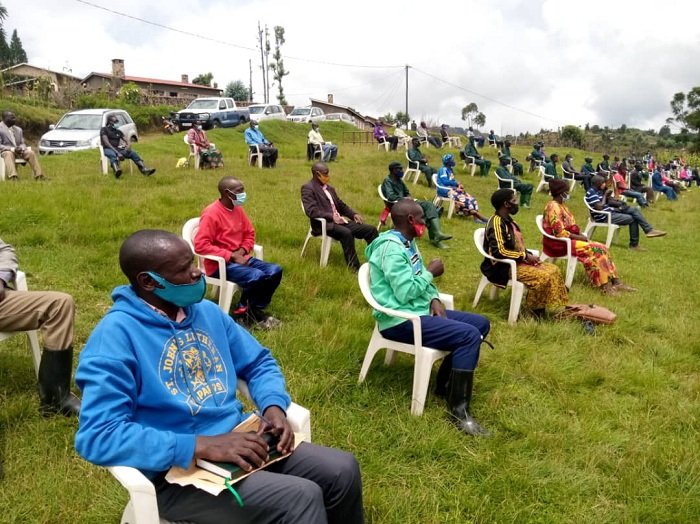 The Minister thereby shared his mobile phone number where they can report any  information that matters any time. 
Minister Gatabazi is conducting a country outreach after his appointment one month ago. The area he visited yesterday was in 2018-2019 affected by attacks of terrorist groups of MRCD-FLN. 
In an ongoing court case involving Paul Rusesabagina and co-accused, prosecution accuses 21 people of having been actively part of the crimes that were committed in this area, especially Nyabimata and Kivu among other areas, killing at least nine people and looting properties.