President Paul Kagame has challenged members of Rwanda Defence Force (RDF) to be more diligent and uncompromising in whatever they do, to ensure the stability and security of the country and the people.
The Head of State, who is also the Commander-in-Chief of the armed forces, made the call on Friday while officiating at the graduation ceremony of 47 students from the RDF and the Rwanda National Police, at the RDF Command and Staff College in Musanze District.
President Kagame challenged the graduating officers and the armed forces in general to strive to acquire more knowledge to deal with the new realities of the world, to put the country at par with the rest of the world.
In an advanced world where technology and interests of the country take centre stage, President Kagame said the battlefield shifted elsewhere and the armed forces have to be prepared to continuously evolve with times
"Raising ourselves to the level where we feel we are equal with others is also an issue of mindset. It's an issue of choices we have made or we want to make going forward,"
"Being equal shouldn't be just words, it should be demonstrated in real life. The continuous acquisition of knowledge and skills, and the training of leaders in all fields, is an important part of Rwanda's development trajectory. The armed forces are no exception," President Kagame said.
He said that the 47 graduating officers embarked on the course with a clear understanding of the role of the RDF as an integral part of the country's identity and transformation journey.
The Head of State urged the armed forces to continue to consolidate the values of trust, consensus, and accountability that characterize the Rwandan society, and to which the defence and security institutions have always actively contributed.
Be Ready
President Kagame urged the armed forces to be ready to deal with many challenges, particularly those that make the world an unequal place, where some countries are mightier than others.
"As 21st century officers, you will operate in a volatile geopolitical and security environment, as part of an ever more inter-connected, unequal world,"
"Unequal therefore adds another dimension of responsibility. How do we base on this knowledge and commitment; and even with limited resources, how can we raise ourselves to that level, where we feel we are equal with others," he said.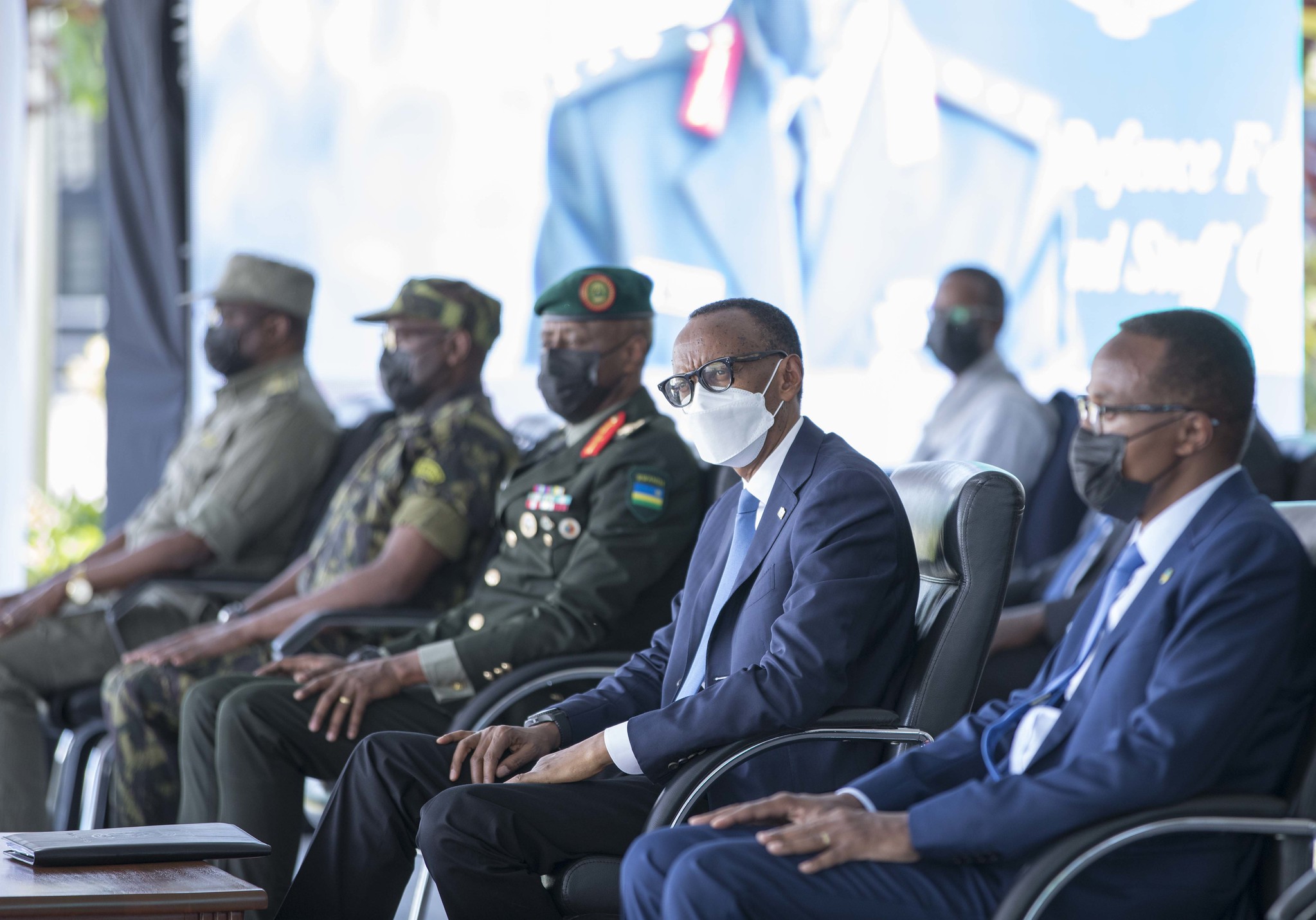 He pointed out that as armed forces, they are better positioned to have a good understanding of the country, where it is coming from and where it is going as well as what it aspires to be.
In a message directed to development partners, President Kagame said without naming any example that there are those who support the country's development and at the same time back those willing to cause insecurity.
"Don't help on one hand to deal with problems of security and even support development, at the same time give ground for insecurity to develop that will come and reverse what we have been building together," President Kagame said, describing the scenario as intriguing.
"What do I mean? Particularly in our case, there have been people who graduated as you have today, who run into problems of their own making, sometimes, in fact, problems of a criminal nature,"
"And the same people run to countries called our partners, tell a lot of lies, and they are welcomed. These same people turn around and actually get involved in acts that create insecurity for the country," President Kagame said, adding it has become a trend with the country's partners regardless of how Rwanda explains.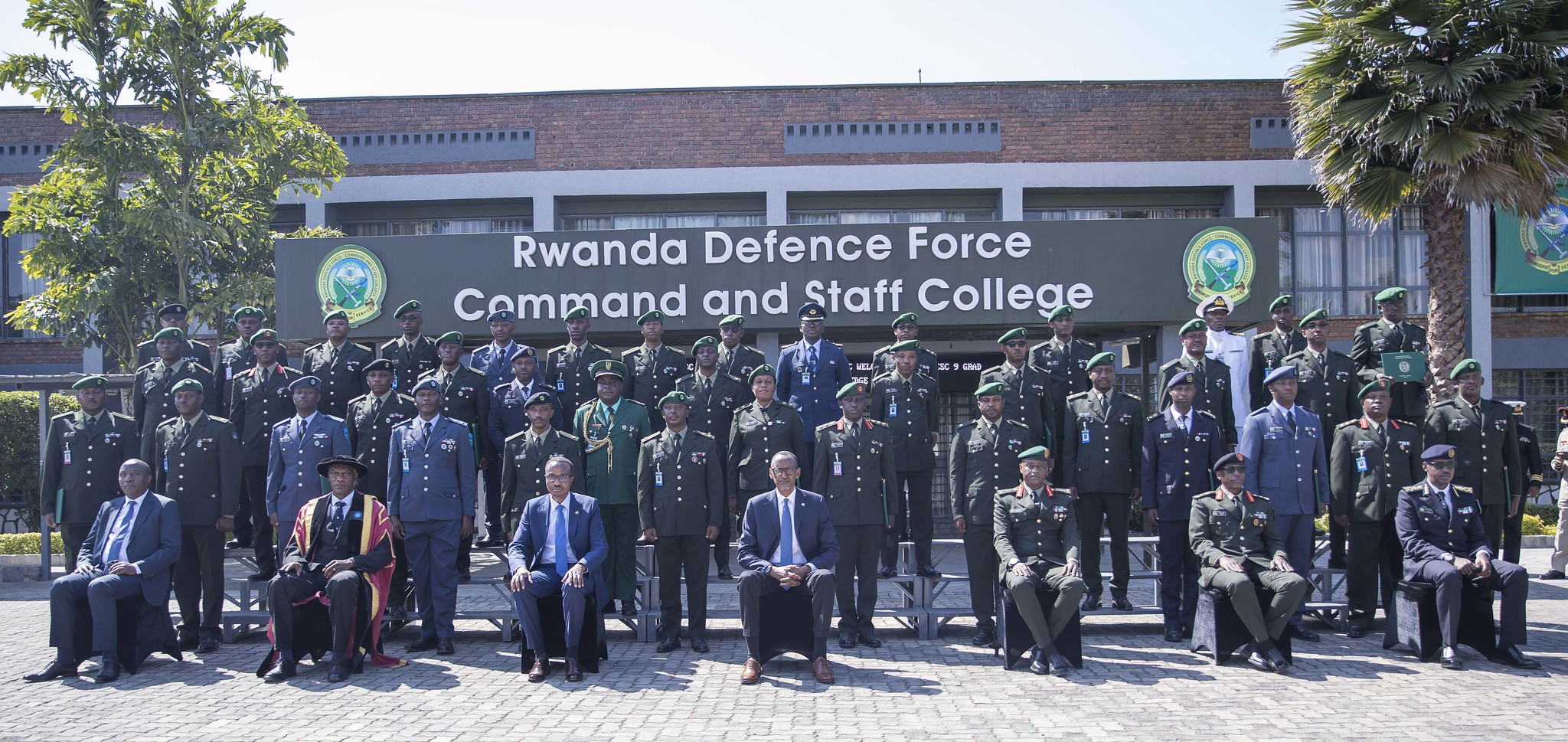 "So, I am just telling our partners that help to deal with problems of security, meaning helping to build capabilities, and even support development, itself part of broader security, and at the same time give ground for insecurity to develop that will come and reverse what we have been building together," he said.
He challenged the RDF to include more IT related course in the training and put more emphasis on the latest technology as military science constantly evolves. He further challenged to understand the environment they operate in.
"There is a battlefield beyond the physical one, where RDF must always be ready to protect Rwanda's security and stability uncompromisingly,"
"This is the struggle to instil the mindset amongst ourselves, that Rwandans and Africans are as equally deserving as others in terms of freedom, respect, and prosperity,"
"We must be diligent in securing better lives for our people, and contributing to a better world for all," President Kagame said.