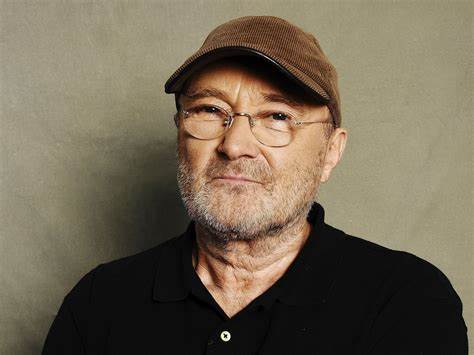 Legendary singer/drummer/actor and record producer Phil Collins put his fans in state of fear when he admitted that he can barely hold a drumstick with his hands, as he addressed his declining health condition on BBC breakfast show.
 The 70 year old iconic performer has been suffering from crippled nerve damage caused by an injured vertebrae from his upper neck for the past 15 years.
The former Genesis drummer was then asked: Are you able to do any drumming at all these days?
He replied "No, no, I would love to but, you know, I mean I can barely hold a stick with this hand, so there are certain physical things that get in the way,"
Following his TV appearance, fans rushed to express their concerns on Twitter  for the ailing singer,  who also suffers from acute pancreatitis.
"Gosh Phil Collins isn't looking too good (sorry), bless him, I hope they aren't just using him for another tour. Not sure if it's a good idea. Please take care Phil. Sending my love to you"
Another one twitted: "Ooh God, Phil Collins has failed dreadfully. I really hope they get on the road. #BBCBreakfast" 
In April, Phil Collins had surgery to repair dislocated vertebrae in his upper neck.
The operation caused him to lose feelings in his fingers and he could only hold drumsticks if they were taped on his hands.
In 2010, he begun battling depression and he even considered suicide, but he didn't go through with it for the sake of his children.
During the interview, the 'I cant stop loving you' hit maker, revealed that, he would love to be on the stage playing drum with his son but he can't due to illness.
"I'm kind of physically challenged a bit which is frustrating but I would love to be there playing drum with my son," says Phil Collins
Phil Collins joined Genesis band in 1970, by 1975, he was the voice of the band and this helped him to launch a successful solo career in the 80s and 90s.
The Grammy winner, now his ability to perform has been restricted to his illness, he told BBC breakfast.
Excessive consumption of vodkas, whiskeys and spirits were the cause of his long journey of battling pancreatitis disease, he told press back in 2016.
"Within months you're drinking vodka from the fridge and falling in front of kids, you know. But it was something I lived through, and I was lucky to live through it and get through it. I was very close to dying," 
The harrowing ordeal shut his life when he was rushed to Swiss hospital and the doctor told his family that he was a few hours to death and even asked them whether he was in order.
The recent incident between him and his estranged ex-wife Orianne Covey, who wanted to take away his $40 million Maim mansion also worsened the singer's health.
Born January 30th , 1951, in United Kingdom as Phillip David Charles Collins LVO is an English drummer, songwriter, record producer and actor.
He is best known as the drummer/singer of the rock band Genesis and for his solo career between 1980s to 1990.
Collins achieved three UK and seven US number one singles through his solo career with hits like One more night, through the air and many more.