The year 2021 was seen as a year of justice with several big cases and personalities ranging from a former Prime Minister, to ministers, suspected terrorist group leaders and people who call themselves politicians charged in court and many of them convicted.
As we enter into 2022 some cases remain docked in courts of law as unfinished business and could stand in the limelight for the next 12 months.
Rusesabagina uncertain move
Top on agenda this year will be the terror case manned by the National Liberation Front- Rwandan Movement for Democratic Change (MRCD-FLN) who, according to court verdict, were sponsored by Paul Rusesabagina, a former hotel manager turned film hero, and politician.
The case is peculiar because it had lots of ups and downs, including Rusesabagina denying his Rwandan citizenship, his lawyers abandoning the case and refusing to appear in court while his other 20 co- accused continued to stand trial which in itself delayed the case to reach its final verdict on September 20, 2021.
This didn't stop the court from sentencing him to 25 years in jail; however the fact that he was sentenced while in Rwanda and not appearing in court, makes the case interesting to know if Rusesabagina has accepted his fate.
Though not certain, sources indicate that there is a possibility that Rusesabagina will appeal the case, while on the other hand the survivors, victims and families of victims of FLN attacks are also prepared to appeal the court verdict, especially on compensations.
This case could keep the judiciary and media busy for another year.
ADF Rwanda infiltration
Last year, the Allied Democratic Forces (ADF), a Ugandan rebel group based in Eastern Democratic Republic of Congo (DRC) for decades managed to infiltrate the Rwandan Muslim community.
A group of 13, including one woman was arrested in a separate operation on allegation of planning to attack several key spots and monuments in the city of Kigali following their belief that Rwanda's engagement in Mozambique was an attack to their brethren.
In its first court mandatory remand appearance, prosecution has already showed damning information how the group managed to do so to an extent of even recruiting children below 20 years.
Though court released two of the suspects, the other 11 were handed 30 days in mandatory remand on grounds that their case was sensitive and they could escape.
What makes this case so peculiar is the fact that most suspects are Muslims jihadists who were engaged in a holy war (jihad) in revenge for fellow Muslims in Mozambique (Cabo Delgado region)- where Rwanda has deployed over 1,000 troops to restore peace after two years of Islamic insurgents controlling the region. The case is expected to commence an in-depth hearing on alleged crimes committed by each of the suspects.
P5 and RUD-Urunana armed groups
This is one case (which began May 2021) could go for longer due to the number of persons involved.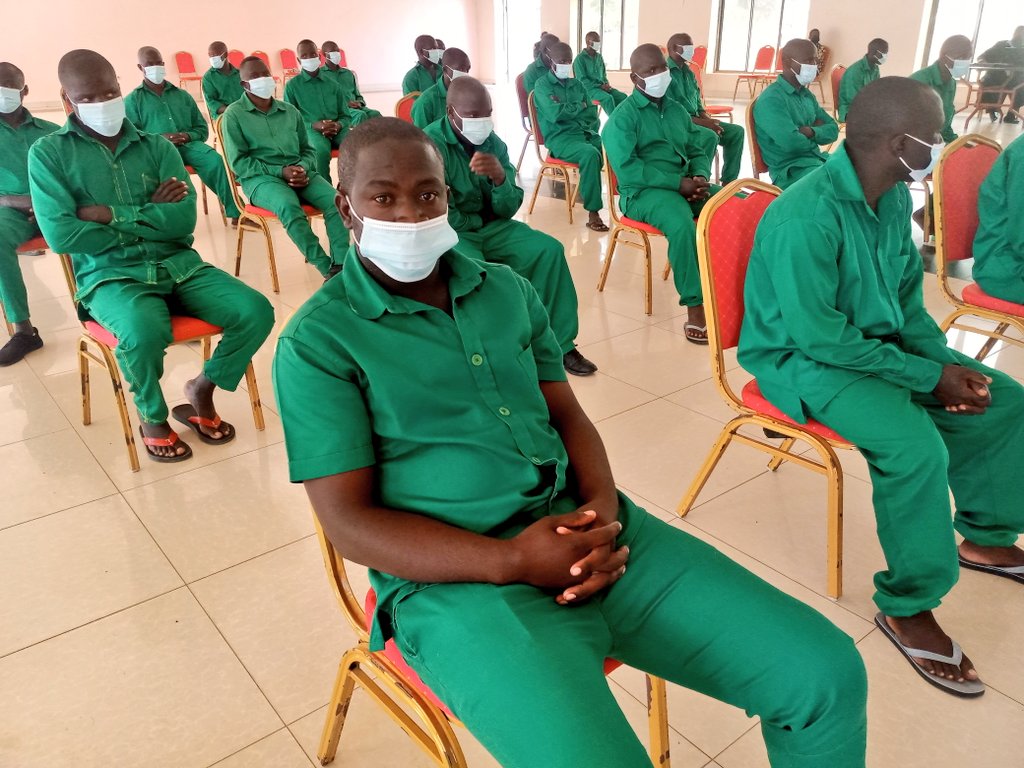 One reason is that the Burundian nationals in the case requested the court to put on hold the trial and sentencing until their lawyer, who was out of the country at the time, returned.
However, Military prosecution seeks a life imprisonment for 37 members of P5 and RUD-Urunana armed groups, who include four Burundians, facing charges relating to a deadly attack in October 2019 that left at least 15 dead.
After submissions closed with prosecutors appealing to judges to sentence the suspects to life in prison, the military court will render a verdict this January on the alleged crimes committed in Kinigi, Musanze district.
Beatrice Munyenyezi
Last year, the 51-year-old Rwandan woman was deported from the US to Kigali, accompanied by U.S. federal agents to answer genocide crimes levied on her.
Munyenyezi was stripped of her U.S. citizenship and jailed for 10 years in 2013, after she was found guilty by a court of misrepresenting material facts when she secured the naturalization.
She is believed to have manned a road block where she is accused of committing crimes outside a hotel in Butare that was owned by her in-laws.
Munyenyezi's mother-in-law, Pauline Nyiramasuhuko, and her son Arsène Shalom Ntahobali, were convicted and sentenced by the international criminal tribunal for Rwanda in Arusha for their roles in the genocide.
After deportation, she appeared in court to seek bail, but the Kicukiro Primary Court held her on a 30-day remand on grounds that the suspect committed the crimes for which she is being prosecuted.
Her case will resume this month in Huye district, after it was transferred to where the alleged crimes happened.
The Youtubers
The use of the internet in Rwanda has grown over the past five years and so has the form of communication through youtube based talk shows and live streams which have of recent claimed a place as one of the sources of information beside mainstream media.
This growth came with cases of abuse of freedoms of speech and use of social media resulting into arrest of several YouTubers including journalists like Dieudonne Niyonsenga, "Cyuma", Theoneste Nsengimana, a former university lecturer Aimable Karasira and Yvonne Idamange, a mother of four who was jailed for 15 years for inciting violence online.
The group is alleged to be part of a large network of anti government and genocide propaganda with intention to incite violence, which was seemingly done by organized YouTube shows to push this agenda.  Most of the above suspects will battle out with prosecution to prove otherwise on their motives and statements.
Karasira declared himself as mentally unfit though medical reports proved otherwise. Just like Rusesabagina, Karasira has threatened to pull out of  the case, and this is something to watch.