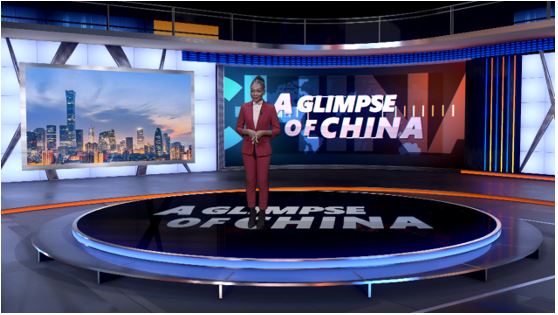 The latest season of the documentary series A Glimpse of China attracted more viewership among the youth  thanks to the  availability of the TV show  on the popular StarTimes ON App, interested by the sharing of practical stories of how young officials of African countries get positive impressions on the promising changes happening in China.
Now the four-episode series in English and French have racked  dozens of millions of views on the App. The docu-series have been watched by over 16 million people across Africa through the channel StarTimes Guide E and Guide F.
The programme A Glimpse of China gives an insight into the long-standing friendly  relations between Africa and China, where practical cooperation is developing on all aspects.
In the eyes of young Africans, China has become the most influential extraterritorial country on the African continent. The National Congress of the Chinese ruling party's publicised achievements in helping people out of poverty and its future plans for social development are also highlighted on the programme, backed by the meaningful comments of some of the African government officials and young students now living in China.
According to Michael Harford, an international student at Nankai University from Nigeria, he has seen the development and changes in China over the four years and a bright future for the country. It is the great vitality and vigour behind the policy, which always put the happiness of the people first and has been able to lead the population out of poverty and towards happiness that attracted him to study in China.
Andy Mok, a Research fellow at the Center for China and Globalization commented: "We know that the world is facing many challenges, what sets China apart is the consistency and the rationality, as well as the determination with which it approaches important long-term goals that provide for the prosperity and the stability."
Masasi Bakari, a young Kenyan viewer  of the programme, said that he has been inspired by how young talents and officials help enhance the well-being of communities and villages in China. "There were more experiences on  efforts made to develop remote areas that were  shared. I will have more confidence and knowledge towards changing the conditions in my hometown."
StarTimes ON is Africa's top online video streaming service with  over 28 million users on the continent. StarTimes ON is dedicated to providing ultimate entertainment and enriched experience for African online users. It provides Live TV, VOD and short videos with covering news, sports, movies, series, music, entertainment, documentary, kids and education. The Apphas a majority proportion of audience in the youth group due to easy access on mobile phone and frequent intime updates of programmes.