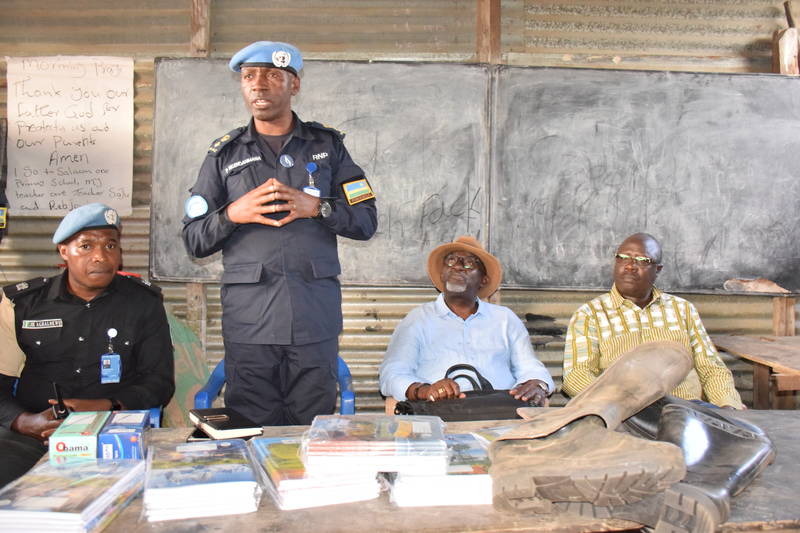 The Rwanda Formed Police Unit One (RWAFPU1-7) deployed in Malakal, Upper Nile State under the UN Mission in South Sudan (UNMISS), provided scholastic materials to displaced pupils of two primary schools in Malakal villlage on Wednesday, May 3rd 2023.
The two schools which are West Primary School and Salma Primary school are inside the Protection of Civilians Camp (PoC), which is under the protection of the Rwandan peacekeepers. The donates, including 1200 books and 1000 pens and also 100 rain boots to teachers of these schools.
Reath Kier, the head teacher at West Primary School said that the donation is an encouragement to the children to put their focus on education as their hope for the future.
Daniel Pal, the chief of Malakal protection of civilian camp (PoC) thanked the Rwandan peacekeepers for the continued support, friendly and productive working relations
Senior Superintendent of Police (SSP) Prudence Ngendahimana, said that supporting vulnerable students also serves the purpose of peacekeeping.
"Donating to children and teachers is supporting education for all; ensuring that children go to school and giving them hope, despite the circumstances," said SSP Ngendahimana.
He added that the Community Watch Group composed of displaced persons; also play a vital role and partners in ensuring safety of the camps.
Malakal is one of the areas that are heavily hit by floods during rainy season and low human security.