Rwanda and Zambia will continue to work together to boost trade, investment and cooperation in different sectors such as agriculture, for the development and wellbeing of the citizens of the two countries.
The commitment was made by the Heads of State on Tuesday at the beginning of President Hakainde Hichilema two-day state visit to Rwanda, aimed at strengthening bilateral ties between the two countries.
President Hakainde arrived in Kigali on Tuesday evening where he was welcomed by President Paul Kagame at Urugwiro Village where he inspected a guard of honour before the two leaders held a closed-door meeting.
President Kagame later in the evening hosted his guest to a State Banquet at Kigali Serena Hotel, attended by senior government officials, diplomatic corps and other invited guests.
Speaking at the dinner, President Kagame recalled his trip to Livingstone in April last year, which he said was memorable, particularly his encounter with a friendly cheater and the reception he was given.
"Mr President, my dear brother, your visit is a testament to the friendship between the people of Rwanda and Zambia. It is also proof of the willingness to continue learning from one another in our shared the journey toward sustainable development,"
"With a direct flight to Lusaka almost every day of the week, Rwandans and Zambians now have more opportunities than ever, to visit frequently and to do more business together," President Kagame said.
President Kagame congratulated President Hichilema on taking office as the chairperson of the Common Market for East and Southern Africa (COMESA), pointing out that Rwanda looks forward to working with the Zambian leader to increase and improve trade in the region and contribute to the success of the African Continental Free Trade Area (AfCFTA).
He pointed out that President Hichilema's participation in the Inclusive FinTech Forum later this Wednesday demonstrates his commitment to accelerate financial inclusion on the continent.
"In the midst of overlapping crises, deepening a corroboration only serves to increase our gains and bring us more hope for the future. In that spirit allow me to offer a toast to the good health of his Excellency and the friendship between the people of Rwanda and Zambia," President Kagame said as he concluded his speech.
On a lighter note, President Hichilema said he was truly delighted to be in Rwanda, pointing out that since President Kagame visited Livingstone, encountered the friendly cheetah and promised to market the landmark falls to the world, tourism numbers have since gone up.
"I want to confirm President Kagame since your visit to Livingstone the occupancies in the lodges and the hotels around there have gone up. This is not a joke because I have knowledge of what was obtained there and what's obtained now," he said, thanking him for marketing that destination.
Reaping fruits of bilateral cooperation
President Hichilema said that following President Kagame's visit to Zambia, during which the two countries discussed collaboration in different areas, Zambia has already started seeing results, such as an increase in public revenue collection and digitisation of services.
He said there has been a lot of interaction between teams from both to boost cooperation, reiterating that what is needed is not reinventing the wheel, but ensuring that the available resources are utilised well.
He said Zambia learned from Rwanda how to digitize services such as the national ID, which was being abused by individuals to cheat government by claiming double benefits such as claiming agriculture inputs.
"We talked about working together on the agriculture side. I have my minister of Agriculture coming in he had some work to do in fact I left him behind to do some work to catch up with his colleague here, to advance our initial MoU on how we can support the food requirements for Rwanda,"
He said that given that Zambia has a much larger country in size geographically and favourable hydrological conditions despite climate change, it has what it takes to support Rwanda's food need.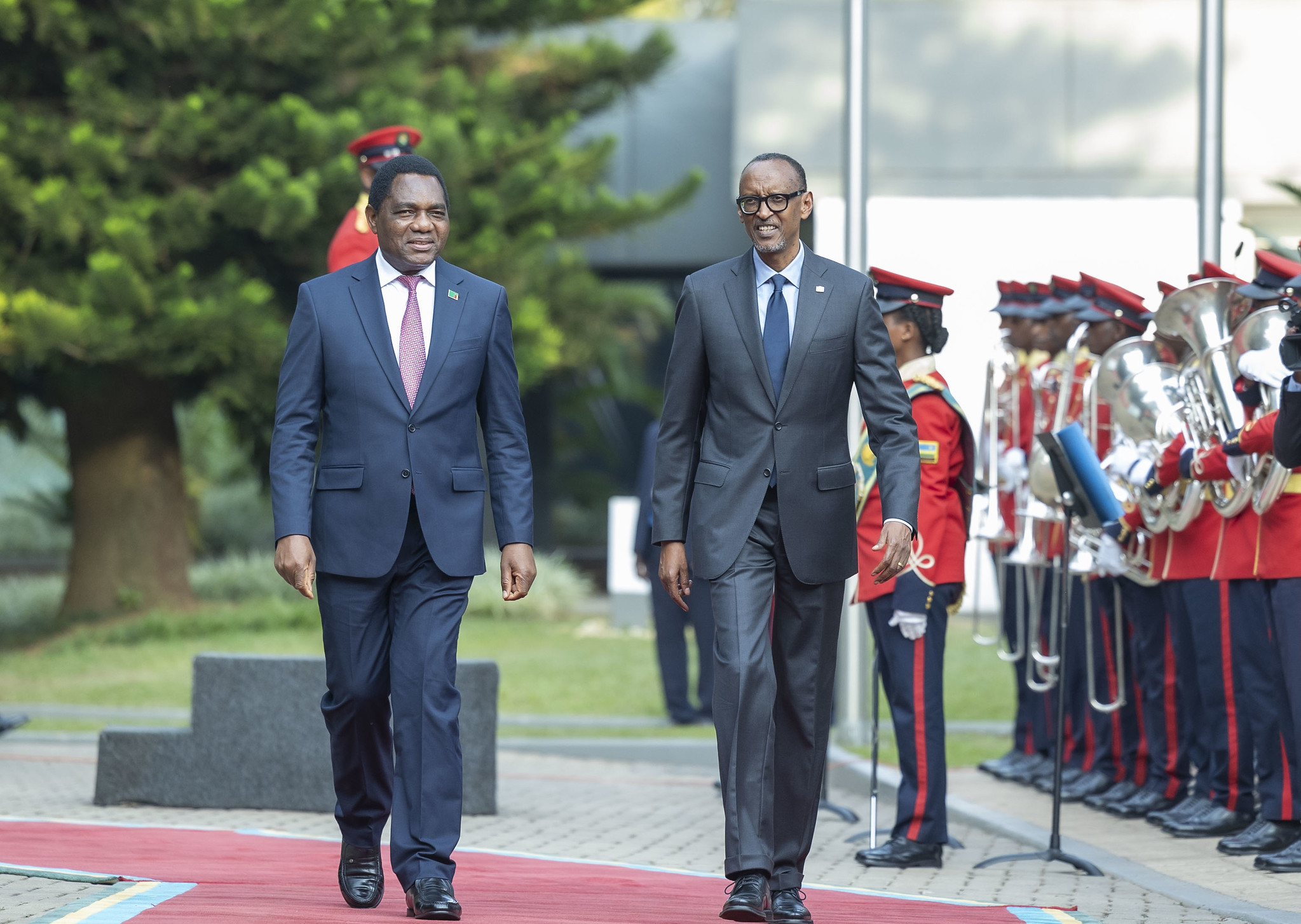 "We have agronomic conditions and literally we are misusing, abusing land in Zambia. We would like to increase production, obviously processing and trade within our country, but also with friends with family, such as the people of Rwanda and we'll be progressing that into an implementation plan," he said.
President Hichilema said that he intimated to President Kagame how he is embarrassed that a lot of citizens in his country can sit on 20 acres of land as a residential place, something he said is abusing God's gift of land.
"We like to make what God availed to us through Rwanda through Zambia and indeed two other countries by working together, pooling these resource endowments and working them properly effectively, efficiently applying the technology where is necessary applying of course labour another Capital components to just produce more and look at producing beyond our domestic consumption requirements.
"There's no reason why, given the war in Ukraine and Russia, that we on this continent must have people going to bed without food, when we are so endowed with resources," he pointed out.
President Hichilema said that putting together technology capital, land and water resources available on the continent would not only produce enough food for everybody but also boost value addition and create jobs for young people.
He said it would also boost trade between countries, different regions of the continent as well as exports abroad.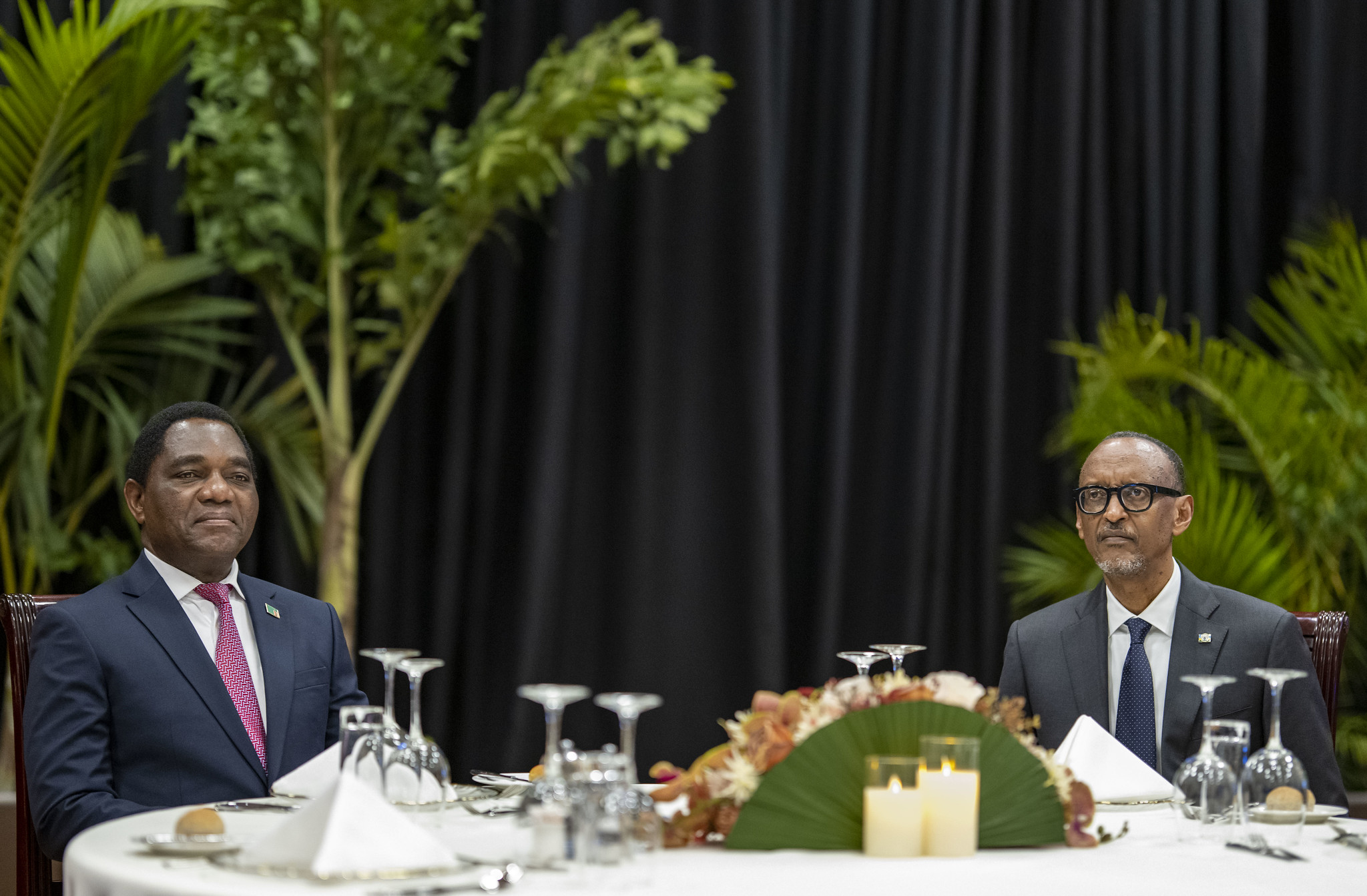 President Hichilema said that he discussed with President Kagame earlier on the difficulties that instability brings not just the continent but also from far away such as Ukraine and Russia, the impact of which is felt by many.
He said that President Kagame's clear intent is to support security, peace and stability in individual countries and regions, something he said is a prerequisite for everything else, including development, trade, job creation and more, all of which depend on stability.
With limited time and resources to do what is desired in a given time, President Hichilema said only pulling resources together would deliver results for the people on the African continent.